I have a confession about myself growing up – I was a nail biter. Even though I shudder at the thought now, I pretty much didn't have nails till I was about 12. What a bad habit, eh? Anyway, when I was around 13 my grandmother, who always had perfectly long red shiny nails, bought me my first nail treatment from Sally Hansen, I don't remember the name but I so vividly remember the dark green bottle. I wasn't allowed to paint my nails at the time for school rules (even though I pretty much barely had any nails to paint) and so having something clear that I was allowed to use was so exciting. I used it religiously and after about a week it was the first time I had seen white tips at the end of my nails – ever! I've been converted to Sally Hansen nail care ever since.


That was pretty much the defining moment for me to stop biting my nails. The excitement of being like my grandmother and having polished nails overweighed my urges to bite bite bite. Not only did Sally Hansen nail care see me through the nail biter stage they also rebuilt my nails after the post-acrylic stage, where my nails were so thin and flaky that even opening a water bottle something would break.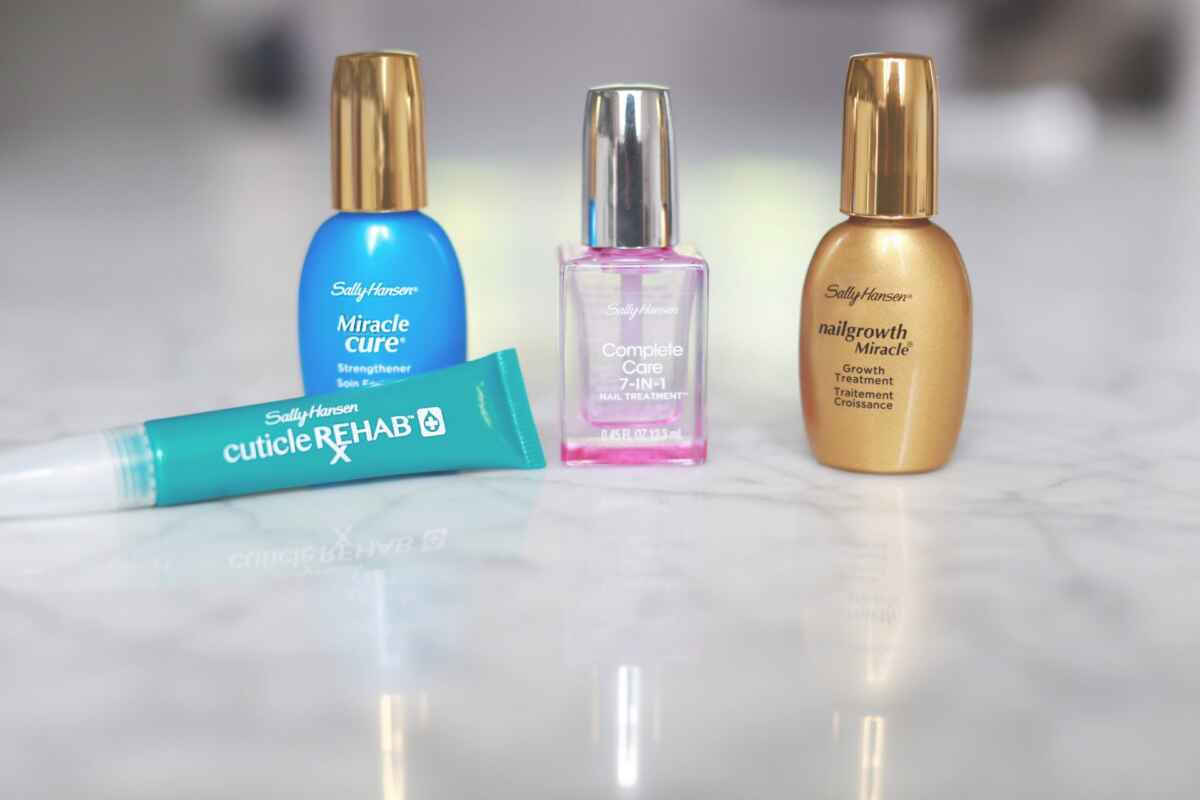 Being the #1 nail care brand in the UK, Sally Hansen have five different categories of treatment products that include base and top coats, nail strengtheners, growth treatments and other manicure helpers. My top products would be – Complete 7-in-1 Nail Treatment as it really does absolutely everything and more. It's a base and top coat, a growth strengthener, a brightener, ridge filler, plus adds nourishment to the nail. Basically a great all rounder no matter the concern. Second, for anyone that gets dry or flaky nails, I would highly recommend Cuticle Rehab. It's an oil that comes out of a brush head so is really easy to apply, especially on the go, plus helps the strength of the nail. Nail Growth Miracle is all sorts of wonderful, it's one of the few products I reach for time and time again. Especially if I have one broken stumpy nail that needs to catch up with the rest as it's like a fast forward button for the nails


Sally Hansen recommendations vary for results depending on each product but for each one I've tried I've noticed a difference within a week. My routine usually consists of taking a day or two without polish to really treat my nails, helping them to grow, flake less and be more resistant and then when wearing polish, I'll use the Complete 7-in-1 Nail Treatment which doubles as a base and top coat so I know my nails are getting the love they need.
You can find Sally Hansen on twitter @SallyHansenUK, instagram @SallyHansenUK, Facebook here and Youtube here!
Sponsored by Sally Hansen.