Earlier this month myself and a few other ladies headed to Daios Cove in Crete to have a work-cation. A little bit of work mixed with fun, laughs and a lot of sun.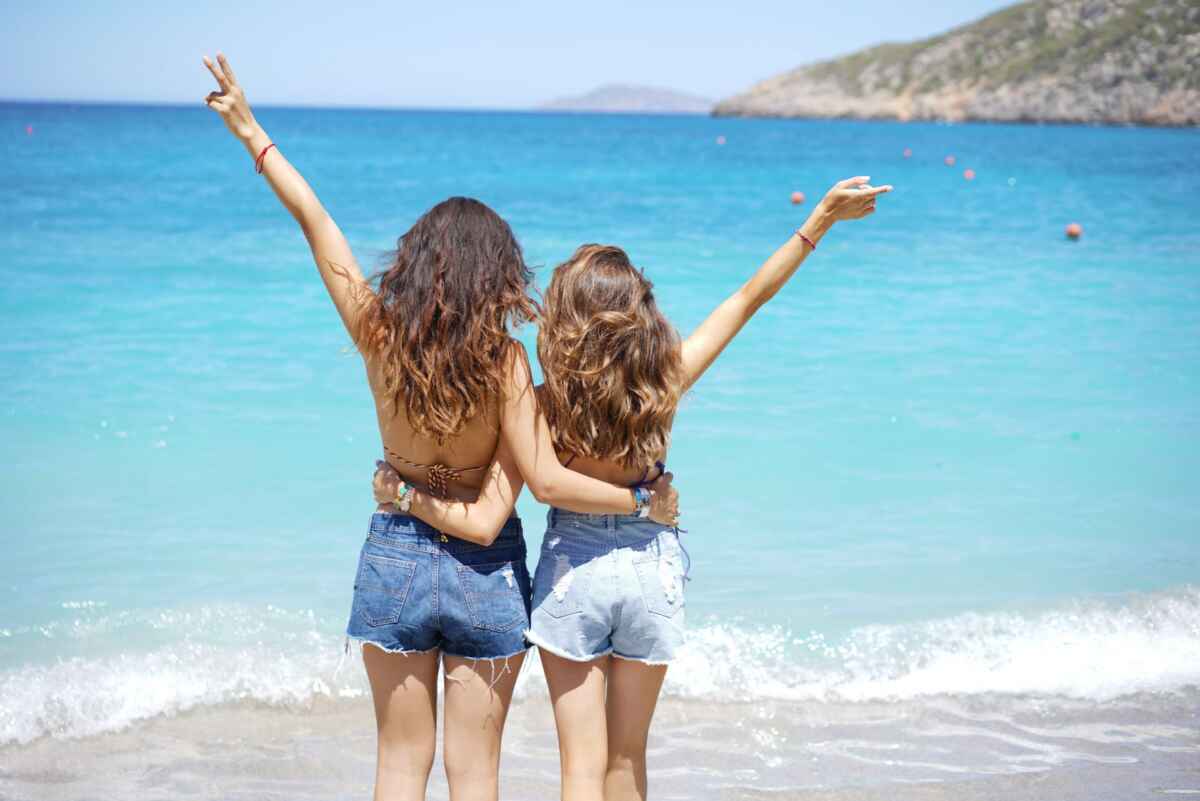 DAIOS COVE
By now you've heard me rave about Daios Cove all throughout multiple social platforms but I wanted to share a few more details after receiving questions about our villa. We stayed in a six person villa that included a lounge area, three bedrooms and even an outdoor shower. Outside was our own person pool which was a two minute walk or a fun buggy ride away from the main building where you can have meals, lounge by the pool or head down to the sandy beach. There's a mix of atmospheres, with the serenity of being in your own villa, spending time watching the sunset and feeling like you're on an island alone or you can hustle down to the beach for more of the holiday vibes, tanning under the straw umbrellas and drinking smoothies (with a banana dolphin on it!). To get more of a feel for the place I would suggest watching this video here and if you fancy seeing some great views from Daios Cove with my drone then watch this!
I also have to mention which I'm sure you already know, I've been having some trials with my diet to try and find out what's causing my body some issues. That week was probably my most strict in terms of diet and Daios Cove were so beyond accommodating. Every waiter took my 'without X, Y & Z' order with a smile and I even brought my own brown rice pasta which they made for me in minutes without batting an eyelid, and gave to me in my tupawear for the flight home. Anyone else with intolerances will know that you don't usually end up being the waiters best friend after ordering a meal so I was extremely grateful for their accommodating service and constant smiley staff.
We all had such a wonderful time, it was the perfect place to wind down, whilst still managing to keep an eye on emails, film lookbooks and enjoy the warm rays. Plus have you seen our lunch spread? This was daily and it was delicious!
Check out Daios Cove Crete here. 
MY PACKING ESSENTIALS
My favourite swimsuit of 2016 has to be this gorgeous piece from Mara Hoffman. It hugs you in all the right places, keeps everything in check (if you know what I mean) and is so colourful, vibrant, flattering and fun. I discovered this lace maxi dress from one of my favourite stores, Forever 21 and thought it would be perfect as a beach dress. They sadly don't have any more stock online but I've found a similar alternative that's even more convenient without buttons here! I've worn it with shorts too but it's so easy to throw on alone, I've paired mine with a bright Agent Provocateur swimsuit where the colours pop through from underneath.
Sunglasses are a huge love of mine and I switch them up almost daily but the pair that received the most oooh's and ahhh's this trip were these rose frames from Westward Leaning. They have a shape that really suits my face and I love the no bar in the middle for minimal sunglasses marks! You can check out one of my favourite Crete outfit looks here and stay tuned for another coming next week!