September always feels like the start of a new year to me, which has probably been drilled into me since school but I always feel such a buzz around this time of year. Especially during London Fashion Week as every street in Central London in filled with drool-worthy outfits and I did find myself on a natural high most days!
I'll admit, previously London Fashion Week hasn't been something I've run to as I always had a little feeling like I was getting in someones way - which you are most of the time. This September I made a vow to myself to put those feelings to one side and throw myself into Fashion Week with elbows at the ready for crowd hussling.
Fashion Week is the main time of year I feel like I can experiment my style, wear something I wouldn't normally wear at 12pm on a Sunday and that's one of the reasons why I loved it. So Friday came and I had my show tickets ready, excited to see what SS17 holds. 
I would highly recommend heading down to Brewer Street if you're a people-watcher because there's really nothing like it. Everyone's dressed so differently and each look is so unique - I even spotted someone dressed up as blow up barbie. Crazy! 
I decided the first day of fashion week would be my first time in a Midi-Skirt, although it looks practically maxi but that's because I'm 5'1 but I let that slide because my skirt...had hearts on it. If you've watched any of my vlogs you'll know my heart obsession is beyond return, I own heart shaped spoons, mugs, cushions and now this gorgeous skirt from Net A Porter. 
I paired the skirt with a plain white shirt, a Gucci Wallet on Chain and my favourite Fendi heels. I know I usually twirl, dance or skip around a lot, blame my happy-go-lucky attitude, but if you put on this skirt you'd be twirling around London too.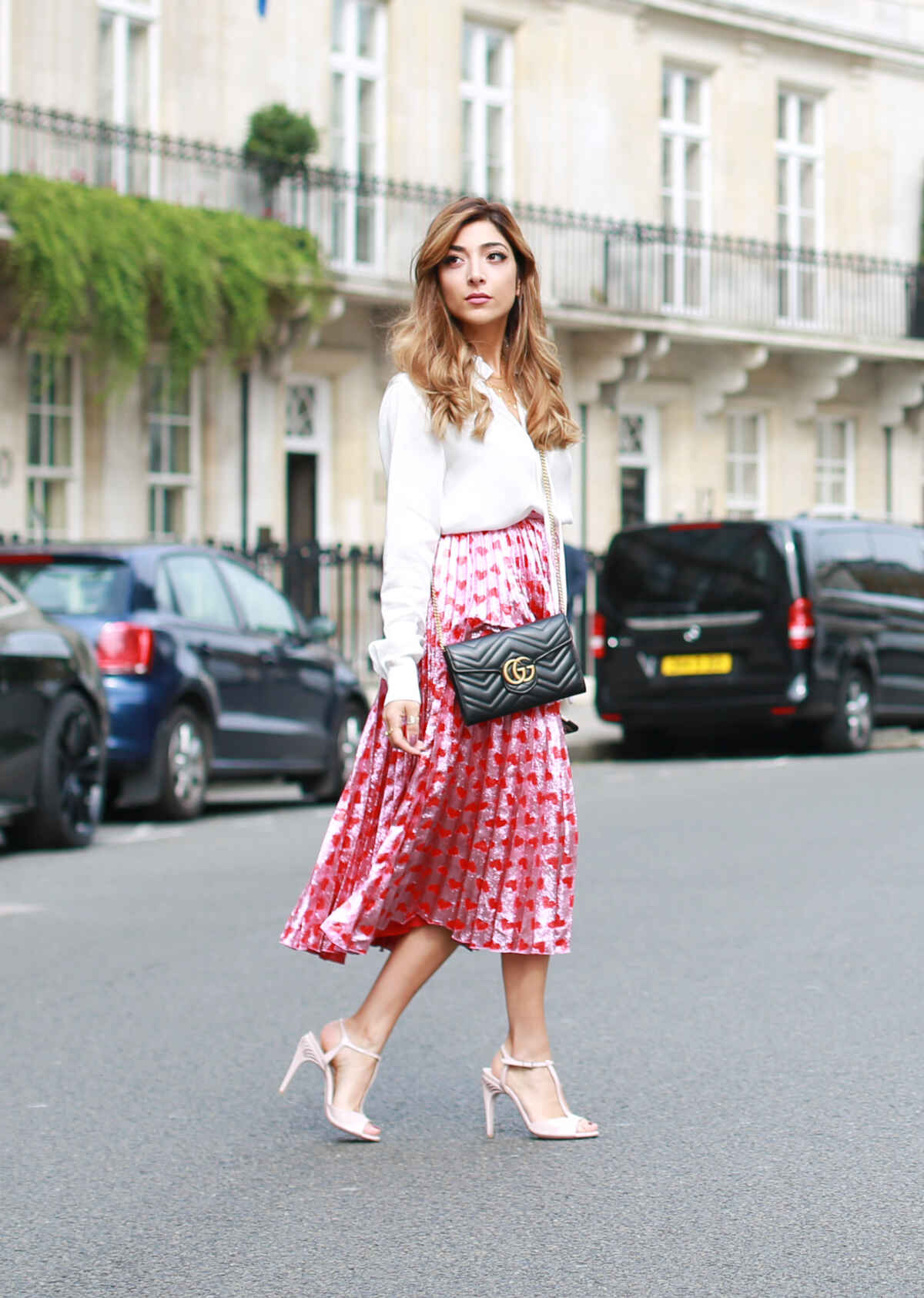 WEARING (click for links) 
Fendi peep-toe Heels (old) similar here & here
Shop the Post

Beauty Essential Of The Day
My Anastasia Liquid Lipstick in Crush has to be my most used lip item at the moment for two reasons. 1. it's a gorgeous pink-y nude that really compliments my complexion and a smokey eye 2. it's the most long lasting yet non drying liquid lipstick formula I own. I could eat a burger and it would still be in tact. It doesn't flake, feel heavy or go patchy. Yes, it's pretty much THE liquid lipstick and whilst I'm in New York this week I will hopefully be picking up some more shades!