So we've had the epic makeup, style & jewellery favourites on my youtube channel but there was so much more I needed to talk about!
I've really loved so many amazing products this year and I've included some of my new discoveries below…
558a9545
FRAGRANCE
You'll see a pattern here with my fragrances, I like warm smelling scents and I'm really fussy about my scents been unique. I'm not going to recite the notes to you because to be perfectly honest, when I read about notes in fragrances it just doesn't do it justice and just doesn't compare to when you smell it so just take my word for it. If you've liked a fragrance I've picked out before, you'll love these. 
Firstly, Replica Lazy Sunday Morning. I'm cheating a bit with this one as I've loved it well before 2016 began but it really was such a daily staple for me. This is my third (yes, third) bottle and I'm still just as in love with it as I was the first spritz. It's such a glorious elegant and calm fragrance. It's my go-to for spring.  Giorgio Armani Si was another one I've been through bottles and bottles of, the original is my favourite but they always bring out different editions to go alongside it. It's sexy, powerful but not too intense. This has been my signature scent for a while!
Tom Ford Soleil Blanc smells exactly as the name would suggest. It smells of summertime in France, by the beach with some delicious cocktail in your hand. I mean, summer fragrances really don't get ANY better than this - I promise. As soon as I spray it I just smile. Estée Lauder Modern Muse Nuit is my evening fragrance of choice, it is the kind of + Pillow Spray has been a bedside essential for me since I first discovered the brand a few years ago. You simply spritz it on your pillow (I actually give my PJs a few spritzes too) and it sends you off into sleepy, dreamy heaven. It's an instant relaxer. 
558A8039
558A8090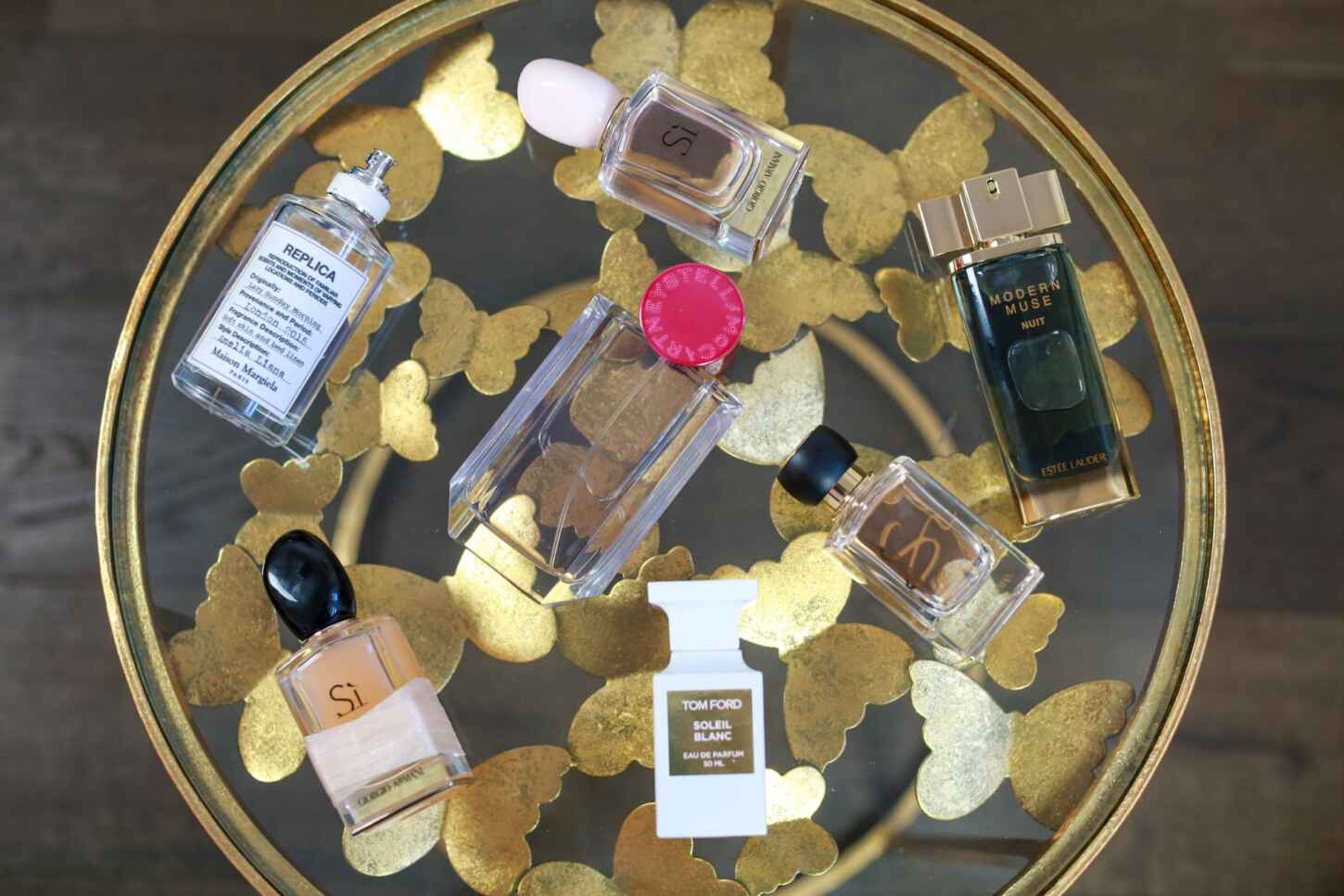 HAIR & NAILS
There's one nail award this year and that's Sally Hansen NailGrowth Miracle, which is one of the best nail formulas I've ever used. If you go back to my older videos when I was using it religiously my nails look like claws and for about a month or so life got in the way and I stopped taking care of my nails, now they're back to being stumps and I'm back to coating them in Sally Hansen all day. I know it preforms and does what it says on the tin. 
SHOW BEAUTY Decadence Hair Perfume works wonders if you're like me and your hair seems to soak up whatever scent comes your way, the lamb chops, the cigarette smoke nearby, the dogs shampoo. It instantly lifts the scent and replaces it with something much more gorgeous, without interfering with your fragrance. 
558A8064
558A8269
L'Oreal Professional Tecni ART spray, is my go to on a daily basis for giving my hair some texture and lift without looking like I've been dragged through a hedge backwards. 
For my uncontrollable mane Bed Head Beach Freak Detangling Spray is absolutely life changing. It instantly detangles and my brush glides through my hair but doesn't make my hair feel sticky, greasy or weigh it down. 
GHD V Styler had to win my most loved of the year, although my Soft Curl Tong came pretty close but I thought as a more all rounder I had to pick GHD V Styler  as it can straighten and curl. It's so easy to use, heats up in seconds and can create a variety of looks - my favourite is the natural beach wave. 
558A7877
558A8302
558A8269-2
Guerlain Midnight Secret is like a hangover cure for your skin. It's what I pull out when my skin is lacklustre, tired and dull as it's an overnight fix in a bottle. I absolutely love it for when I've not had enough sleep or especially when I'm jet lagged. 
One of my favourite ranges, which I've raved about for years, is the Clarins HydraQuench range. I honestly love the entire range but my two favourites are the Cream Mask and the Clarins Hydraquench Cream with SPF 15. The mask soothes all types of skin problems, dry, dehydrated, flakey - I even gave one to my friend who had a rash on her face and it sorted it overnight. It's something everyone should have in their stash. As for the moisturiser, it has SPF 15 for when I'm in a hurry and need a one shot wonder. 
For the days where I do apply a separate SPF, Giorgio Armani Maestro UV is amazing. It's so lightweight you wouldn't even believe it was an SPF and doesn't leave a greasy or white film on the skin. A little goes a long way so half a pippet is more than enough for my whole face and neck. It's a real game changing SPF!
Thank you for sticking through my mammoth favourites post! Please let me know what your one favourite of 2016 was and I will make sure to try it and hopefully love it!​
SHOP THE 2016 BEAUTY FAVOURITES!