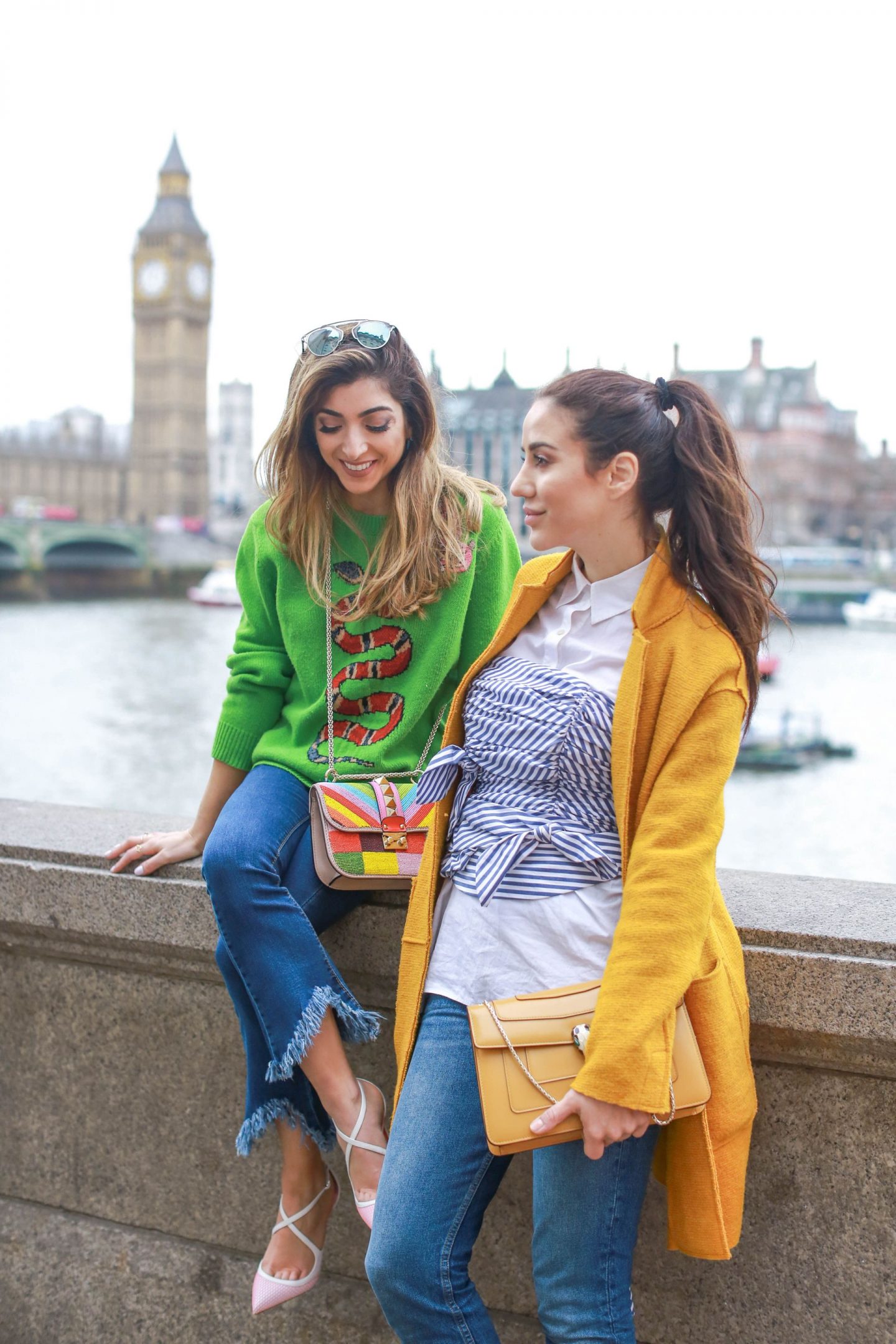 This look was a quick outfit change for me before I headed to the Topshop show. I feel like every girl is such a fan of Topshop and their incredibly fast-moving, trendy pieces and such an array of choice. I am no exception, and I was so excited to see the new collection which absolutely did not disappoint. What's so innovative about the show is that Topshop have set up a shop-the-runway page on their site so if you watched the show or not, you're able to go online and shop all of the looks from Fashion Week. I've been wearing jumper dresses constantly recently and I spotted the cutest bambi/deer jumper dress that I cannot stop thinking about.
At the Topshop show, L'Oreal Professional styled something I've been trying to pull off for yonks - a classically sleek and straight look. I loved how simple yet elegant the hair was and because of its simplicity it absolutely did not take away from the exciting new garments on the catwalk.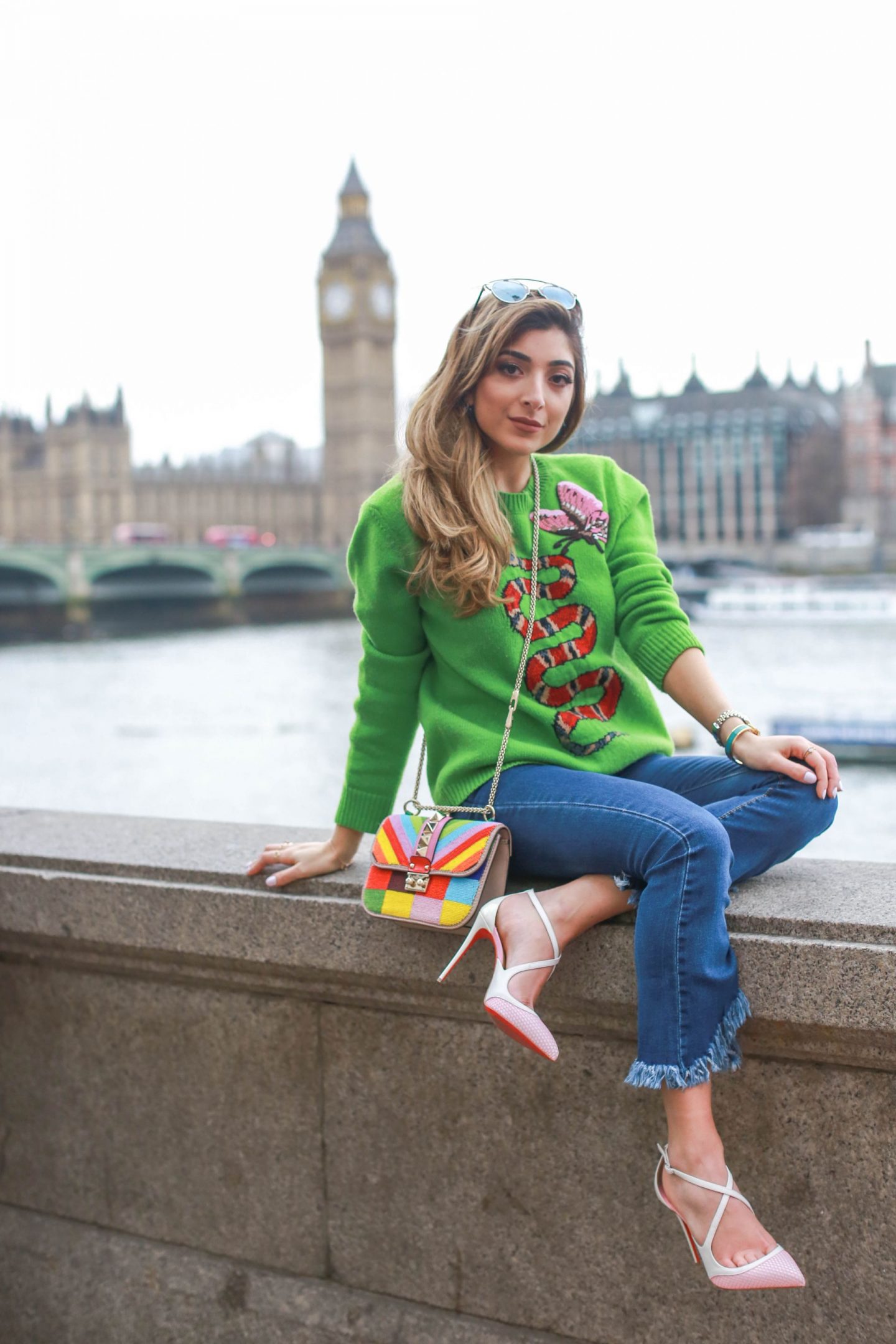 I have been looking for a pair of cropped distressed jeans for such a long time but I find a lot of them quite ill-fitting and unflattering, plus I'm only 5 ft 1 so what is cropped for a lot of people is more or less full length on me! When I came across this pair from Storets I really liked the distressed hem and the colour of the denim, then when I tried them I finally found a pair in the perfect length. I clashed the bright blue denim of the jeans with an even brighter green jumper from Gucci (similar). The embroidery on the jumper is so vibrant and it really transforms this from a casual wear to a much more dressy but cool jumper. Along with my luck of finding the jeans in the right length...I also found a pair of Louboutins which are so comfortable, I know... Louboutins? Comfortable? I can't believe it myself. The super feminine straps keep my foot in place more securely, I also think they look super delicate and flattering too. To bring together all of the clashing and popping colour I added this dreamy beaded Valentino bag as I wasn't going to hold back on accessories! Generally I would have thought to add this to a fairly plain outfit so that this bag is the focal point, but for this London Fashion Week and on such a beautiful day, I really loved all the colours throughout the look.
I've said before that Fashion Week is one of my favourite places to seek inspo for my upcoming looks and to keep an eye on what the next big trends will be. No runway is complete without some impressive hair and makeup teams who bring everything together, and make such a difference to the glamour of the whole show.
 In my everyday life not a day goes by without doing something to my hair, I'll have no makeup days but every single day I will do something to my hair - tongs, oils, masks or even if it's just brush it. I wanted to mention some mini products that I used throughout fashion week to ensure my hair was looking its best with no-fuss necessary.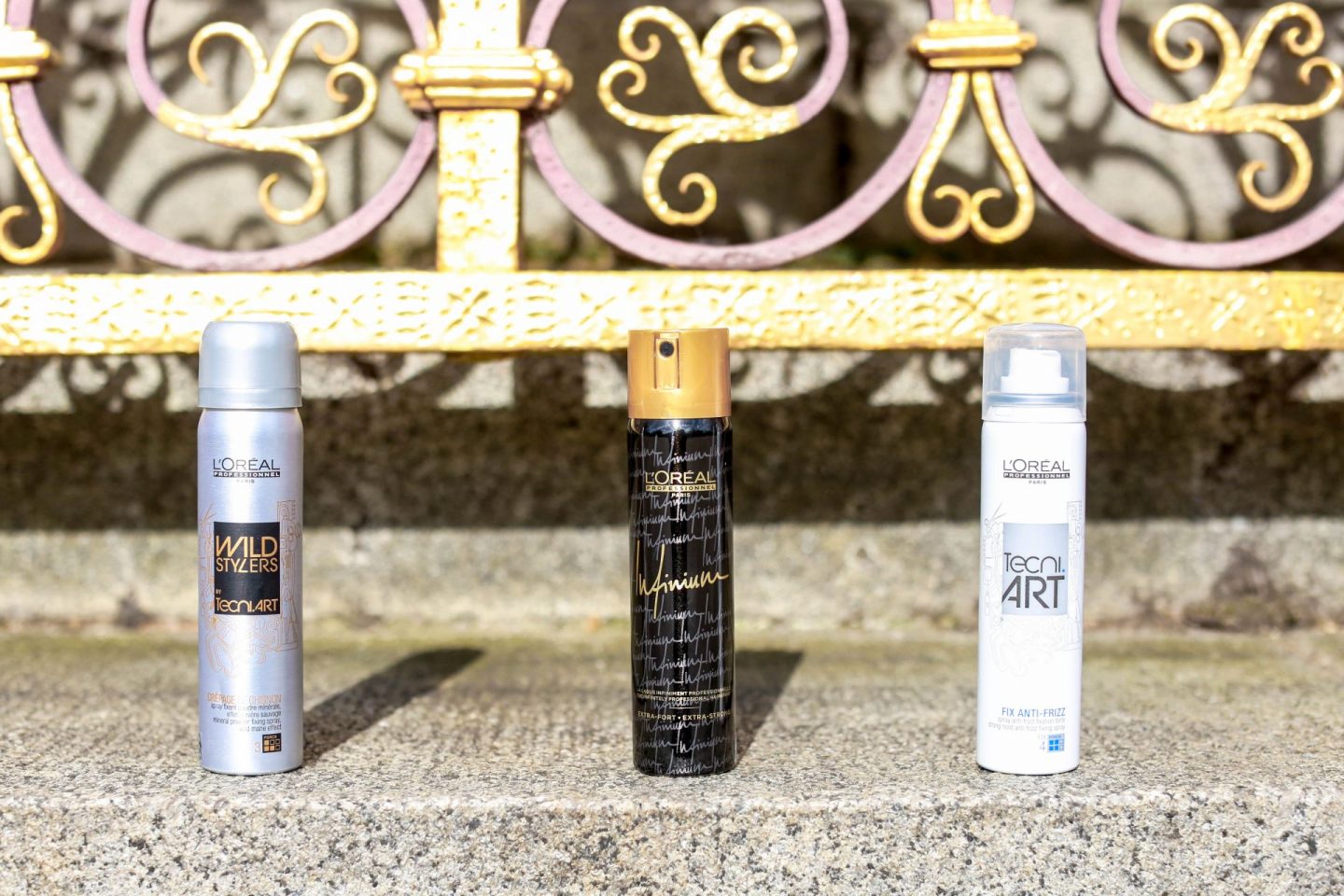 MY FASHION WEEK HAIR HEROES
1. L'Oreal Professionnel Fix Anti Frizz
My hair is naturally very frizzy so this product is perfect for me as it tames any stubborn hair or flyaways. I love it because the hold is SO strong. Normally a hair product which has such a strong hold, comes hand in hand with a texture which is heavy, sticky and stiff, but this is the opposite as it's super light. I honestly struggle to go anywhere without a bottle of this stuff.
2. L'Oreal Professionnel Infinium Extra Strong Spray
For Day 2 of Fashion Week, I had my hair styled so beautifully in half-up/half-down look with the intricate fishtail braid. Before going out I added a touch of the Infinium Spray to ensure that everything was 100% secured. This is the ultimate finish to any hair look like this one, as it holds everything perfectly and also adds a touch of shine to my hair so it looks really glossy and healthy.
3. L'Oreal Professionnel Techni Art Beach Waves
For the half-up/half-down look I had on day 2, I wanted the bottom section of my hair to have a really feminine wave to it. I love that I can add this spray to wet or dry hair to accentuate the waves that I want. Sometimes I prefer quite relaxed, beach waves but I can also create more delicate and girly waves, depending how defined I want them.
4. L'Oreal Professionnel Next Day Hair
If you've watched any of my videos the past few months you'll have seen this guy pop up a lot. It's honestly the best for texture without the crunch. It gets the balance  without making you look like you don't own a hairbrush. Plus if you fancy something sleeker the following day you can simply brush it out. 
SHOP MY FASHION WEEK HAIR HEROES