Okay, firstly, before I begin this post, I feel like I just have to say that St Petersburg was one of the most beautiful places I've ever been to, and I was seriously bowled over by this stunning city… seriously, it was b-e-a-utiful!
I was pretty busy before heading off to this trip, so unfortunately I didn't have as much time as I'd have liked to prepare and research this magical city. However, now looking back, I think this added to my surprise of just how gorgeous everything was, as I hadn't realised quite how stunning it would be.
There is a lot to see in St Petersburg, and if you're someone who has an interest in learning about the history of a place in particular, I really couldn't recommend it enough.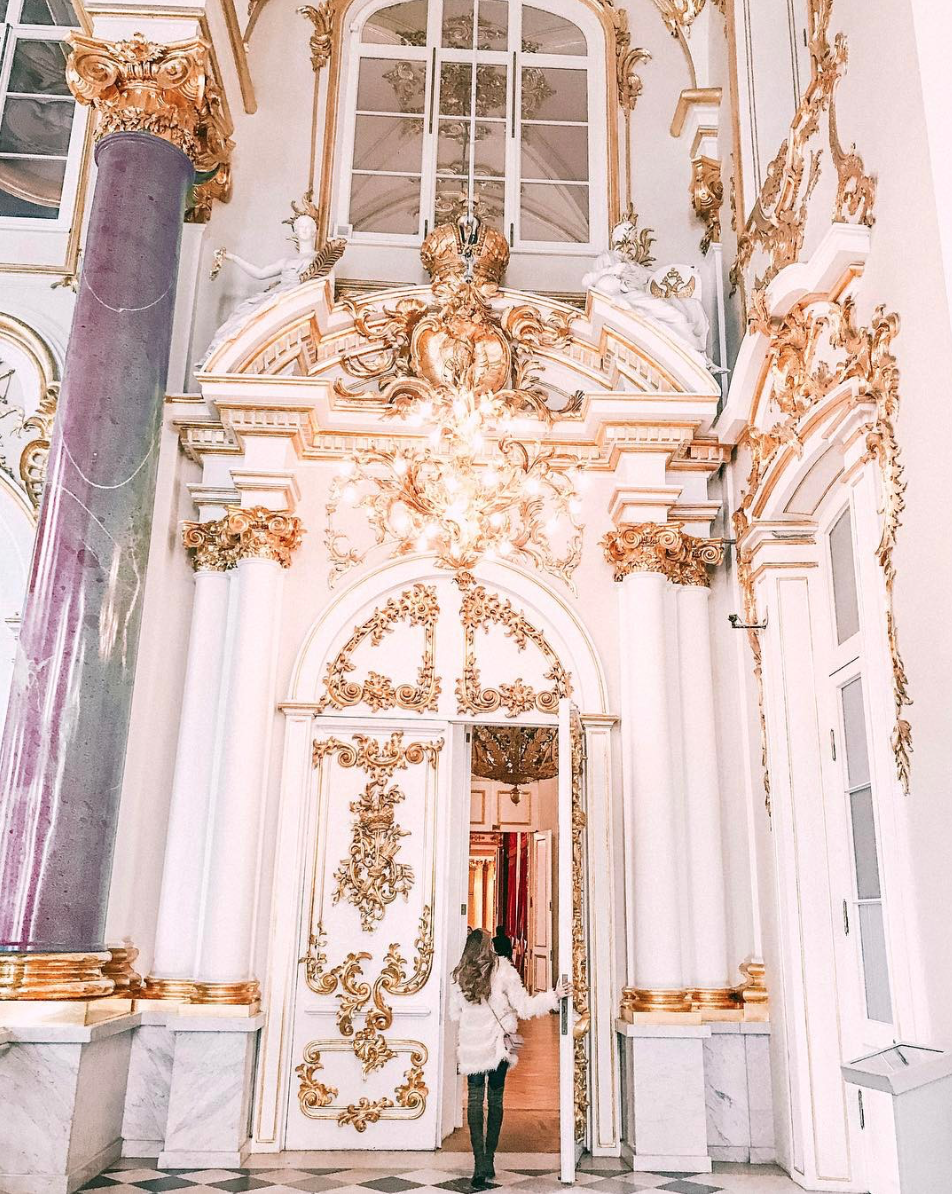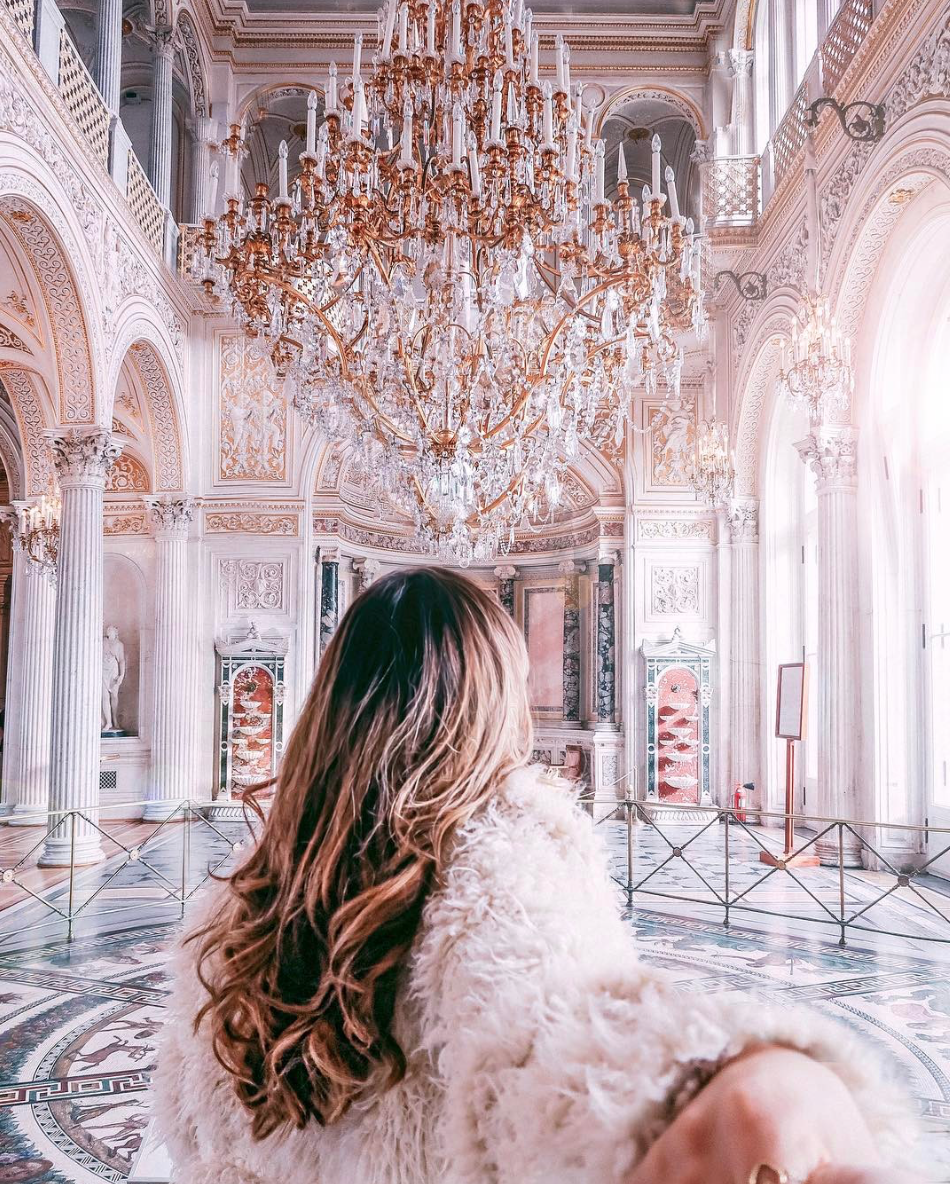 Some of my highlights included…
CATHERINE PALACE
If you're visiting St Petersburg, then this is a must-do, as it's one of the most famous buildings in the Russian city. As well as the palace itself, we walked all around the lake and the immaculate grounds. Every corner was impeccable and I was mesmerised by it. I would definitely suggest going by foot around to the back of the palace to see the enormous blue and white gates. This isn't somewhere you can reach by car, so making the walk to this spot is totally worth it. 
WINTER PALACE
Another must-see is this incredible, restored palace, which houses the Hermitage Museum. I could have walked around here for hours. Each room is captivating with the most incredible interiors. Think enormous arches, pillars, winding staircases and of course everything is so intricately decorated there is so much to see!
ST PETERSBURG MOSQUE
This blue sensation is the largest mosque in Russia, and definitely worth visiting to have a look at the large dome and beautiful tiles. Each one appeared to have been handcrafted to make beautiful geometric patterns, and as you guys know, a lot of my favourite jewellery feature the symbols of the evil eye and Fatima's hand, so I loved spotting them in and amongst the holy building.
EATING OUT
I would definitely say that our two foodie highlights were the restaurants Cococo and Tsar. Spending all day walking around and learning about Russia's history, I'd worked up an appetite! Cococo is a super contemporary and cool spot for dinner. All the food we both had tasted incredible and looked so impressive. Tsar is another great restaurant, which felt like one of the palaces we had explored during the day! The interior was so luxurious and this was definitely a spot for an occasion.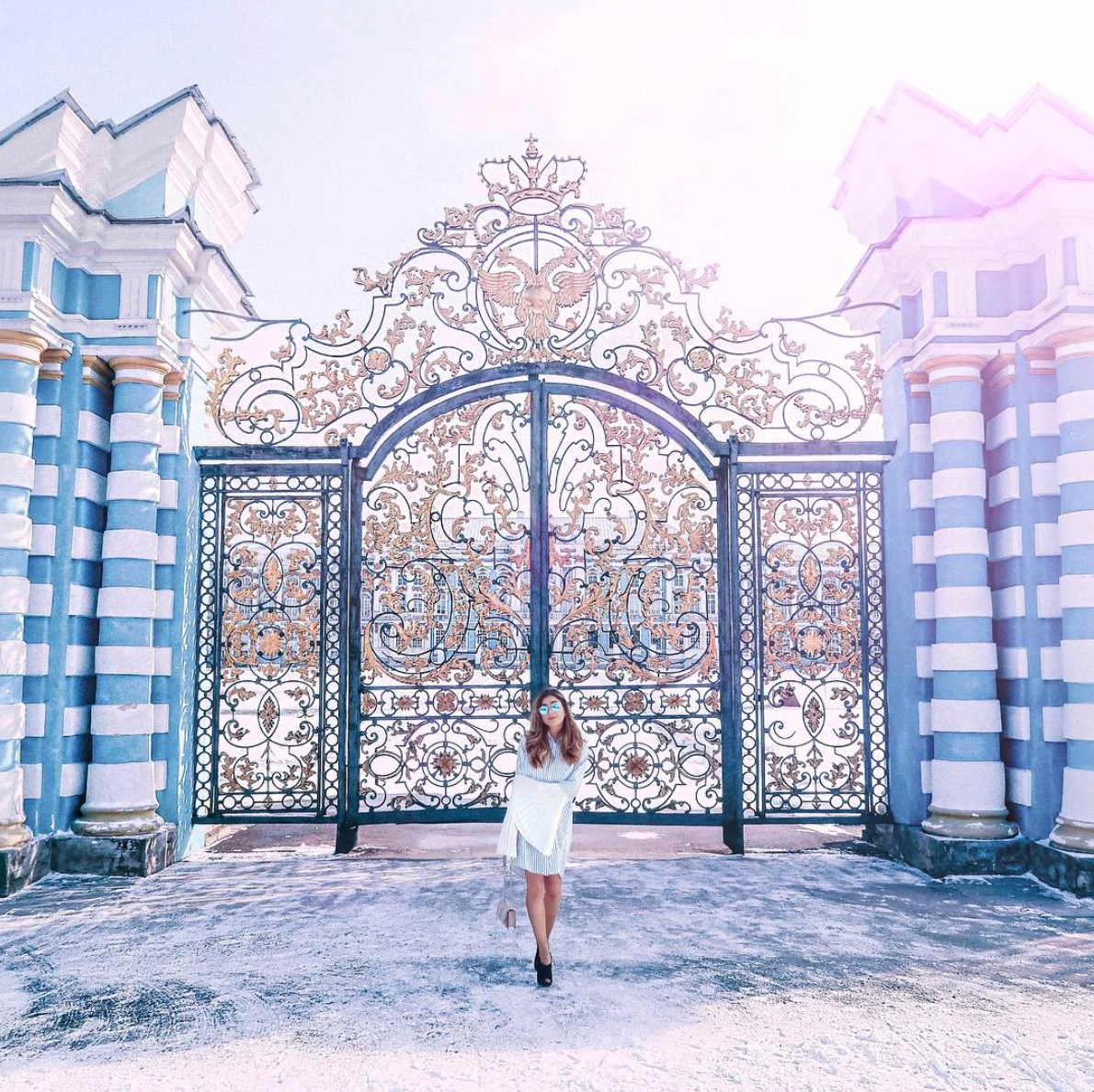 Another little spot to look over the city is Palace Bridge. It's not a must-see by any means, but it's certainly lovely to head around for little walks there.
I want to add that St Petersburg isn't the place to go if you are big into foodie holidays (if you are, I would recommend looking into Paris or somewhere similar instead), as even though we had some lovely meals, the food really isn't the focus of your visit or the city. You go for the history and the beauty!​
WHAT TO PACK
The weather there is pretty chilly, so I would definitely recommend you to pack your thicker pieces. Comfy shoes are a must and so is a warm coat. I've fallen head over heels in love this one from South West Ten. They're a new brand for me but I couldn't take off this coat all weekend. They have so many different colours and styles but I loved the khaki colour as I don't own any other coats like it. It kept me super snug, yet still looked stylish and flattering. Plus, the pockets were super roomy for my vlog camera and my freezing hands.  
To see everything in action, check out my St Petersburg vlog below!