I've always talked about my love for the YSL Touche Éclat under the eye concealer. The click-stick applicator is so easy to use and perfect for under eye brightening. Having used this product for years, I've also found the concealer to be really versatile, so I've listed a few more ways to make the most of this concealer in this blog post too. I was so excited to see that YSL have introduced a new foundation to the Touche Éclat range, but this one is in a cushion form. Here are some of the reasons I've been reaching for it constantly since I've tried it…
1. The finish. First things first, how does it look on the skin? I can't describe the finish of the Touche Éclat Le Cushion Foundation as anything but luminous, it really radiates such a gorgeous, long lasting glow. I recently used this foundation live in my complexion masterclass with YSL at Harrods and everyone was so surprised when they saw the amazing coverage from a cushion foundation! I absolutely loved seeing their reactions.
2. It's buildable. But more than anything else I've tried, I love the spectrum of finishes that the product allows. Either I use a fluffy brush and swoop that all over the face for a lighter look, or alternatively you can get a really full coverage by using a denser brush and building it up when applying.
3. The packaging. This one kind of goes without saying, but of course YSL's packaging is impeccable and I'm such a sucker for the gold, luxurious compact. I've become more observant when it comes to beauty launches and I really appreciate the small details that YSL have taken time with. The foundation has a really unique embossed 'YSL' on the surface of the cushion itself.
4. More than all of the reasons I've already said, my favourite thing about this foundation has to be how easy it is for touch ups. When I'm on the go I just dab the small, cushion sponge so mindlessly, and then touch up any areas that I think need it. I have been keeping mine in my travel bag and I've had quite a lot of early starts recently, so I know that when I arrive I can touch everything up without extra brushes. It's completely fool proof.
Hands down my best foundation for on the go, it's a one stop foundation to give you anything from a light coverage for days by the beach to a medium to full coverage for an evening out. Whenever I'm trying to downside whilst travelling, the Touche Éclat Le Cushion Foundation is coming with me!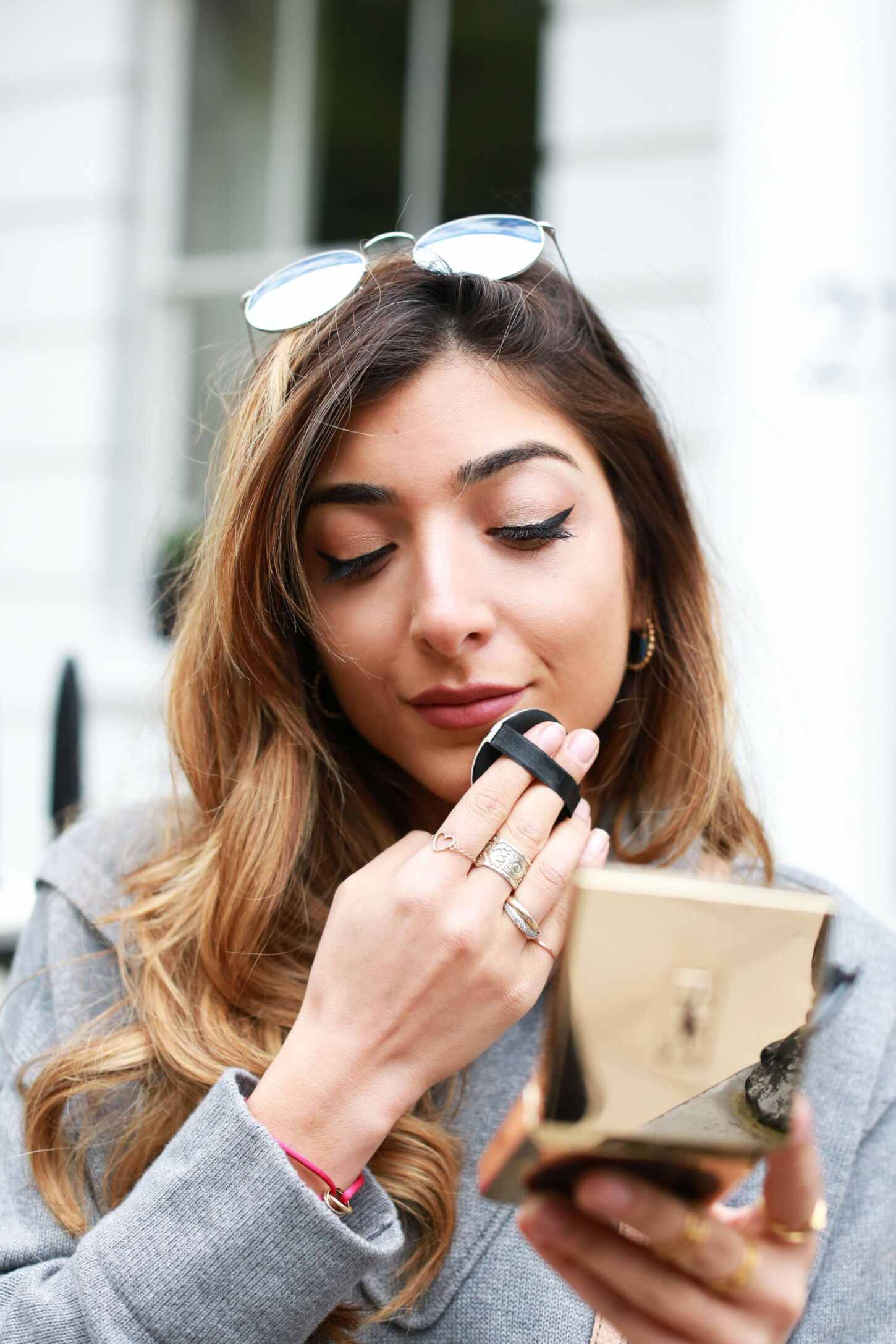 When travelling in particular, I know I'm not alone when I say I am a self-professed leggings addict just because of how comfy they are. Now I find it difficult to travel wearing anything else…however I'm so happy that I've found these jeans that have been such a game changer. These ones are from Topshop and unlike other jeans, they're super comfortable and stretchy.
I normally pair jeans with a baggy, oversized, cosy jumper like this grey one. Once I've planned my outfit to travel I go about getting together my travel essentials.
Firstly, my Away travel suitcase comes on every trip with me recently. It's so up my street because it's super girly in this pink shade, but extremely useful too. I always manage to fit in and organise everything I need with the two compartments on either side, and this saves time unpacking at the other end. This is my first suitcase with an actual phone charger, which I didn't think I'd use as much as I have, and it locks itself too.
My Gucci Soho Disco bag is perfect to keep all the smaller things I need during the flight like my passport, phone, headphones, a few mini toiletries. I'm actually giving one of these away in my recent Youtube video below, so if you would like to be in with a chance of winning this make sure to have a look!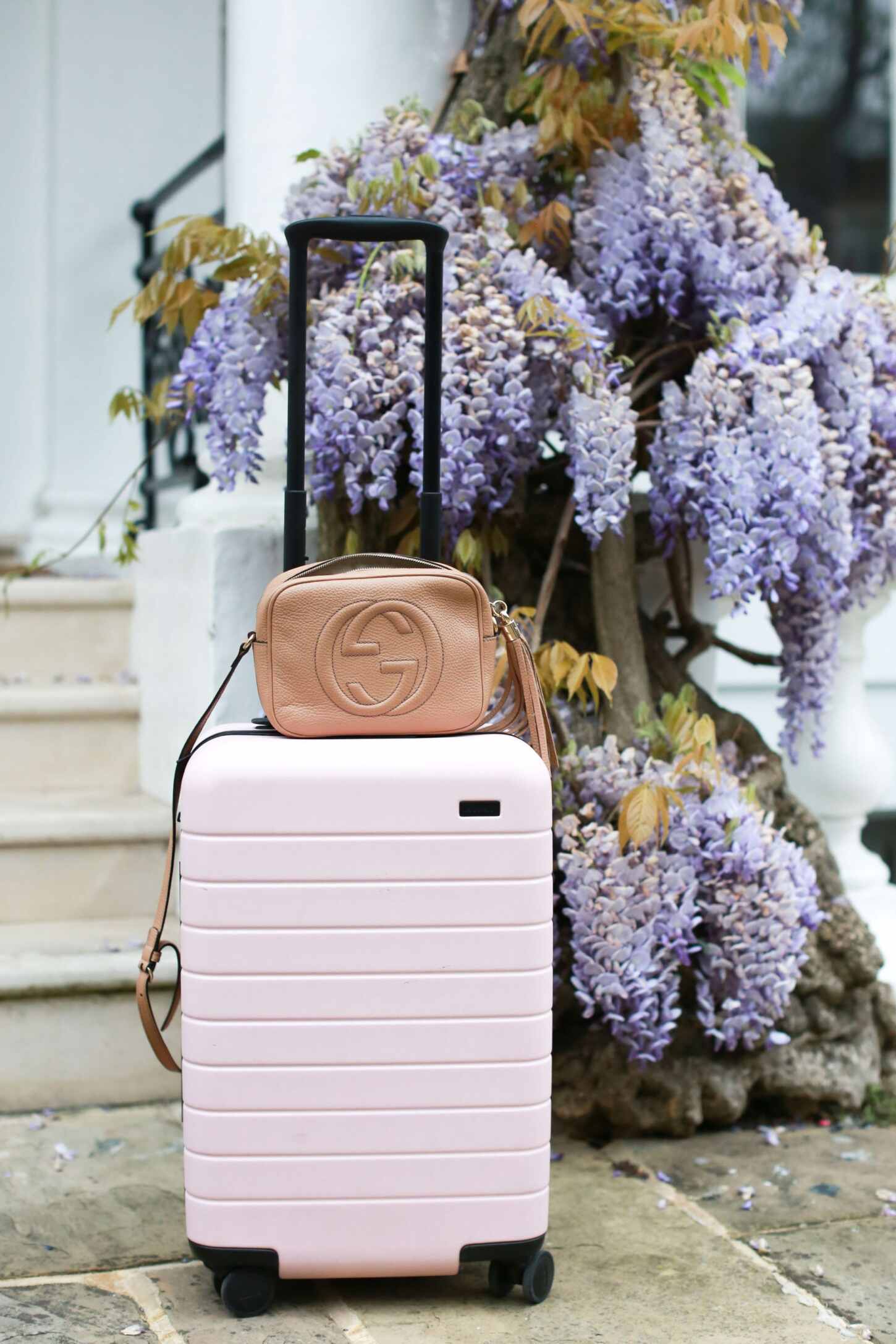 Shop the Look