Amsterdam is one of the best weekend trips you can take out of the UK if you ask me. Besides being ridiculously pretty, it's close by, easy to get around, and small enough to see a lot of it in a short amount of time. I only went for a couple of nights but managed to cram in a lot!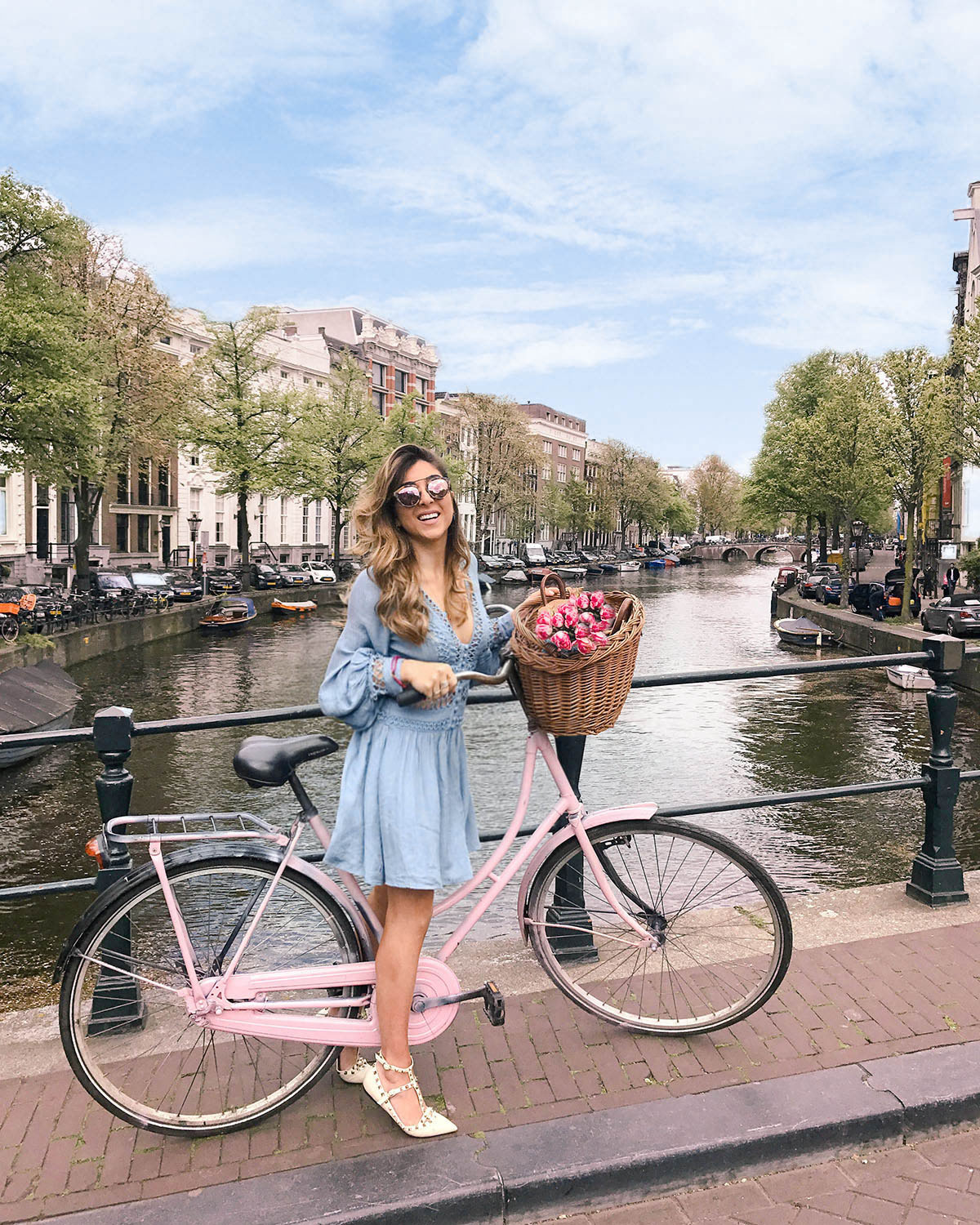 WHAT TO SEE
Keukenhof Gardens
Technically speaking, Keukenhof is not in Amsterdam, but it's less then an hour away, in Lisse. It's a botanical garden full of tulips and one of the most gorgeous places I've ever been to. If you like tulips, you HAVE to go there. Unfortunately, it's only open for two months every year, between March and May, when the tulips are in bloom, but if you can, I would say definitely plan your trip around that time. I promise you won't regret it. I'd also suggest you to go there early in the morning to avoid the crowds, and once you're there, make sure to check out the actual tulip fields next to the botanical garden as well. Just be careful you don't get shouted at for going on people's property like I did, haha!
Seven Bridges at Night
All the canals and the bridges really make Amsterdam feel special. It's so nice to just walk around and admire the architecture… I especially loved seeing the bridges at night. Many of them light up once the sun goes down, and it's truly magical. The seven bridges and the skinny bridge were my favourite!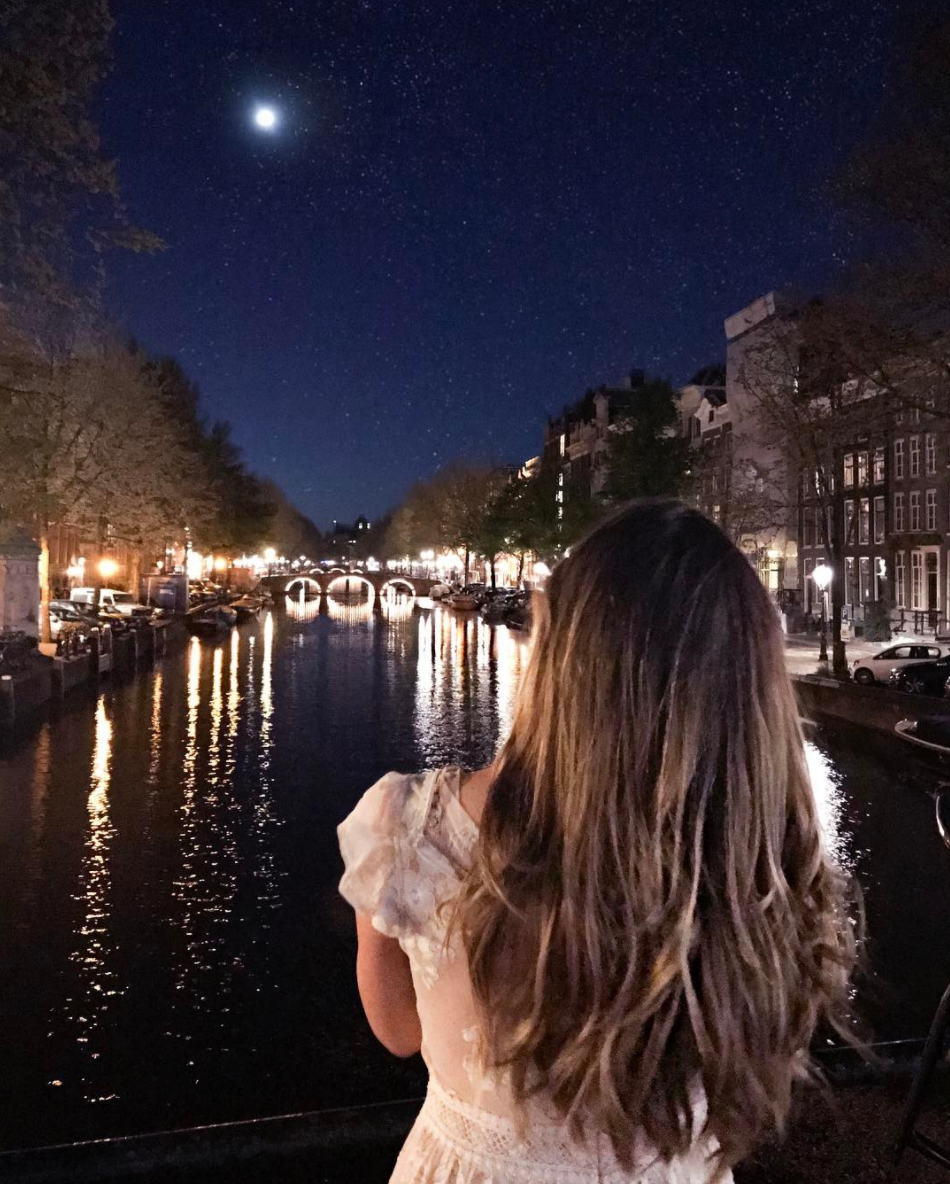 WHERE TO EAT 
Blue Amsterdam
Amsterdam doesn't have super high skyscrapers like most capitals do, but you can still get some very nice views from the top. My favourite was from Blue Amsterdam, a chic restaurant with huge windows and delicious food. It was so nice to sit down, relax and take in the city skyline views after a long day of exploring.
Corner Bakery
Corner Bakery is another place worth checking out. It's definitely the sweetest and most picture-perfect bakery in town. I've been eyeing it up for a while on Instagram and I'm so glad I found the time to go. Sweet treats and gorgeous photos are guaranteed!
WHERE TO STAY
Dylan Amsterdam
The Dylan Hotel came highly recommended from friends and I can see why. It truly is the best place to stay at. It's very well located, right by Keizersgracht, one of the main canals in the city centre, and next to the famous Berensluis bridge. It's the perfect base to explore the city from, because everything is close by. Museums, the floating flower market, cafes and restaurants are all within walking distance. Even Amsterdam's chicest shopping district The Nine Streets is right around the corner. Did anyone say feeling spendy?
One thing I also have to mention is that even though the hotel is in the midsts of hustle and bustle, it's so quiet and peaceful. We stayed in a duplex room with a courtyard view, which was super comfortable and roomy. The bathroom on a split level was especially large, and had the nicest bath to relax in. Not to mention the friendliest staff, who made the whole experience even better!
One aspect that really brought my hotel stay up a notch was the food. The buffet breakfast is all about the delicious local cheese and pastries, but you can also order things like pancakes and eggs. You can even have your breakfast outside in the courtyard, with sun shining in. It's the loveliest way to start your day! For afternoon and evening meals, they have two places you can enjoy your food from – a brasserie for informal dining, and a Michelin star restaurant for proper foodies. We went all in and had a proper feast! We tried what it felt like everything on the menu and had zero regrets, the food was incredible. Everything tasted super fresh and my taste buds were very pleased. The only thing I hadn't tried was dessert, because I was simply too full to even think about it (and that never happens to me)!