It's been well over a month since I visited Positano with my sister, but I still can't stop thinking about all the beautiful views I encountered! I've been dreaming about going on holiday to this picturesque Italian village for as long as I can remember, and I probably looked at every single photo online, but none can compare to what the place actually looks like in real life. It's unbelievable! The colourful houses, pebbled beachfront, amazing restaurants, narrow streets lined with boutiques and the cutest touristy shops… I've already decided I'm going back!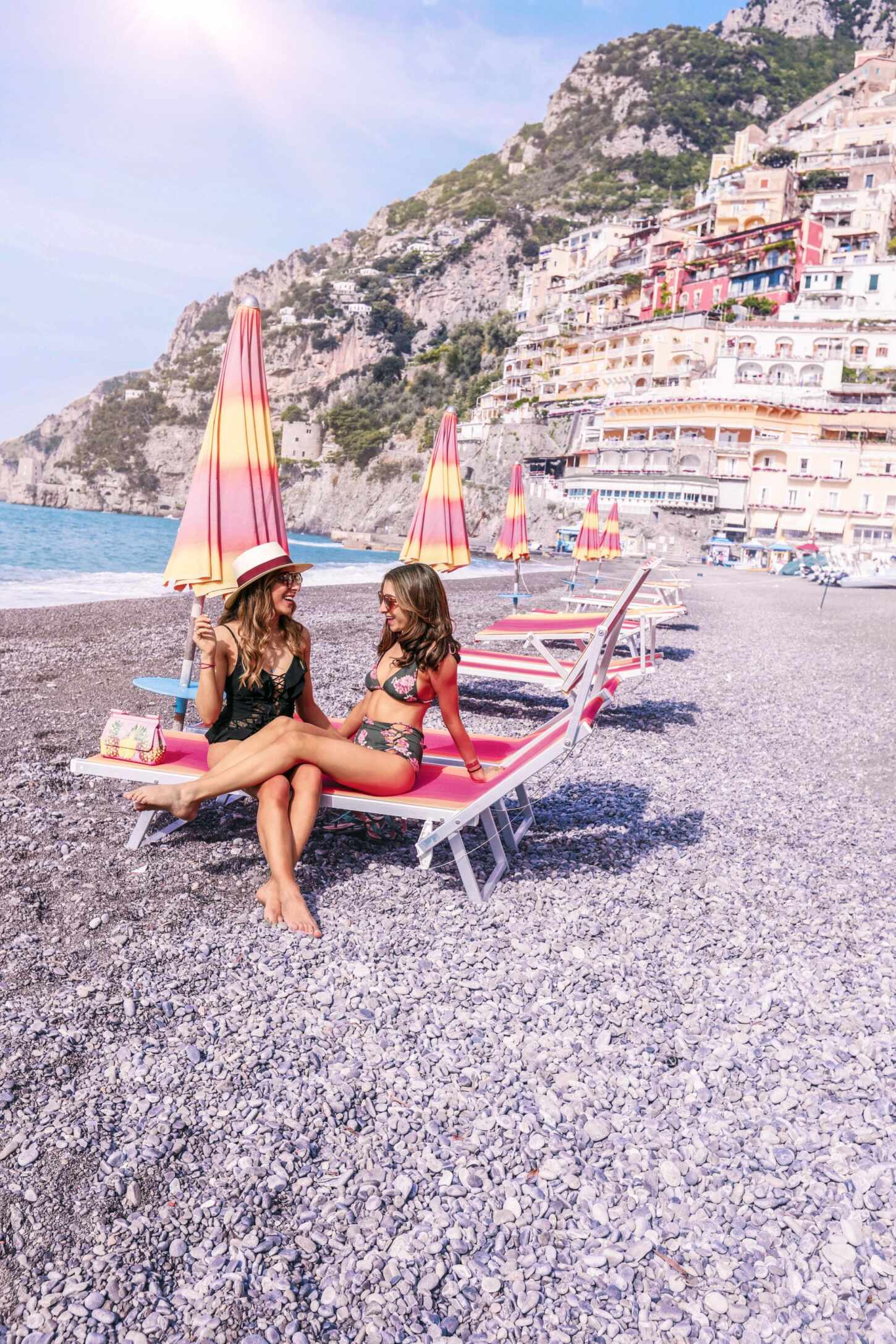 WHERE TO EAT
You can't go to Italy and not eat your weight in food. Even though Positano is tiny, there's plenty of restaurants to choose from, and let me tell you, they don't disappoint!
Le Tre Sorelle was the first one we went to. It lured us in with its lively, typical Italian atmosphere. Loud Italians next to our table? Check! Delicious home-cooked Italian meals? Check, check! Beautiful location right next to the beach? Check, check, check! It was the perfect welcome to Positano, especially after being served their heart-shaped cheese buns. You know me and my heart obsession…
La Tagliata was another place with that proper Italian flavour. You can tell it's a family run restaurant – the manager and his adorable little son made us feel right at home as soon as we stepped through the door and made it a mission to not let us leave hungry. There's only one set meal where the plates just keep on coming. We had about seven delicious courses all together and by the end of it both my sister and I were pregnant with food triplets!
If you're looking for a restaurant with a quieter, romantic setting, Next2 is the way to go. They have a beautiful outdoor terrace full of Mediterranean herbs, which add a really nice touch to the whole atmosphere – the dining area smells divine – and the food is outstanding, with a modern twist. But what really stood out to me was the service. When I asked them for gluten-free options, they even brought out a bag of pasta for me to double check the ingredients!
Casa e Bottega comes highly recommended online, so we just had to pay it a visit before heading back to London. The decor inside is the cutest and I love how the food is prepared in what looks like someone's home kitchen in the middle of the restaurant! The salads we ordered were ginormous and delicious, the only thing I wished for was an outside dining area, as it would be even nicer to have a meal out in the sunshine.
WHAT TO DO
Apart from going to the beach and rummaging through touristy shops, there isn't much you can do in Positano, but there's plenty of other places on the Amalfi Coast that are within quick and easy reach. We went on a day trip to Capri and had the best of times!
We first took a boat to Il Riccio, a Michelin star restaurant with full-on Mediterranean vibes. Think wooden blue tables, sea views and top quality seafood. We were enjoying our lunch so much we could have easily stayed there until the evening, especially after being shown their secret Temptation Room full of desserts. Yes, they actually have a room with dozens of desserts laid out for you to choose from. Heaven on earth for a sugarholic like me!
A stone throw away from Il Riccio is the famous Blue Grotto, Capri's must-see sea cave lit by the most mesmerising azure blue light. But if waiting for an hour to enter the cave in a tiny rowboat is not your idea of fun, there's plenty of other things to do in the area. We opted out of the Blue Grotto tour and went to the Gardens of Augustus instead. It's a nice quiet place to just wander around, but the spectacular coastal views from up there are the ones that completely steal the show! And while you're there, don't forget to stop by the nearest lemonade stand for the best fresh lemonade on the planet and some cheeky gelato.
WHERE TO STAY
After doing some research it looked like Le Sirenuse Hotel was the best place to stay for location, view and so much more. It was an absolute pleasure to stay at! It's right in the centre of Positano, high enough for the best views of the colourful houses on one side and the seaside on the other. The beach is only a short walk away down the stairs, but I found the gorgeous pool area with the comfiest loungers and cute little lemon trees even more inviting!
We stayed in a sea view room with an elegant antique touch that's also present throughout the hotel and a private balcony overlooking the bay – the perfect place to watch the sunrise. Speaking of sunrise, Le Sirenuse's breakfast room was an absolute dream! They had all the options you could think of and the pastry selection was beyond anything I have ever seen before. Anything you could possibly want for breakfast was included in their spread. Fresh pastries? Check. Tuna, salmon and bacon? Check. Eggs? Check. Freshly baked goods? Check. Fruit? Check. You get the gist… If you don't stay at Le Sirenuse Hotel make sure to check out their breakfast instead.
WHAT I WORE
So many of you have been asking me about the swimsuits I've been wearing on this trip I just have to give them a mention. The black one-piece with a deep V neckline and ruffles is one of the best purchases I've made! I find the way criss cross mesh panels go towards the waist creates an illusion of a really nice waistline.
Another one I've been loving is this nude Beach Riot number. This one has an even lower neckline, so it's quite revealing, but I'm in love with the white rose embroidered detailing, and the shoulder ties add a nice touch as well.
Last, but not least, is this one from Everything But Water. Unlike with the other two, the neckline comes quite high up, but it has a nice, elegant deep-scooped back for the perfect combo of chic and sexy, and the vertical line print does a great job at visually elongating your torso.
I also have to give a mention to this top and shorts combo I'd been wearing over my swimsuits. The silk material feel so light and soft, but my favourite thing about it is that it doesn't look like your typical beach cover-up, so you can also wear it for other casual occasions. To 'dress it up' I chose to pair it with these earrings. They're such a great statement piece!