I didn't know I could fall in love with Italy even more than I already was, but a few weeks ago my sister and I took our mum on a surprise trip to Lake Como and the place felt like a real-life fairytale. The villas scattered around the lake are just incredible and – I know this sounds a bit strange but – walking around made me feel like an Italian princess. I really can't compare it to anywhere else I've been before. It has such a unique vibe and it's definitely the perfect getaway to relax and experience the true 'la dolce vita'.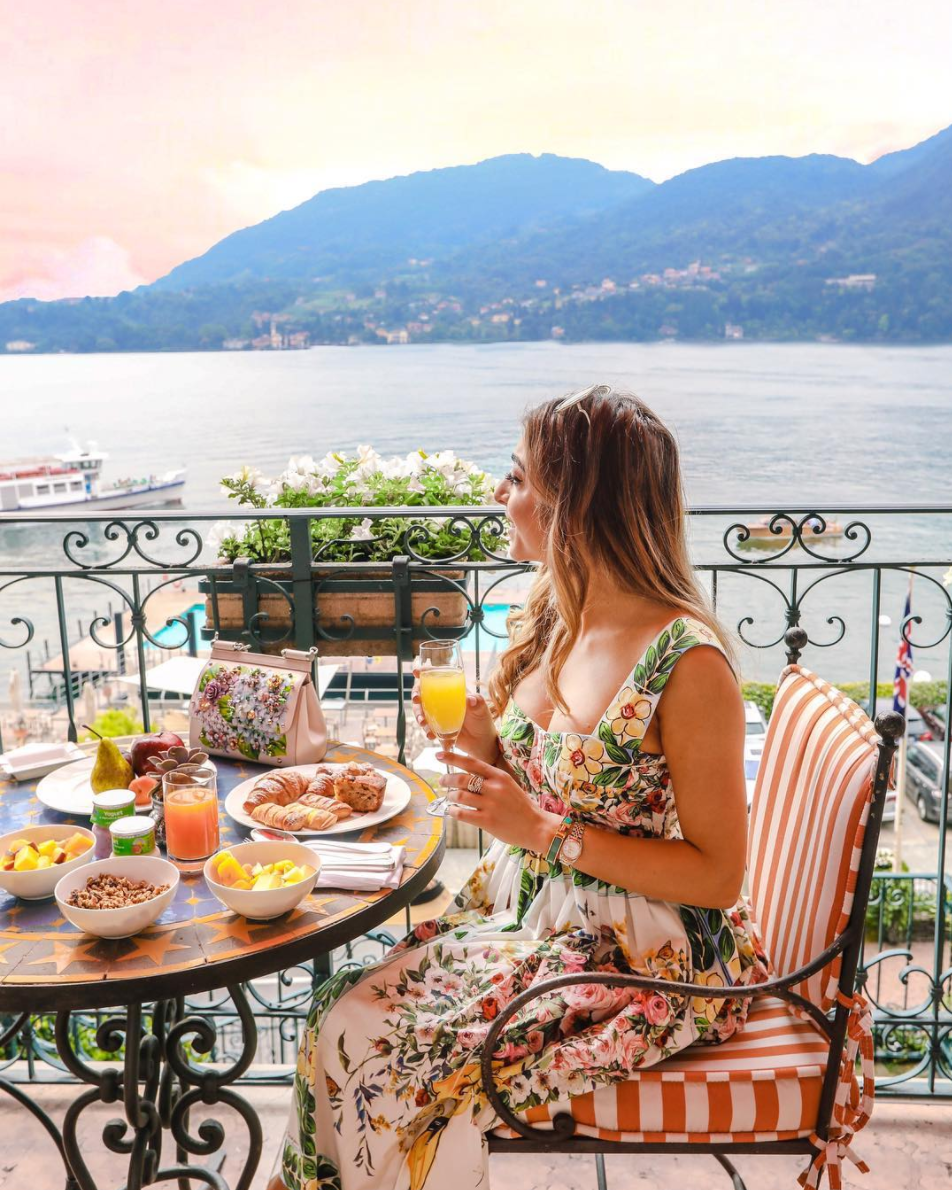 WHAT TO SEE
Lake Como is surrounded by cute little villages. It's very hard to pick favourites, as each has its own unique charm, and they're all located in different areas of the lake too, so the best and quickest way to reach them is to just take a boat. We had a pleasure of being taken around by Luca from a third-generation company Bellagio Water Limousines, who showed us the most beautiful spots and was such a pleasure to be around! Not only was he very friendly and kept us entertained at all times, but he also had superb knowledge about all the villas around the lake. It was so fun to hear which villa belongs to which celebrity!
MENAGGIO
Menaggio was the first place we visited after settling into our hotel. It's known for its elegant lake promenade, but what I liked most was the typical Italian Piazza Garibaldi, full of ice-cream parlours and shops selling local products, from food and clothing to typical touristy souvenirs you already know I'm a bit obsessed with if you've watched my Positano vlogs.
VARENNA
I know I said it's very hard to choose my favourite spot we visited, but Varenna just might be it! It's hands down the cutest village I've ever seen. I could stare at the colourful picturesque houses right next to the lake for hours and wouldn't get tired of the view. If you visit, make sure to also check out the lover's walk, a five minute trail by the water with some amazing views.
BELLAGIO
While I think one afternoon is more than enough to explore Menaggio or Varenna, Bellagio is slightly bigger and the kind of place I can imagine myself staying at and exploring over a couple of days. It has the cutest cobbled streets and stairways to get lost in, full of restaurants and shops, and Villa Melzi with its beautiful rhododendron garden is worth a visit as well!
TREMEZZINA
In Tremezzina we visited Villa del Balbianello, the most gorgeous building in Lake Como! It look like straight out of a fairytale with its ginormous arches wrapped in vines, beautiful gardens and fantastic views of the lake from the top. It seemed like a dream wedding location but also a place with a lot of history, which you can learn about by joining one of their guided tours.
Tremezzo, another part of Tremezzina, was where our beautiful hotel was located. It's the town we didn't explore in great detail – the hotel pool was just too distracting – but we did walk 2 minutes down the road to take a look at Villa Carlotta, another stunning building surrounded by the gardens, fountains and – my favourite – a path with archway full of orange trees growing from all angles.
WHERE TO EAT
Bar Il Molo is right on the lake front and comes with the best view of Varenna's colourful houses. Their outside terrace is such a peaceful place to just sit down and take in the surroundings while enjoying a nice meal or some coffee and dessert. They have a great selection of dishes for any time of the day, so you can swing by at any time.
In Tremezzina, we decided to pay a visit to La Darsena, a restaurant inside the hotel with the same name, which came highly requested online. I have to say I wasn't impressed by the fact that we were waiting for over an hour and a half to be served our mains, but the dinner was delicious nonetheless and the Bellagio mountain views from the terrace made up for the slow service. If you can, I would definitely suggest you to make a reservation a couple of days in advance so that you can request to sit outside on the beautiful terrace and watch the lake change its colours during the sunset.
La Punta, a family-run restaurant in Bellagio, was my favourite out of the bunch. It's just a 10-minute walk from the centre of the town, right next to the park by the lake. They had me at hello with an option of gluten-free pasta, and then spoiled my taste buds with the rest of the food they brought out – Caprese salad, mixed vegetables, walnut cake and their home made vanilla ice-cream were all excellent! If I spent more days at Lake Como, I would be paying it another visit.
Al Veluu in Tremezzina wins in the atmosphere department, as it offers the perfect mix between fine dining and family charm. They have three dining sections – one indoors, an open air terrace with breathtaking views of the lake and the mountains, and a cozy spot right next to the fireplace and potent lemon trees. We chose the last and had such a nice, relaxing evening, filling our bellies with amazing Italian pasta – what else. The restaurant uses ingredients grown in its own organic garden, so you can only imagine how fresh everything tasted!
Coming back to Lake Como three years since my first visit, we decided to try something new and heard nothing but great reviews about Casa del Portico. The restaurant had a very personal touch, all the food is homemade and they grow all their vegetables in their own garden which I love. It was the kind of meal you keep eating even thought you're full, everything just tastes better in Italy! It has stunning views onto the lake and I definitely recommend dining around sunset time, the pastel colours were like something from a painting!
LA FABRICA DEL GELATO
If you're feeling like a little sweet treat after supper, La Fabbrica del Gelato was the best ice cream I've had in years! The classic Italian shop felt so special, as if it had always been there. The perfect way to end an evening walking along the menaggio with a mouth waveringly delicious scoop of ice cream.
Al Veluu is a family run restaurant in the hills with an incredible view and their own garden to grow ingredients. We were sat on the terrace and had the best tiramisu I've ever had while the sun set. I would say this is my favourite restaurant I've been to in Lake Como.
WHERE TO STAY
Right on the western shore of Lake Como in Tremezzino, Grand Hotel Tremezzo couldn't have had a better location. It's within easy reach, just an hour away from Milano, but feels like a world away from the busy city life. It's completely surrounded by greenery, with the lake and the mountains in front and five acres of gorgeous 100-year-old gardens on the other side. Words can't explain how peaceful it is! It's the perfect place to unwind, but also to explore other areas of the lake. The famous 17-th century Villa Carlotta is just a short walk away, and so is the local port with boats and ferries that take you across the lake, to Varenna and Bellagio.
The hotel is very elegant, decorated in an Art Nouveau style with original frescoes, antique furniture and marble bathrooms. It has a number of beautiful rooms with either large bow windows or terraces overlooking the lake or the gardens, but the facilities is what completely won me over. They have not one, not two, but three swimming pools! The first one is Instagram goals – a floating pool on the lake, and then there's also a family-friendly pool and an adults-only infinity pool inside the spa – so many options! 
Some other outstanding features of Grand Hotel Tremezzo also include a welcoming, friendly but professional service, a lake beach, a tennis court, a fitness area, a panoramic path that winds up the hill and a number of restaurants scattered around the hotel, so there's always some kind of refreshments close by. La Terazza Restaurant was where we had our breakfast every morning and let me tell you, there's nothing better than starting your day on their terrace overlooking the lake, especially when food options are as endless as they were. I've never seen so many types of honey and jam in my life! We also had our lunch there on the day we arrived as well as on the day we left, and I would highly recommend you to pay it a visit just for the food and the service, even if you're not staying at the hotel itself. Their menu is seasonal, so the dishes change throughout the year, but they're always prepared with local produce and in a traditional way with a touch of creativity. 
*Came back 3 years later and if it's possible I'm more in love with the hotel and location than before*
WHAT TO PACK
Just because there's no palm trees or sandy beaches, it doesn't mean it can't get scorching hot at Lake Como, so make sure to pack all the usual summer gear. My packing list included my current favourite floral swimsuit from Beach Riot, both my Chloe and my Ray Ban sunglasses, the Janessa Leone straw hat to protect my face from the sun and keep my hair at bay while boating around, and sunscreen, of course. I'm currently loving this La- Roche Posay Anthelios Invisible Face Mist with SPF 50 that keeps me refreshed and protected at the same time. Plus it means that I don't have to be worried about forgetting to put it on before makeup, because you can also spray it over. Genius and perfect for on-the-go top-ups! Also, there's one more thing to consider taking with you – trainers. Lake Como has a lot of stairs and walking paths that go up the hill, so comfortable walking shoes are a must, especially if you're considering going on a hike or two. There's tons of trails around!
What to Pack