When it comes to Clarins, you can put any of their skincare products on my face and I'll have no complaints whatsoever. My skin just loves their formulas! One of my all time favourites is their HydraQuench Cream Mask. I'm still heartbroken over the news it's getting discontinued, but luckily it is to be replaced with not one but three new fun-looking masks. SOS Hydra, SOS Pure and SOS Comfort promise targeted solutions for different skin concerns, and since I'm a huge mask lover as it is, I thought I would give them all a go and break them down for you. Let's see if they make it into my face mask box!
SOS HYDRA
The blue bottle is SOS Hydra – by the way, all masks are coloured to match the packaging, but this one turns transparent once applied. Out of the three, it's the most similar to HydraQuench, but it's more of a refreshing hydrating mask rather than a proper skin solver like HydraQuench, which managed to sort out all sorts of other issues such as rashes, redness and dry skin as well. I'd say SOS Hydra is the type of mask you would use on the days when your skin feels a bit tight and needs an extra bit of TLC to boost up hydration levels and restore radiance.
Best for: all skin types & dehydrated skin
SOS COMFORT
SOS Comfort is surprisingly my favourite of the three. If you get those pesky little dry patches, this mask will sort them out in no time. It's a very rich and buttery nourishing balm that smoothes over the skin and feels as though it's providing a calming protective layer. When my skin is starting to feel a bit rough, especially post days at the beach, I've been reaching for this as a quick fix. It's almost like a restart button for the skin! 
Best for: dry skin looking for a quick fix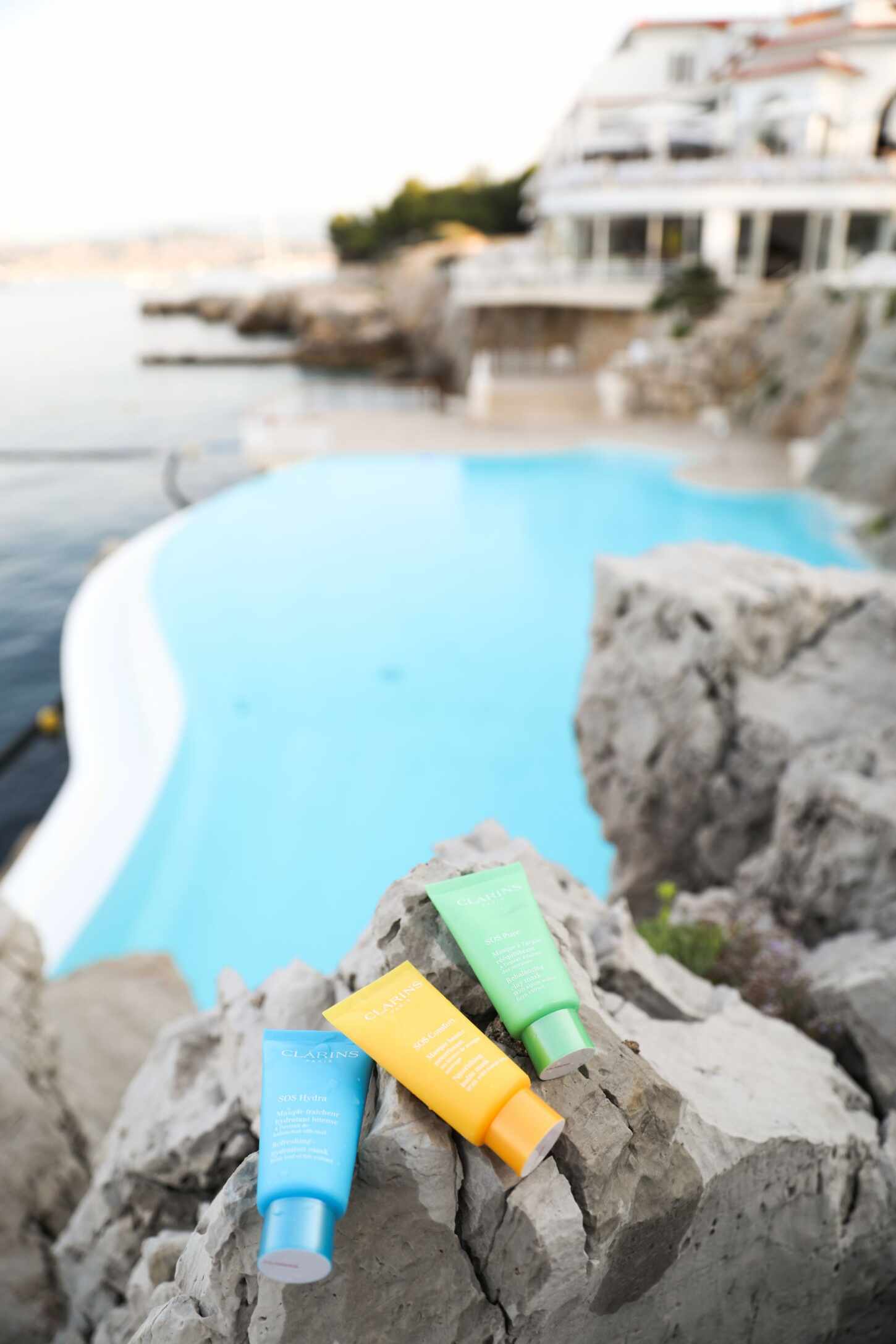 Shop the Post

SOS PURE
The green mask, SOS Pure, is a rebalancing clay mask for congested skin, but unlike the majority of clay masks that bring everything up to the surface and cause you to break out, this one is non-invasive and can be used for more of a general deep cleanse. Normally you don't find the words 'gentle' and 'deep' in the same sentence, but somehow this mask manages to tick both boxes. I like to use it on the days when my skin feels sensitive but still needs clearing up, and it's just perfect at doing the job without aggravating everything.
Best for: decongesting combination and oily skin
So, my final thoughts? Unfortunately, I haven't found the replacement for my beloved HydraQuench in any of these, but will definitely make room for all three in my stash! Will you be trying out any yourself?
Shop Clarins SOS Range