Let's take a moment for Dior Eyeshadow Palettes, which I fell for when Lisa Eldridge said in a video years ago she had them tested in a lab and they were the best formula. I agreed as I owned two different eyeshadow palettes already, but this cemented my love and I used it as an excuse to trot off to my favourite Dior counter and pick out two more. They are the best quality in the industry. My all time favourite? A gift from Estée, the Cuir Cannage Eyeshadow Palette. I could live forever using just this palette, but that's not the one we are talking about today.
I'm big into getting outside your comfort zone, no matter how big or small. Whether it's jumping into a lake in winter (this was for charity FYI – not for fun) or something smaller like incorporating something new into my makeup routine. Whenever I go away, the no-makeup makeup look comes into play but within days I'm always itching for something more heavy – what can I say? My eyes miss the smoke! I simply don't feel like myself without a swish of a MAC 217 near my lids. 
DIOR's latest Metallics Collection has so many gorgeous items in the mix – delicious red matte lips, amazing cream duos (stay clear of their Metalizer Eyes & Lips Cream Shadows FYI – not for me! They're not easy enough to use or blend, so if you're after a cream eyeshadow read this post), and there's the main star of the collection – 5 Couleurs Eyeshadow Palette in Magnetize. There's also a more bronzey version of this palette called Hypnotize, which looks right up my street.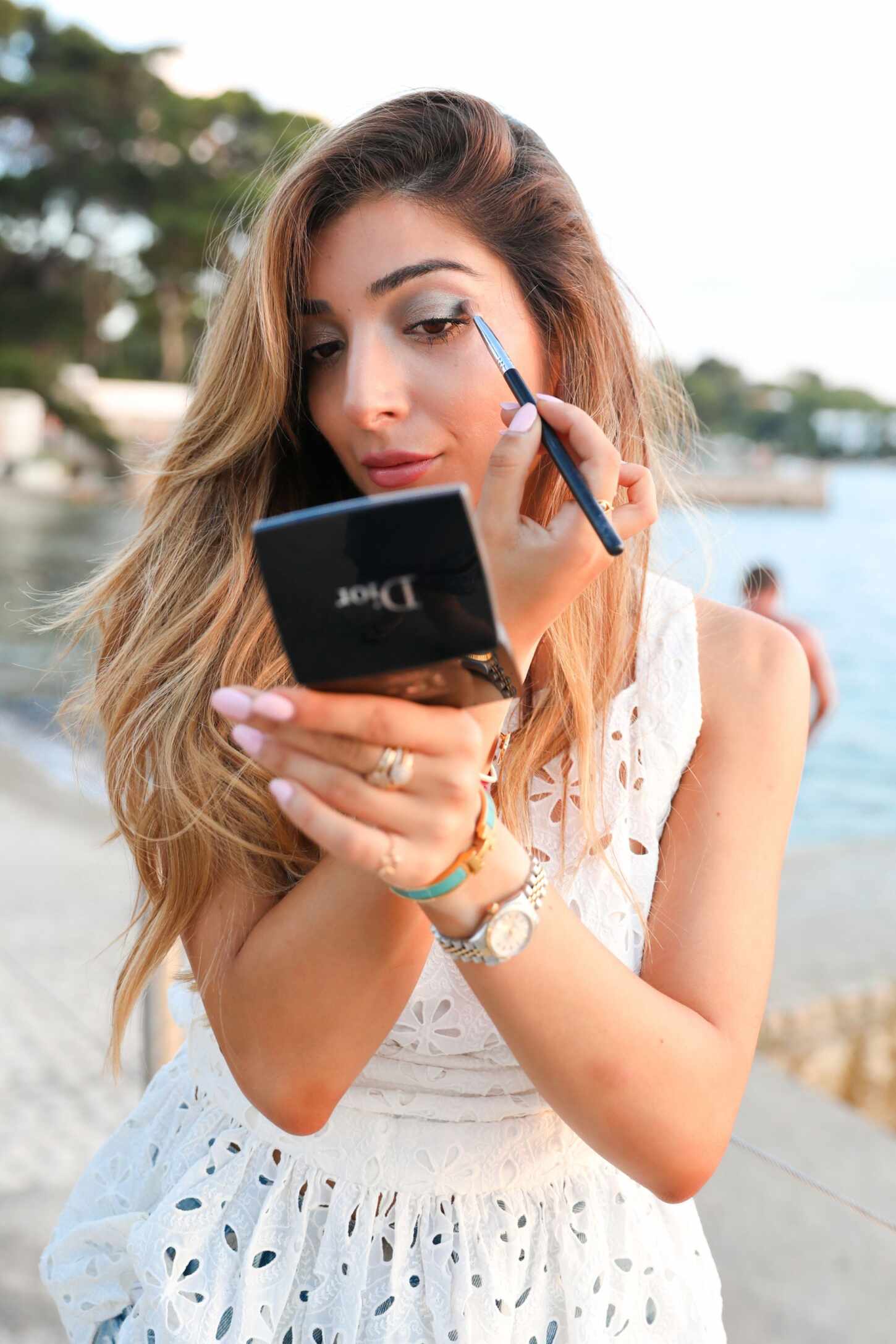 So, how do you incorporate light metallic greens into your everyday look? Starting with the light pink highlight shade under the brow bone to define, sweep the middle shade all over the lid as a base colour, with a little bit of the bottom left at the outer corner. Pretty standard, right? Here's where it gets interesting – use the metallic green on the outer corner, in the socket. I know, I know – metallic in the socket instead of matte is basically a sin…except it's not. It works. It blends and looks amazing with the other shades. Lastly, mix the middle bronze and metallic green, and sweep along the lower lash line, then follow with Dior Pump 'N' Volume Mascara. When you want to amp it up at night, you can also add some of the darkest shade. 
The Dior Metallics Collection has already launched here in the UK, and if you buy one thing, it has to be the 5 Couleurs Eyeshadow Palette in Magnetize! Or, if this hasn't convinced you and you're still a comfort-zone brown smokey-eye girl, I would say you have to have the 5 Couleurs Eyeshadow Palette in Hypnotize in your life. 
Shop Dior's Metallics Collection