Shop the Look

Today I want to tell you about a few fashion items that I've been obsessing over this autumn as well as a couple of random things I found that have transformed my daily routine for the better. 
If you've been watching my vlogs lately, you'll know how much I've been loving this camel coat I got from the Sign of the Times (read about this amazing designer shop over here). I really felt like I needed a camel coat in my wardrobe for the past couple of seasons, and I'm so happy I finally found my perfect match! It's so snug and really easy to wear – I've been pairing it with pretty much everything in my closet.
Here I'm wearing the coat with the Zimmermann playsuit that I got here on THE OUTNET sale for 50% off. I thought the antique-looking floral print and the muted rose shade in combination with the shorter length would work great for the warmer autumn days, because I can easily pair it with my beloved Strategia faux-suede over-the-knee boots from LUISAVIAROMA, which I love because they give me some extra height but are so comfortable to wear!
To balance out all the autumnal shades and give my outfit a pop of colour, I decided to pair the pieces with my red-tinted Dior So Real sunglasses and this bright metallic bag from BVLGARI's Serpenti Forever collection. I love wearing it both, over the shoulder and with the strap tucked in as a clutch.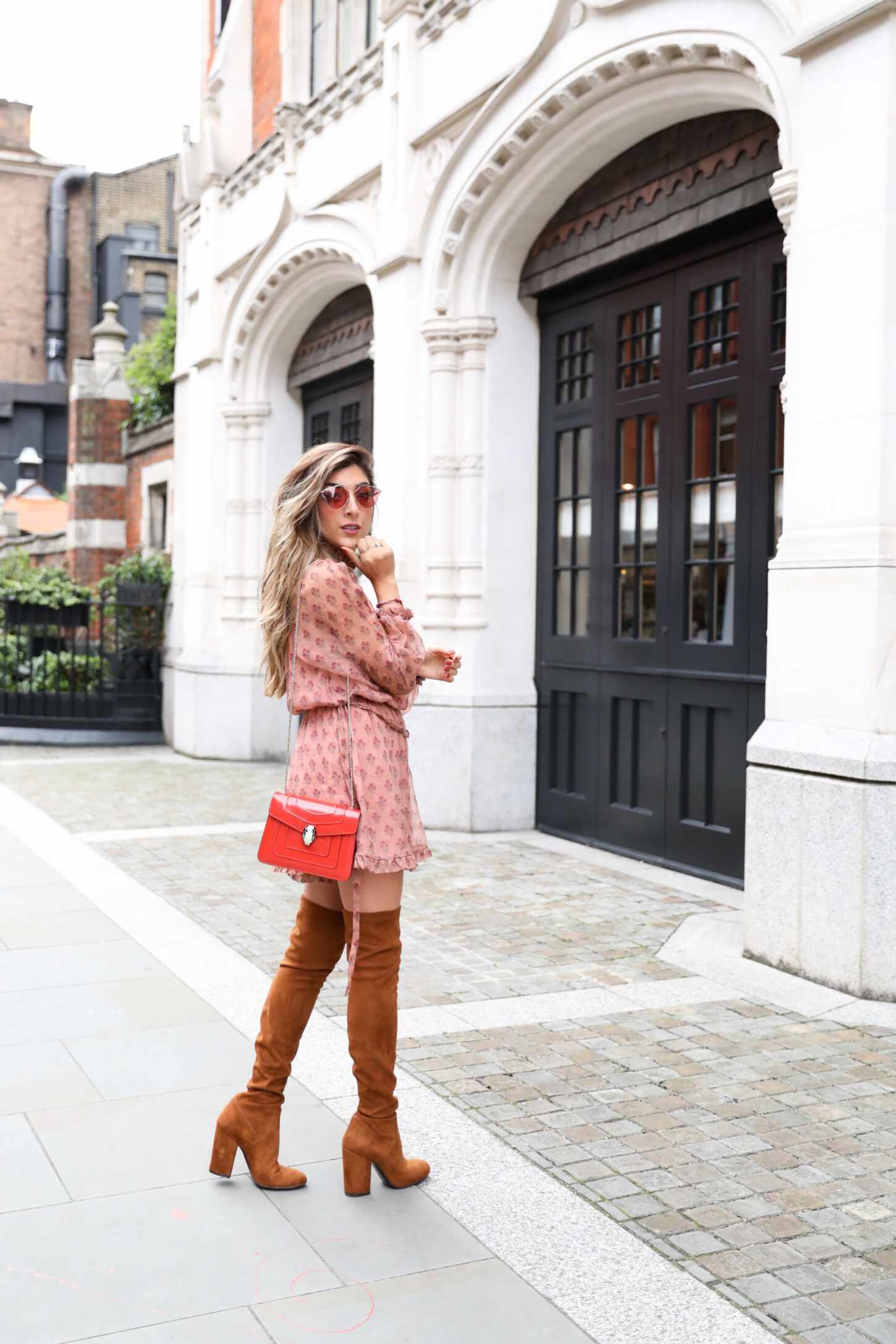 My next favourite is not a fashion item, but it is fashion related – it's an online reseller Vestiaire Collective. Long story short, I've been on the hunt for a sold out Olympia Le-Tan bag and the website has this super handy alert function you can use to get notified when the piece you're looking for or something similar pops up. I love that I get an e-mail every day from them, so that I don't have to keep checking back online and spend lots of time searching through different websites.
Something that also saves me a lot of time (and worry) is the app called Wunderlist. Why have I not heared about this before?! It's such a live saver! It's basically an app for making lists, which I do 24/7 anyway, but a great thing about it is that you can have them all in one place and share them with other people. It's so good to keep on track with projects, as you can add notes to every to-do point and also tick things off, so you all know when something is done and dusted.
Last but not least is a snack – the Nakd Salted Caramel Fruit & Nut Nibbles. I'm such a snacker. You only need to take a quick look at my car or my handbag to realise snacks are pretty much what I live on everyday. They're just the easiest to munch on when you're constantly between meetings, and I have these nibbles for the days when I have my chocolate cravings but still want something healthy. They're basically pimped out raisins. They're made out of dates, cashew nuts, raisins and rice flour – that's it!