Santorini is a place I've been dreaming of visiting for years. Not a day went by without me spotting a photo from the island on Instagram, and now that I've finally gotten to experience it myself, I have to say it deserves all the hype. I didn't think it was possible, but it's even more beautiful in person – the white houses look like they're straight out of a painting, the sunsets are so beautiful people see them off with an applause, and there's breathtaking views every way you turn.
I was lucky enough to have one of the best right on my doorstep at the Kirini Suites & Spa, my home for a few days where these photos were taken and which I will always remember not only by the stunning views but also the superb service and the dreamy dinner under the stars they prepared for us, with delicious Greek food on our plates and village lights twinkling in the background. I also stayed just a stone throw away at equally impressive Katikies, but more on that in my upcoming Santorini travel guide – stay tuned!  
The sparkly outfit I wore for dinner completely matched the setting and couldn't be more perfect for the occasion. The whimsical lavender Needle & Thread maxi gown with an elegant open back and the most gorgeous embellished flowers all over, without a doubt, completely stole the show, but a statement dress like this is not the only way you can add a touch of sparkle to your outfit. One of the key pieces in my wardrobe this festive season is actually a pair of silver metallic heels from Ted Baker, which I though wouldn't be easy to pair, hence why I've never owned them before, but they turned out to be one of the most versatile pairs of shoes in my closet along with white and black options. Plus I love the sweet triple bow detail in the front – doesn't it just scream 'wear me to a Christmas party'?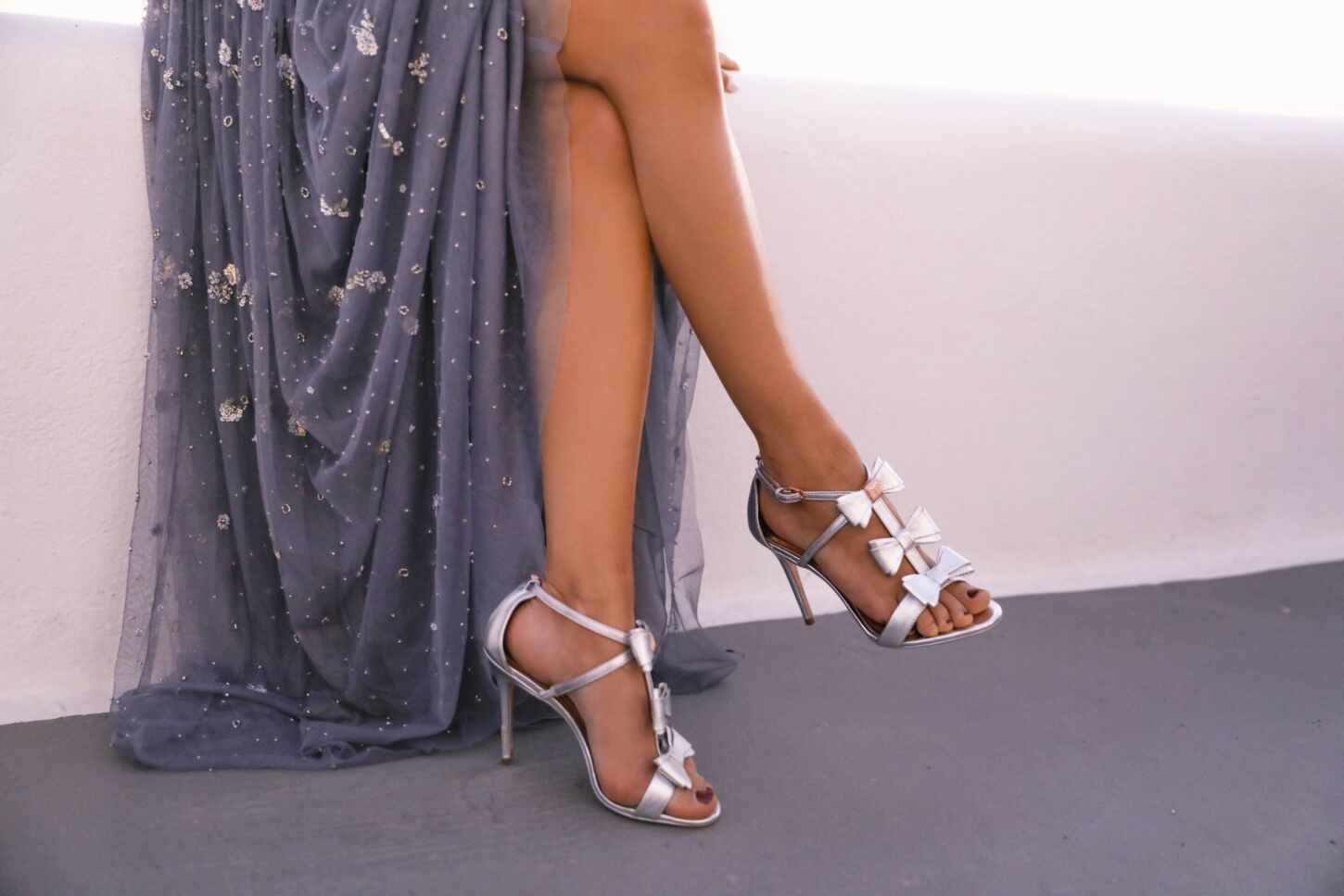 SHOP THE POST

To complete the look, I went with three of my well-loved items that not only work for special evening occasions but inject some glamour into my everyday life too. One of them is probably my favourite eyeshadow palette of all time – the Charlotte Tilbury Dolce Vita. The four shimmery bronze, champagne and copper-toned shades work with all different eye colours and skin tones, and – tried and tested – for all occasions. I love to experiment with different eyeshadows (two of my current favourites are also Charlotte Tilbury's Instant Eye Palette and Urban Decay's Heavy Metals), but the Dolce Vita is the one I always find myself going back to.
Something else that doesn't leave my side (or should I say my fingers) are the stacking rings from Pandora. I love that you can wear them separately or all on one finger like I normally do, and that they have so many different designs there's no doubt you can't find the perfect one, whatever your taste. I currently have five: the Dazzling Droplet, this one with tiny heart cut-outs, a statement flower design, and two simple droplets bands.
Wearing a different-from-your-usual hairstyle is another easy way to amp up your look. I usually don't experiment much with my hair (if we disregard my recent, not so great decision to get a fringe), I rarely even wear a pony tail, but I've tried bringing the top layers of my hair back into a heart shaped bun the other day and I loved the result. It's such an easy way to bring something new to the table! It only takes a couple of minutes and minimal amount of energy thanks to this genius heart bun holder, but looks like you've put in some serious effort.