If you've read this recent post of mine, you'll know that one of my new year's resolutions is to try new recipes and prepare slightly more varied meals, as I somehow got into a habit of making the same chicken-rice-and-veggies concoction over and over again. Well, that is until an all-in-one kitchen miracle worker called Thermomix walked into my life a couple of months ago and I haven't looked back since. Never in my life have I thought I would be raving about a food processor, but it has made such a positive transformation to my cooking routine I honestly can't imagine ever going back to your regular pans and pots. Here's why…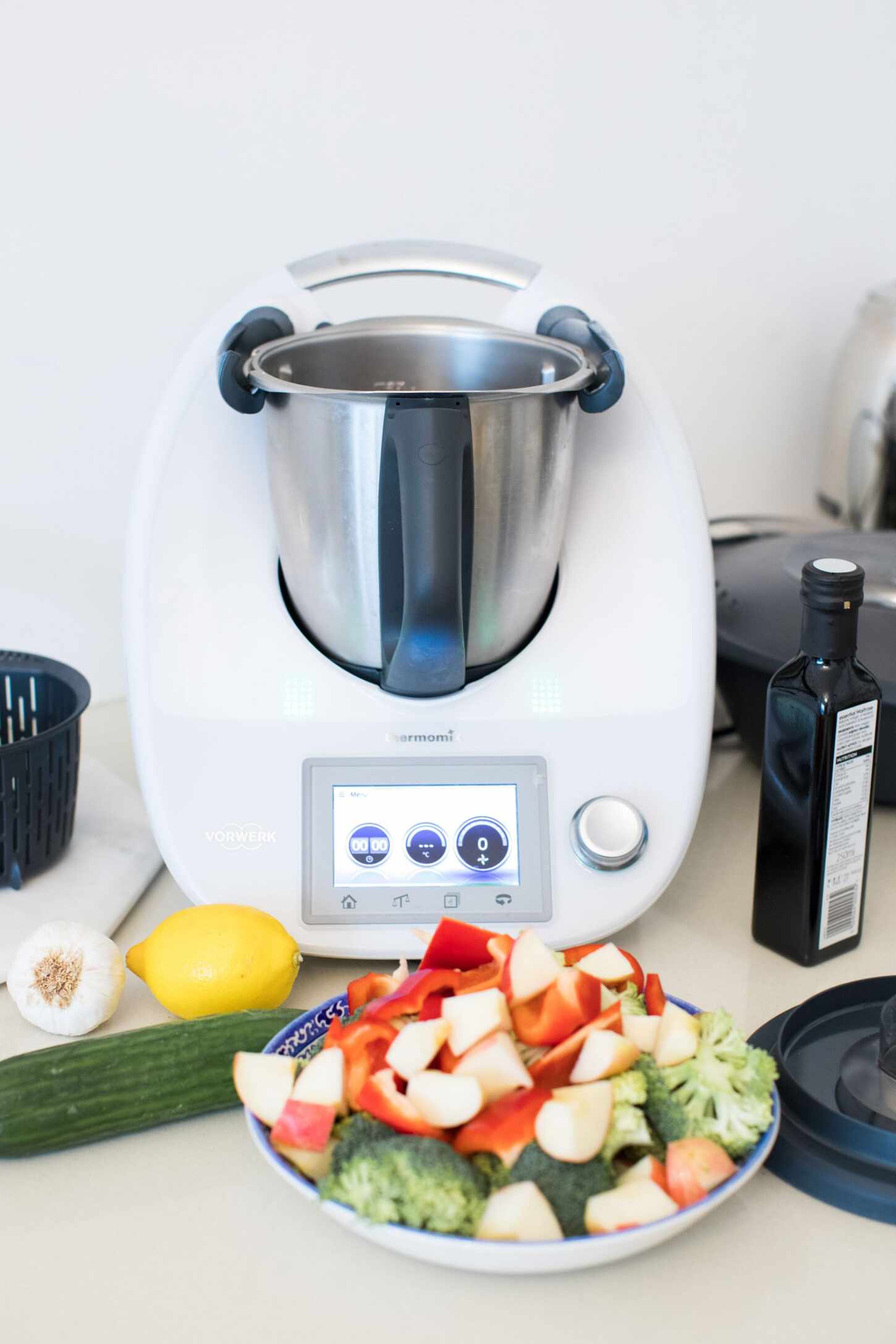 IT SAVES A LOT OF SPACE
Since it's being able to do everything from weighing and chopping to mixing and cooking, replacing every kitchen appliance you can imagine, it saves you lots of room on the counter. My kitchen is pretty small, so being able to put away my blenders, mixers and everything in between has helped clear so much space! As it's only half of a size of a microwave, it's the ideal solution for tiny cooking areas.
IT MAKES COOKING LESS TIME-CONSUMING
Having a busy schedule that's always on the go makes it really challenging for me to take a few hours out of my day to prepare my meals properly, but Thermomix really changes everything and makes preparing meals as easy as it could ever be. Every step takes only seconds to do and even when you're making a dish that requires some extra cooking time, you can just step away from it and go on with your day while the machine does its own thing in the background. It will also stir for you so you don't need to go back to check and alert you to remind you that it's done with a built in timer so there's no worries there. Oh, and you know what my favourite part is? That you have no more than one or two dishes to wash once you're done cooking! Bye, bye overflowing kitchen sink…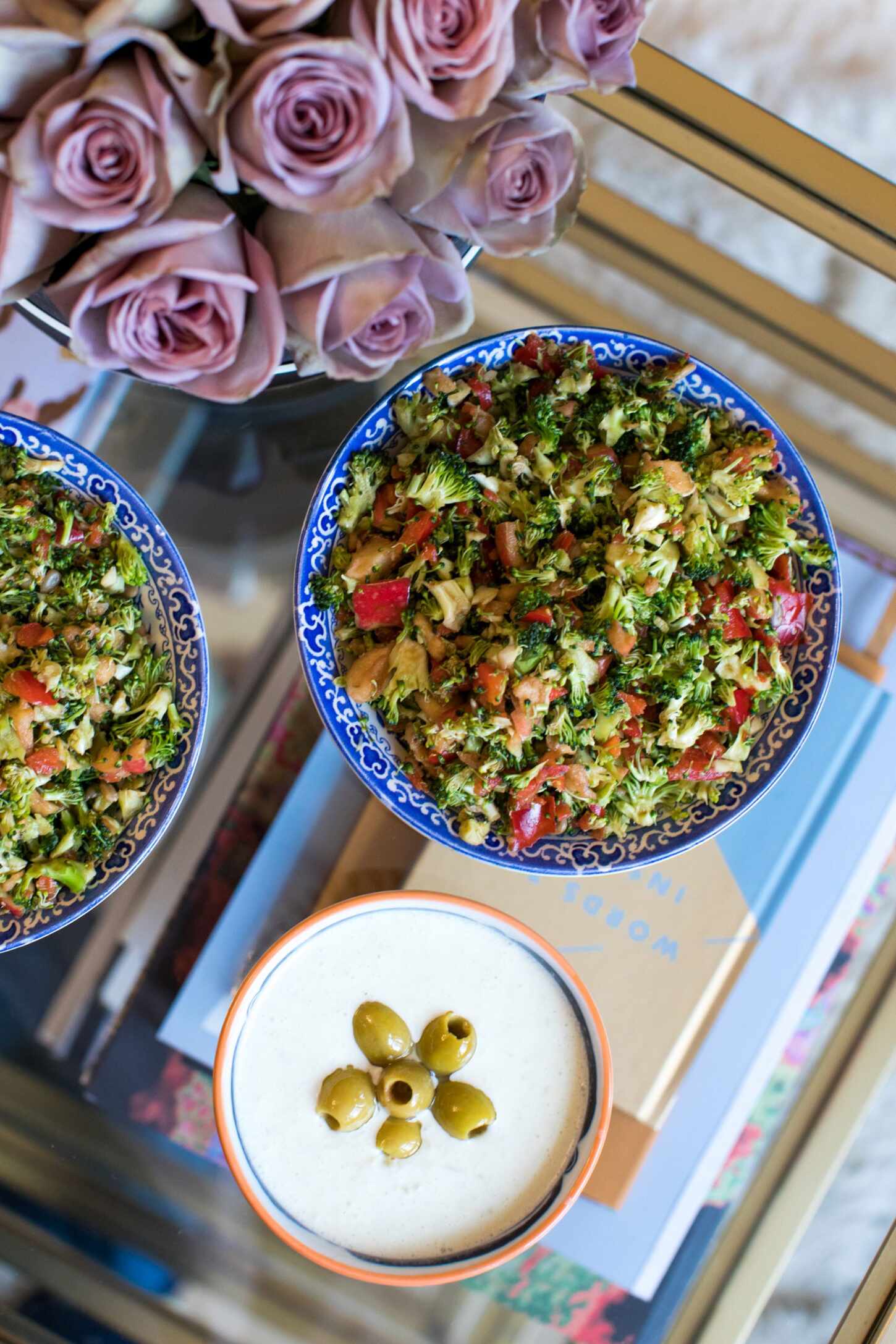 RAW BROCCOLI SALAD RECIPE
Ingredients:
300g broccoli
1 red bell pepper
1 apple
handful of sunflower seeds
1 tsp honey
1 tsp mustard
2 tbsp olive oil
 2 tbsp balsamic vinegar
salt & pepper
Instructions:
Chop broccoli, bell pepper and apple into smaller chunks, add all ingredients into Thermomix bowl, and mix for 5 seconds on speed number 4. Voila!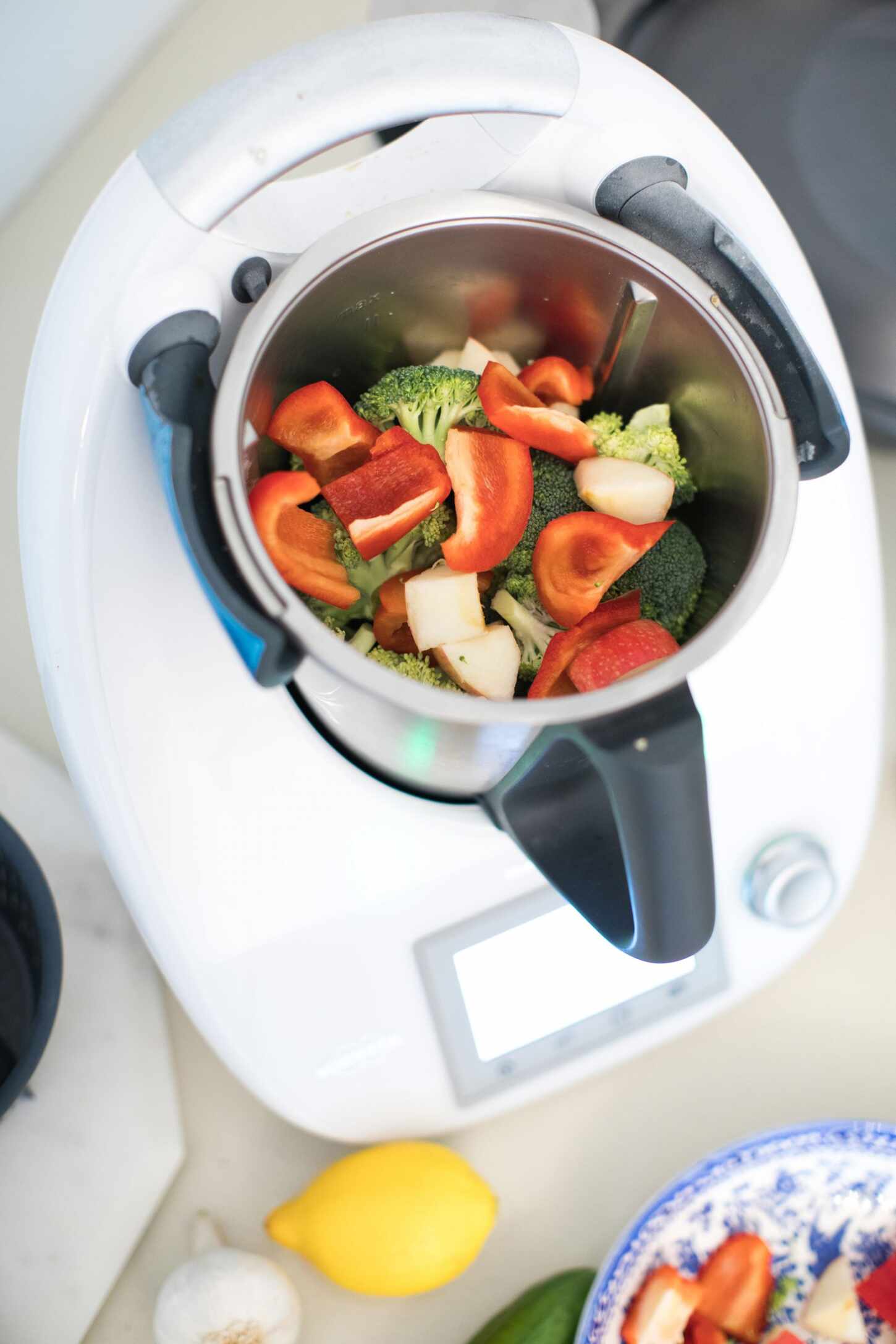 IT'S EASY TO USE
Cooking in general normally requires some skills, but Thermomix is so simple and intuitive to use even a 10-year-old would manage to whip out a three course meal in no time. It comes with a touchscreen that guides you through your recipe step-by-step, so the only thing you really need to do is to make sure you have all the ingredients ready and follow the directions, which don't involve more than putting in the ingredients and pressing a few buttons.
IT INSPIRES ME TO TRY NEW DISHES
Getting Thermomix is what actually inspired me to break my boring cooking cycle and pushed me to start trying out new recipes. There's a huge database of them waiting for you to browse through online and load onto a recipe chip that comes attached to the device and is there to then guide you through the whole meal preparation process. Plus it even allows you to access all nutritional information through it – genius!
HEALTHY STEAMED SALMON & RICE DINNER FOR 2
Ingredients:
2 salmon steaks
140g rice
fish seasoning of choice 
olive oil
salt
pepper
1 lemon
Instructions:
Pour 1.5l of cold, lightly salted water inside the Thermomix mixing bowl. Place two salmon steaks on the top tier of  varoma, add some olive oil and seasoning on top, and place the closed varoma tray on top of the Thermomix bowl. Set the timer for 15 minutes, on varoma speed 1. After the time's up, remove the varoma tray, and place the simmering basket with rice inside the mixing bowl. Put back the varoma tray with salmon still inside and cook on varoma speed 1 for about 15 more minutes, until both rice and salmon are cooked. Before serving, I like to squeeze a little bit of lemon over my salmon and rice to add some extra flavour, and I find that tzatziki as well as the the raw broccoli salad (recipe above) go along nicely too! 
I honestly can't recommend Thermomix enough. Yes, it is a pricey contraption, but well worth it as it does replace twelve different cooking appliances, and ends up saving you so much space, effort and time. You can  book in for a demo without committing to a purchase to see how they work for yourself. Head over here for more details and thank me later!