The 'goodbye winter coat, hello ice-cream' weather we've had in London last weekend couldn't have come at a better time. After being bedbound for the majority of the week, trying to fight of a nasty virus, leaving the house for a walk in the sunshine felt like pure bliss. The city completely changes the mood and every Londoner seems to be high on Vitamin D when the sun's out, so it felt like entering a another planet – I'm so glad the longest winter that has ever existed is officially over! Whilst strolling down the streets, giving myself a neck sprain from turning my head after every pink-blossomed tree, I stumbled upon the most beautiful spot, just calling to be photographed, and so I took over someone's doorstep (as you do in this crazy world of blogging) to show you my favourite pieces for spring I've been wearing recently on rotation.
Shop the Post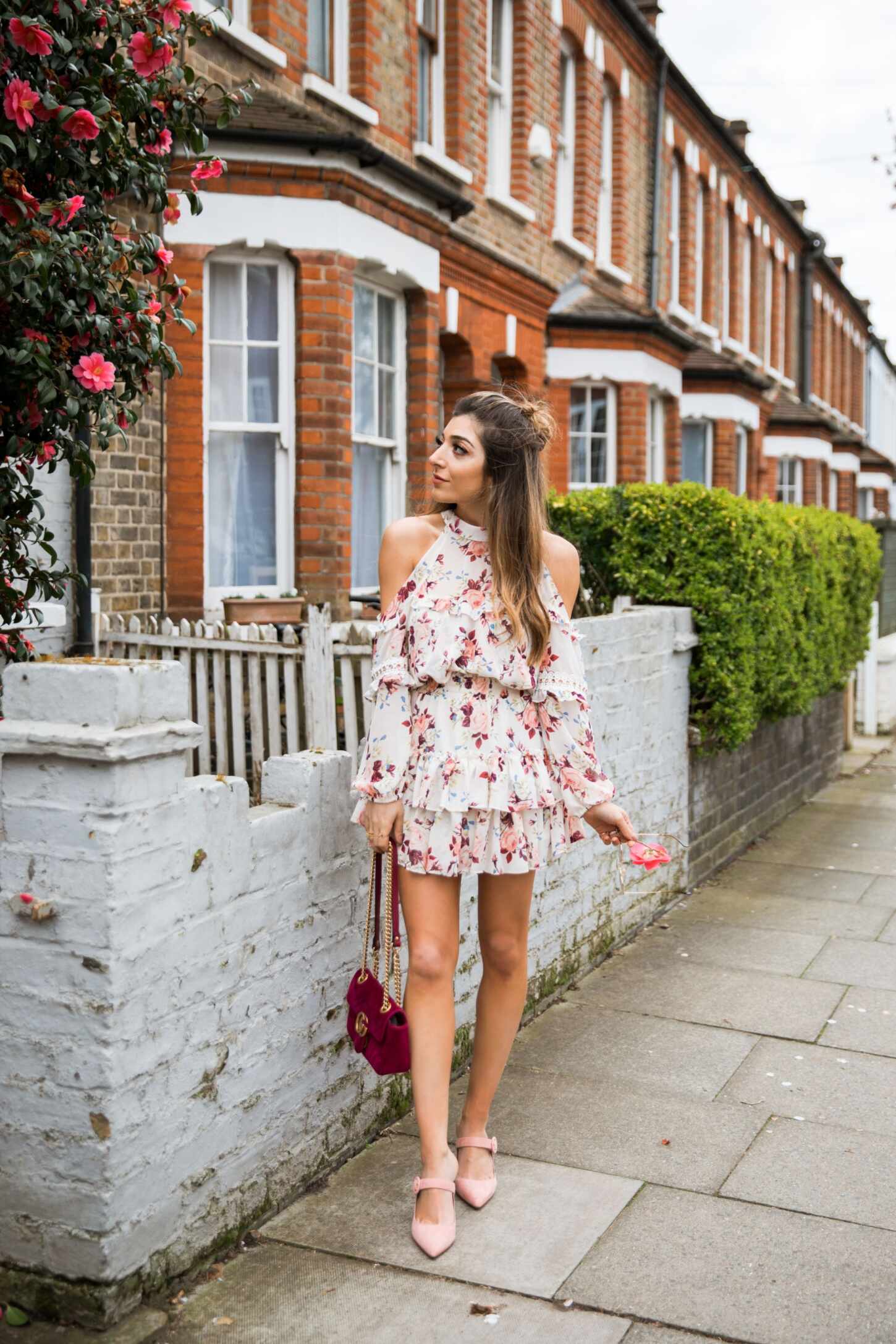 DRESS
It's no surprise this stunning chiffon number from SOC Fashion holds the number one spot in my wardrobe right now, seeing it combines all of my favourite features in a dress. Floral print? Check. Cold shoulder cut? Check. Frills? Check. The silhouette is very feminine and also super flattering if you're still dealing with the post-Easter 'I had way too many chocolate eggs' belly (guilty as charged), plus the delicate crochet trim on the sleeves is a nice touch too!
SHOES
You know you have a winning pair on your hands when you style your outfits around your shoes – these mules I got from LUISAVIAROMA and also wore in this post last week haven't left my feet in about a month! First of all they're pink, and that's often a reason enough for me to wear anything (cue my obsessive infatuation with this shade), but this time it's not just the colour that swooned me over. They're also incredibly comfortable to wear and so easy to throw on compared to my tie-up sandals or over-the-knee boots.
ACCESSORIES
The Gucci Marmont velvet bag is one of my most-loved sidekicks I wear year-round, as the darker fuchsia shade works just as well for winter as it does for summer. I'd say it's one of my most versatile bags, as I can wear it over the shoulder, cross-body or double the chain in a top handle, and I also love how spacious it is for a bag of this size. It's perfect for daytime when I need to shove in a day's worth of essentials, but the luxurious double g closure hardware makes it transition nicely into evening occasions as well.
Sunglasses are such a staple for me – I rarely leave the house with a pair in my bag, even when the sun is hiding behind the clouds. If you've watched my recent spring haul video, you'll know I recently welcomed a couple of new pairs into my collection, but the ones I ended up wearing the most are these round gold-frames with gradient tinted lenses from Ray-Ban. They go with everything!
In terms of jewellery, I'm all over Pandora's Honeycomb pieces this spring. The designs are so unique and beautifully made I can't stop staring at them! Here I'm wearing my favourite from the collection – a statement Honeycomb Lace Ring with intricate lace pattern and sparkling stones scattered in the middle. J'adore!