Just over a week ago we were well on our way to one of my favourite places in the world… St Moritz! Excitement levels were high to hit the slopes, eat some of the best chocolate and spend evenings in the sauna. I was most excited to take Rob because its somewhere I've been going to since I was little. I have some of my favourite memories in St. Moritz and was eager to make more on our first trip as a newly engaged couple! St. Moritz also has some of the BEST skiing, although I could be a little biased.
We stayed at one of my favourite hotels called Suvretta House  which is by far the most beautiful and grand hotel there. Our bedroom overlooked the most picturesque view of the mountains and the snow was literally calling our names to get on the slopes. It's situated right on the slopes which means it's a few steps away from skiing, and with a ski room right at the bottom of the hotel it's practically moments before you're on the slopes.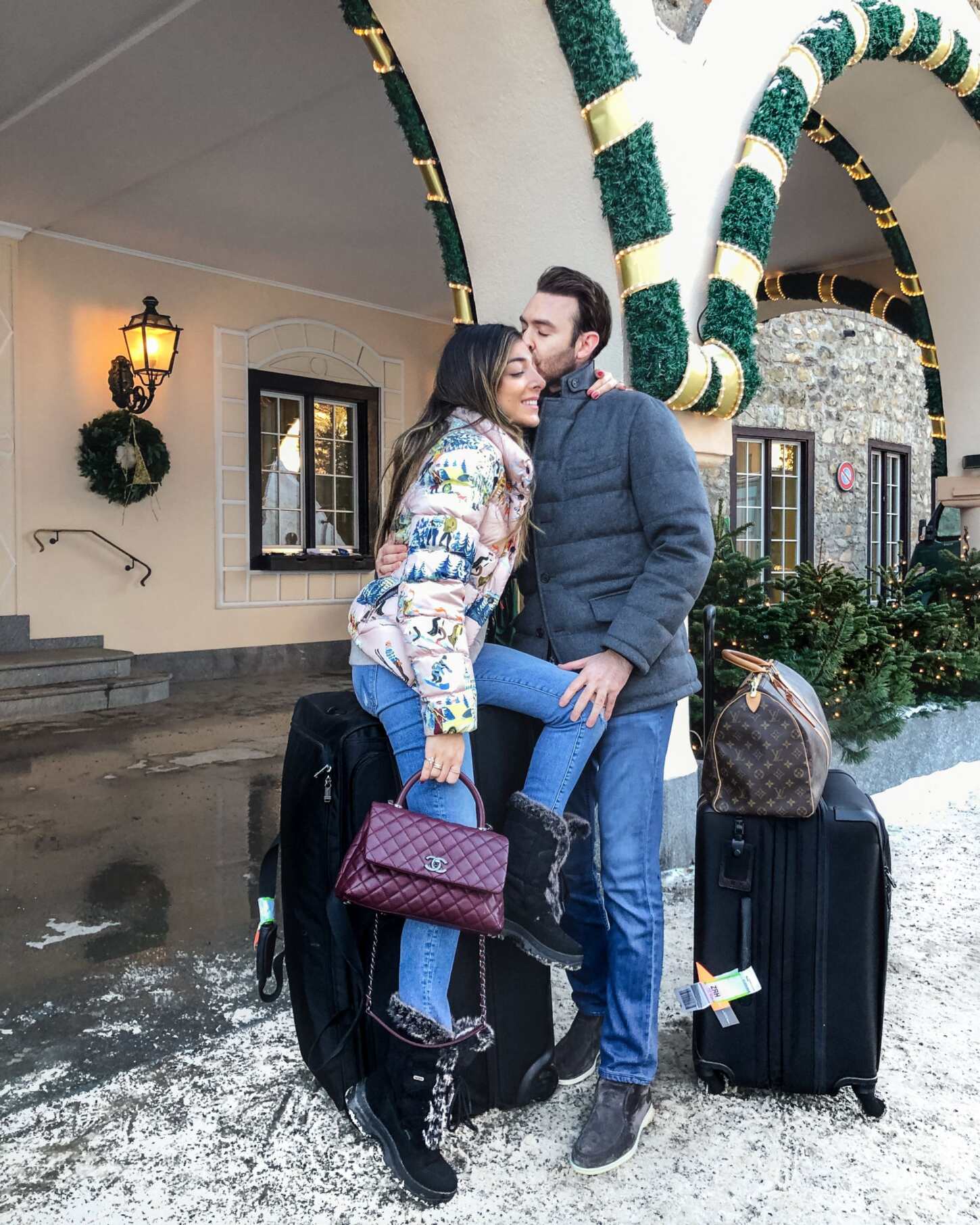 The weather on the first day was not the most ideal and we ended up coming back down the mountain for some ice skating instead which proved a little easier for our fiancés than it did the girls! The hotel has a large ice rink outside and skates in all sizes so there's plenty to do should the weather turn. 
Day 2 didn't get much better with the weather and sadly this is where our trip got cut short.. very short due to Rob's accident! After a day in the hospital we changed our flights and made our way back to London to get everything checked out back home,  and I'm very glad to say its nothing that can't be fixed!
The team at Suvretta were so helpful with us and made our frantic trip back so much smoother. The few hours we were at the hotel after the accident everyone was so accommodating, bringing him stools for his leg, ice packs and someone even carried him down the stairs! We both really hope to go back together soon so we can properly experience the hotel.
On the plus side, we managed to take a few pics on the days we were there and I wanted to share a few outfits that I wore from the trip. Writing this from hospital in London waiting for Rob to wake up from heavy pain killers but happy to report his operation went well. He did however mention it hasn't put him off skiing at all and would get back on the slopes when he can! That's my man!