I am so excited to tell you that ELEMIS have launched some brand new products into their vegan friendly Superfood Range! I'm sure you have all heard me say before, ELEMIS is a skincare brand that I am totally obsessed with. My skin just trusts them. Since before the new Superfood products launched I have been giving them a proper road test and am now able to give you the full low down on each one!
The ultimate winner for me and my absolute favourite product to use on a daily basis is without a doubt the Kefir-Tea mist. 
I have always found it quite hard to find a mist that really works for me, and a big part of that is the atomiser and how it delivers the product onto my skin. When I tried the Kefir-Tea Mist for the first time I was over the moon with how it landed on my skin, and could have literally used the whole bottle right there and then! Aside from this though, I cannot fault the mist, it has shot up to one of my most used products at the moment. 
What's so great about the mist is that it is such a multi purpose product! I use mine as a base to prime my skin, as a toner or refreshing spritz when I'm feeling a little tired and even as a setting spray. It gives you such a fresh and dewy glow that really brightens up my skin and leaves me feeling a lot more awake and ready! It can even be used at night to relax and wind down.
The whole Superfood range has some really great ingredients and antioxidants for your skin which is something that I look for when using any product. The mist contains Aloe Vera and coconut water which are both very soothing ingredients.
Overall I can't recommend this product enough, it's something everyone would be able to use and truly my must have!!
Being based in London can sometimes have a big effect as the pollution and dirt always takes a toll on my skin. When I started testing out the Blackcurrant Jelly Exfoliator I must admit, I'm always sceptical about exfoliators as they can be harsh on my skin and strip my face of their natural oils, usually leaving my skin feeling dry and tight. However, this one was a bit of a game changer for me – it has an amazingly soft exfoliator with a glycerine base that leaves my skin feeling so smooth and hydrated. I feel very clean and fresh afterwards but the most important thing to me is that it didn't strip my skin and make it feel dry!
One of the ingredients in the Blackcurrant Jelly Exfoliator is black tea which is calming for irritated skin and has anti ageing properties. I would recommend this to someone who has similar views to me about harsh exfoliators and has never found one that agrees with their skin. 
Last but certainly not least are the two new superfood masks!
The Berry Boost Mask is a purifying mask that helps with mattifying more oily parts of the skin. I love to apply this on my T-Zone – It's a great base to prepare with! Plus the colour of the mask is so pretty!
The Vital Veggie Mask is a hydrating mask – I really love this one!! It has avocado oil in which is a really nourishing ingredient and helps to moisturise. Whenever I feel like my skin needs a bit of a pick me up, this has really made a difference in brightening and smoothing my skin.
I love to multi mask these two together so a lot of the time I will put the Berry Boost Mask on my T-Zone area and the Vital Veggie Mask on the rest of my face and neck. It works wonders for my skin – when I wash off the mask I can instantly see such a difference. My skin appears more radiant and its feels so smooth.
Take a look at the whole range here and let me know what you think!!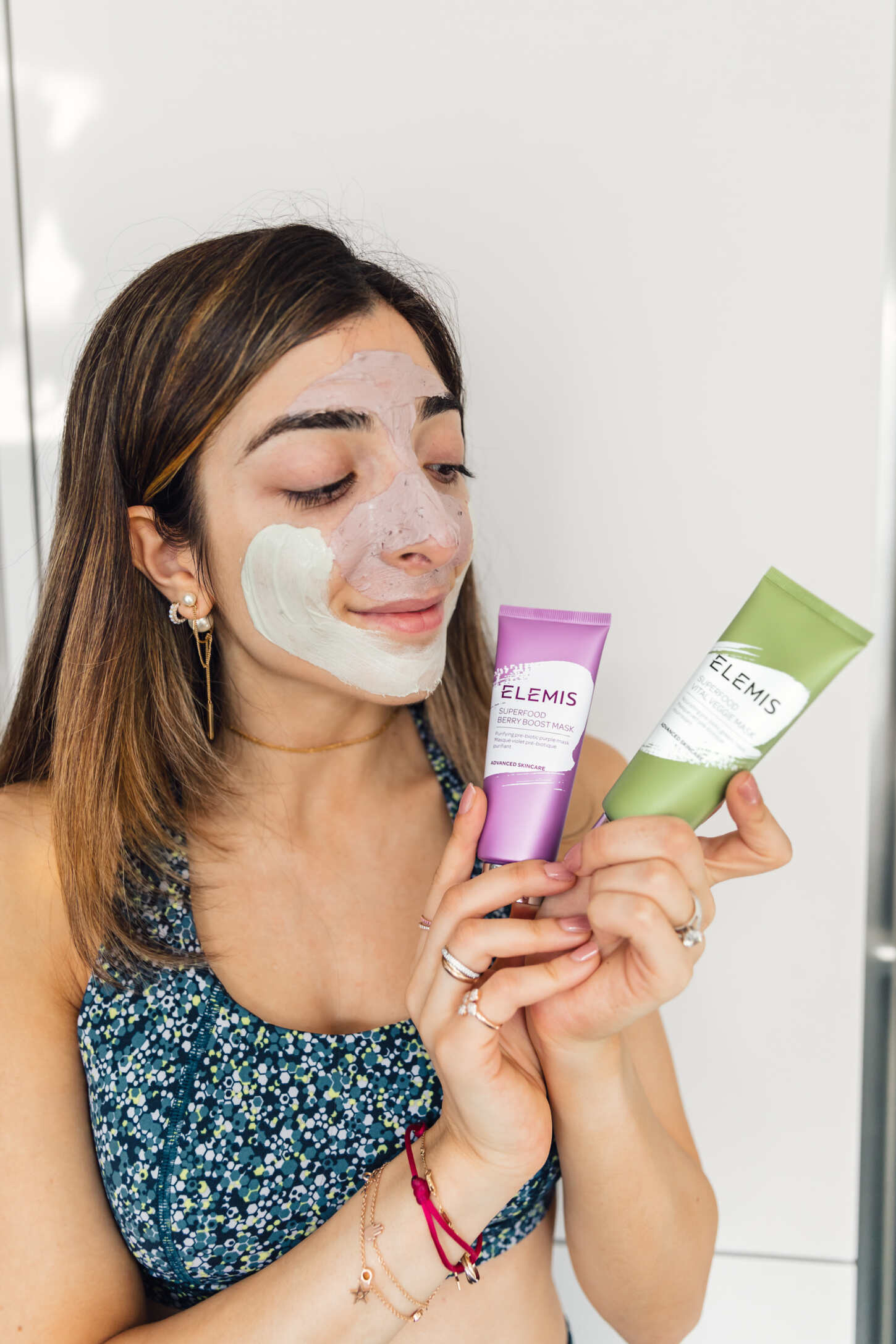 SHOP THE NEW SUPERFOOD RANGE
SUPRISE!
Enjoy a complimentary 15-minute Superfood facial
Call or visit your nearest participating retail store to book quoting AMELIA15. 
Find your nearest store
here!
Offer valid for one 15-minute Superfood facial in participating John Lewis, Debenhams, Harvey Nichols and House of Fraser Stores. Subject to availability. Booking is essential. Offer valid until 31st March 2019. Offer not valid in conjunction with any other treatment or product offers. 
Get £10 off your first purchase of £50 or more at 
Elemis.com
. Plus, FREE standard delivery to UK!
Use code AMELIA at checkout
To sample the Berry Boost, click
here!
(The sample is available to UK residents only)
Terms and Conditions: Must spend £50 or more, not including delivery charges to receive discount. Not valid on collections, sale items or gift vouchers. Subject to availability. While stocks last. Cannot be combined with any other offer. Offer ends 31.05.19. Offer not valid on prior orders. Offers may be changed or removed at any time.