I've recently started creating weekly/weekend round up outfit videos on my YouTube channel which everyone seems to be really enjoying! Taking inspiration from this, I thought I would do a little throwback of some of my favourite summer looks over the years – seeing what pieces I still like to take with me, what pieces have lasted… and more!
LOOK 1
Can you really go to Santorini (…or anywhere in Greece) and not take inspiration from their colours??
I loved this look when I visited Santorini last year – the perfect chic day attire for a stroll around the gorgeous town. I paired the sweetest white broiderie crop top from For Love and Lemons with this Asos blue polka dot skirt and was really happy with the outcome! I still have both of these pieces, but have to admit they haven't remained in my most used pile of summer clothes. I spotted a similar top from For Love and Lemons which would pair nicely with the skirt. For accessories, I added a really cute straw bag from Free People which remains, one of my staple summer bags. It's also stayed in really nice condition, which, for a straw bag I'm always impressed by. Lastly I wore a headband from Anthropologie – they have such a great selection of hair accessories so I can always find something that gives my outfit a twist!
LOOK 3
Sometimes, all you need is a swimsuit and some accessories!
The Amalfi coast is breathtaking and this spot in particular. My white swimsuit was a great find from Asos for only £20. I would definitely repurchase this, it's such a classic piece that, to me, looks more expensive than its price tag. (Also really happy that the crisp white colour hasn't changed since I bought it.) I found a similar plunged white swimsuit here for anyone looking! The sunglasses are my go-to (even in the winter) orange tainted shades from Illevesta which are still in stock on Revolve! I've found a wide selection of theirs on Shopbop. To complete the beachy look I wore my Helmut Lung straw hat with frayed rim detailing. I loved the contrasting texture with the swimsuit and found a very similar match to it from a brand called Lack of Colour.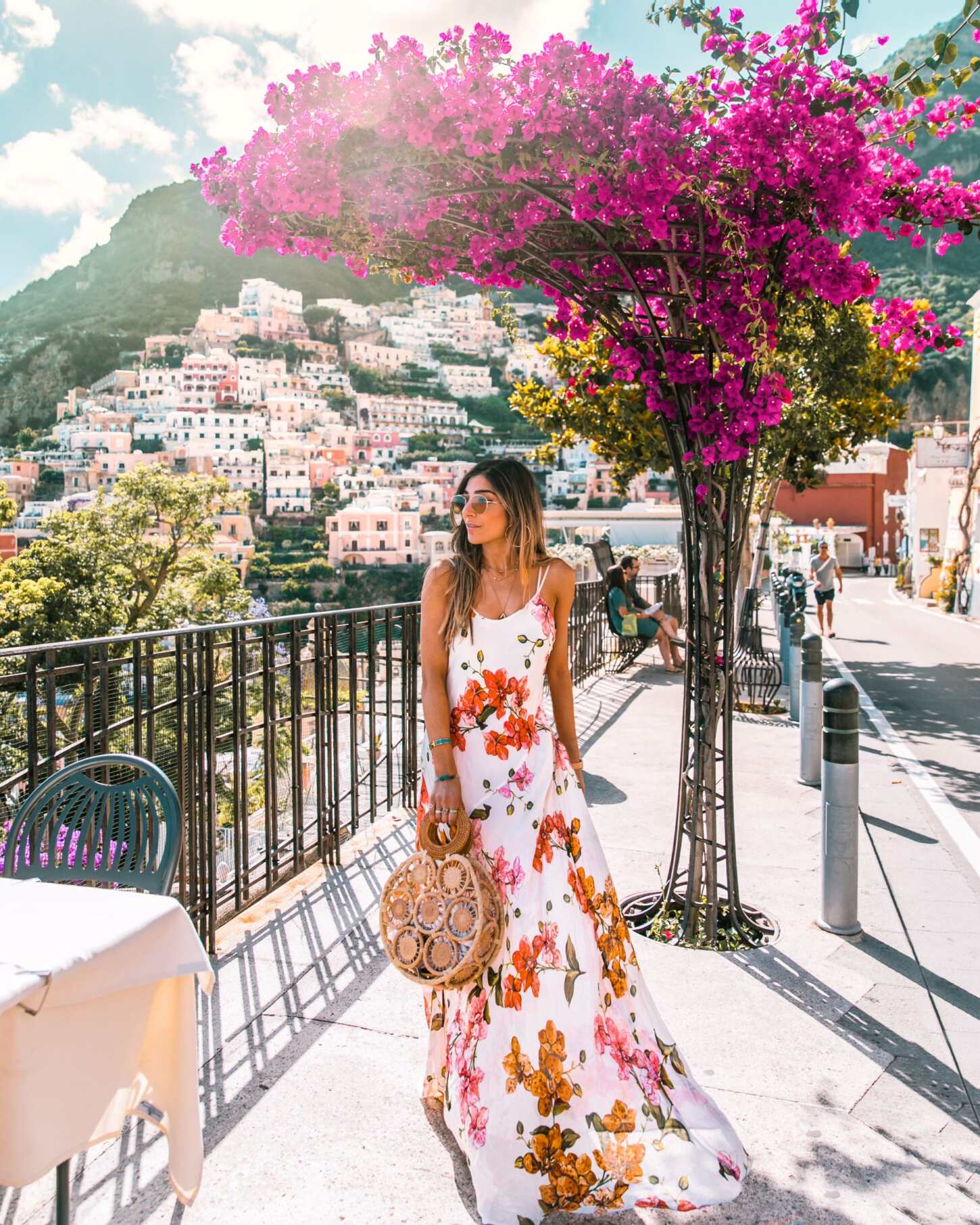 LOOK 5
This is one of my all time favourite summer looks!
As I'm sure you all know I'm more of a mini dress girl but when I spotted this orange maxi dress from Kalita on NET-A-PORTER… I couldn't not get it!! It's the ultimate summer dress! It's obviously not one of my most used pieces as it's tailored to quite a specific time of year but if I lived in heat throughout the year I'd be wearing this non-stop. I accessorised it with both of my hair slides from the Skinnydip collection, the gold with the orange looked amazing! The final piece of the outfit is my current favourite summer hat by Gucci. I initially thought that I wasn't going to love this as much as I did, but I am obsessed! The structure and design are really flattering and and its a very versatile piece!
LOOK 2
An evening in Positano!
This Zimmerman dress I wore is one of my most loved and used dresses, I don't think I'll ever stop wearing it!  It has a beautiful floaty floral design with contrasting sexy cutouts and a corseted back! I find that many of the Zimmerman dresses are so versatile – you can really glam this dress up or down depending on what occasion you're wearing it for. Worth investing in! I accessorised the dress with some statement turquoise studded hoops from We Worship Style. They're really light on your ear and I adore the dainty stud detailing!
LOOK 4
I wore this dreamy floral inspired look in Positano last summer, and have actually forgotten how much I love this dress. The ease of the floaty material is perfect in the heat, as well as looking really feminine and fun! I found the maxi dress from a brand called Pinko that have a great selection on Farfetch. A perfect all rounder dress for the summer! Carrying my Cult Gaia straw bag which I'm sure you've seen me wearing many times! I'm still really in love with this bag but if you're looking for something similar, Mango has an an amazing collection! It's definitely one of my less practical bags so if you're on the hunt, I would try looking for a design with fewer holes!