*Paid Partnership with Bulgari
Just because I'm not going out right now doesn't mean I need to be in loungewear every day and can't get some inspiration from moseying around my wardrobe. I must admit my girlfriends and I have had some fun in recent weeks dressing up for our weekly zoom nights, which has made me shop my wardrobe and find new looks. However, nothing has beaten playing dress up at home with the new the Bulgari Serpenti Bag Collection.
Something in my wardrobe that has remained timeless and iconic has been the 'Serpenti Forever Flap Cover' bag in fuschia. The dust has never settled on it, and I've recently added to my collection with one of the Selfridges exclusive shoulder bags that are painted and inspired by the Italian Riviera. I've often found that when I'm creating a look, I revolve the clothes around the accessories cause it really shows off my own personal style the most. Plus accessories for me are the most exciting part!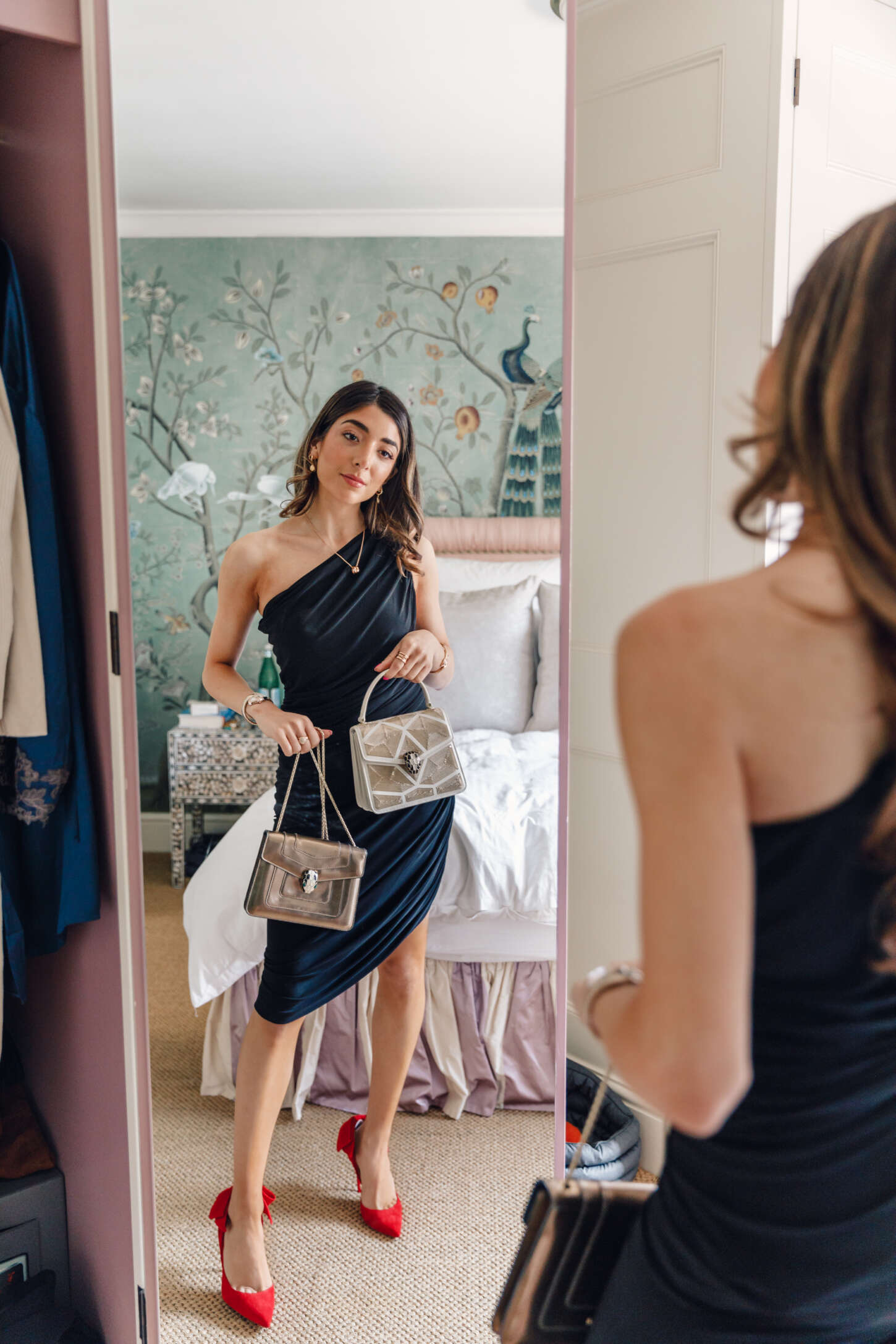 Both of these bags reminded me more of an evening look. I fished out one of my recent favourite little black dresses and did a quick comparison check to see which worked best. The Forever Flap Cover in Bronze Metallic took the edge and I layered some statement jewellery pieces from the B. zero 1 & Serpenti collections to tie in to the bronzy theme. For an elegant statement, I love Bulgari's jewellery, I think it adds a little extra glamour to make your outfit pop and stand out from the rest. 
I've used the snake body chain for the over the shoulder option, but you can switch this up and wear it as a clutch as well – two styles in one! I always get so hypnotised by the metallic designs, especially at night as the lights reflect off the metallic and can create gorgeous patterns on the bag so the colour looks ever-changing. 
This is definitely an outfit where the 'more is more' approach wins!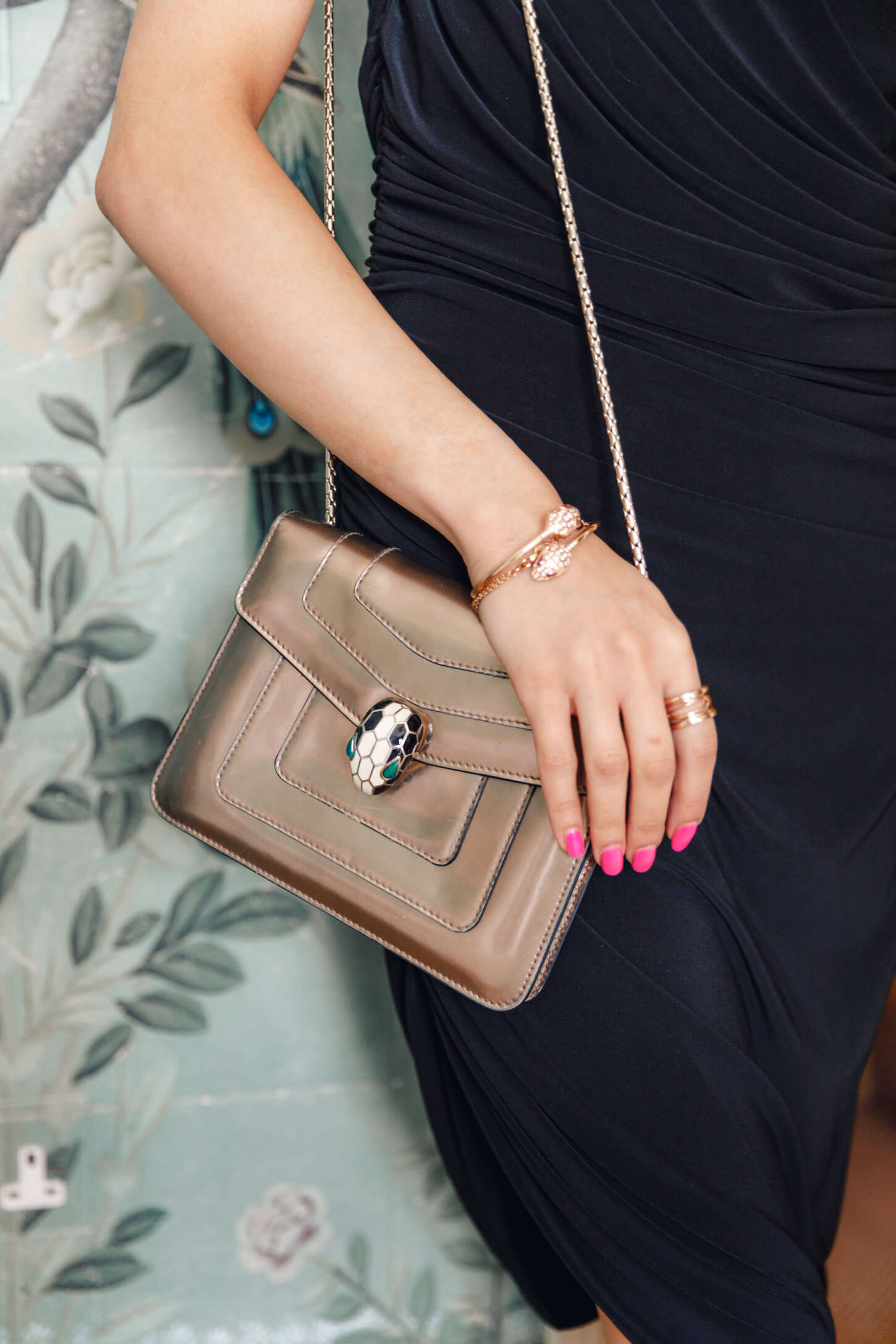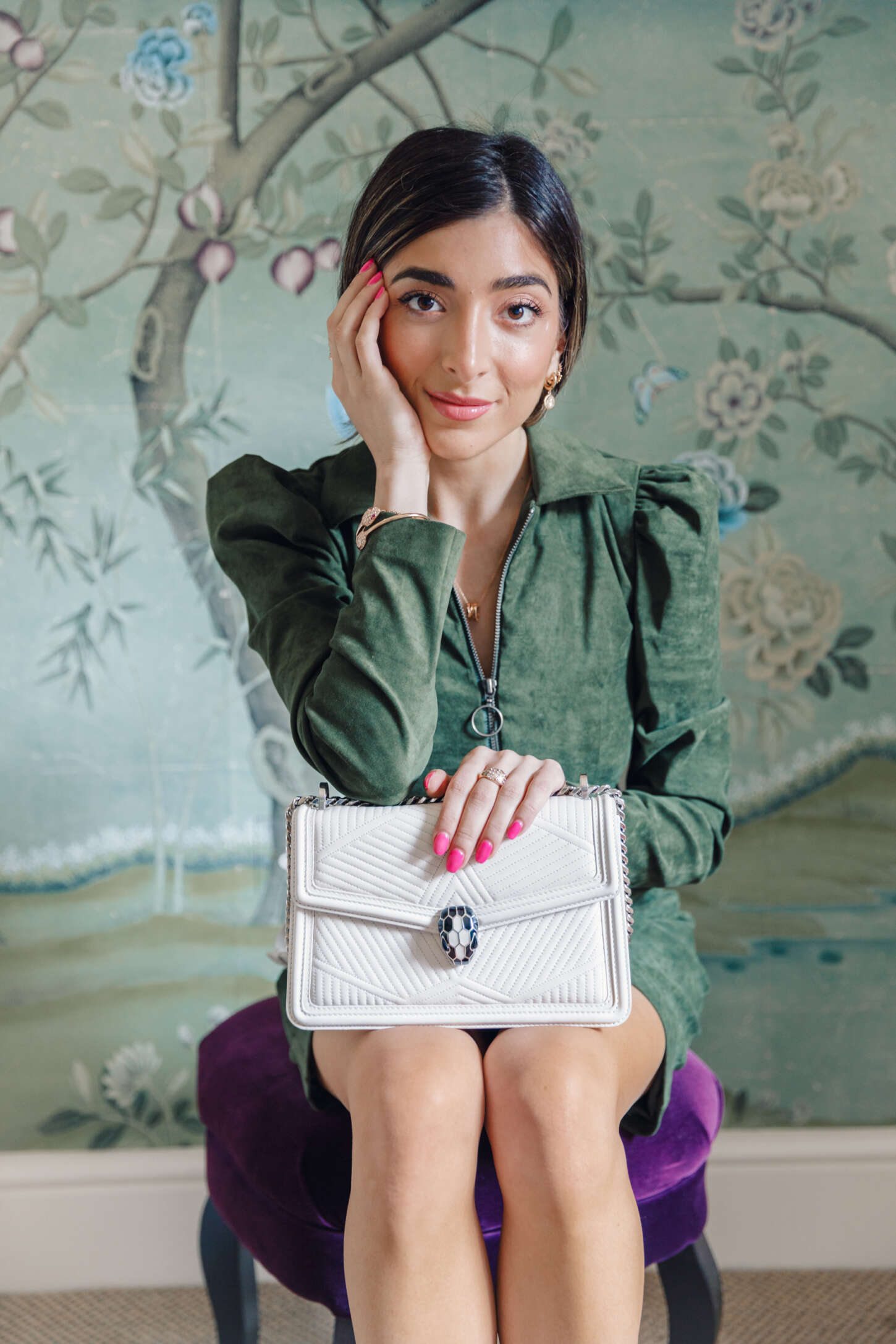 Next up I chose the Serpenti Shoulder bag which I think is perfect for every day use. I'm someone that likes to fill their bag for all occasions, hand cream, snacks – you name it! So, having a more practical design like this is what I normally opt for day to day.
I've slipped on my favourite green suede dress and white leather mules to accentuate the diamond inspired pattern on the bag. I'm obsessed with the chain strap, it feels like a piece of jewellery itself! The adjustable chain means you have the choice to wear it short or long, and to tie in with all these silver features, I've worn the Serpenti Tubogas watch. 
You can check out the Bulgari accessories range here and jewellery here in case you fancy some shopping whilst at home! I think that for anyone, all of these designs can make any outfit look sophisticated and luxurious, whatever the season! Of course you'll be seeing me wearing mine for years to come…
Last but by no means least, the Serpenti Forever Crossbody bag, which caught my eye immediately. This is my favourite style that Bulgari do and it was really calling out to the girly side in me. I automatically pictured wearing a summery, fun outfit to match.
I hit the jackpot finding this top that ties in with the shade of the bag perfectly. Pairing the box shape against the soft puff sleeve and kitten heels created my match made in heaven. I love the pops of colour on each side of the bag for that extra little surprise. Having those contrasting shades on the leather and stitch work make such a unique and special design that always rakes in the compliments! Plus the unique pastel head on the bag is the first I've seen.