GODDESS MAKEUP BAG
Our dusty blue Goddess Makeup Bag is ready to be filled with your must-haves, makeup heroes and self-care essentials. It's chic, durable and features a handle for easy transport, a double zip on both sides & transparent panels, so you'll always know exactly what's inside.
Bag Dimensions: 24cm x 19cm x 10cm
Sold out!
Please note, beauty products are not included.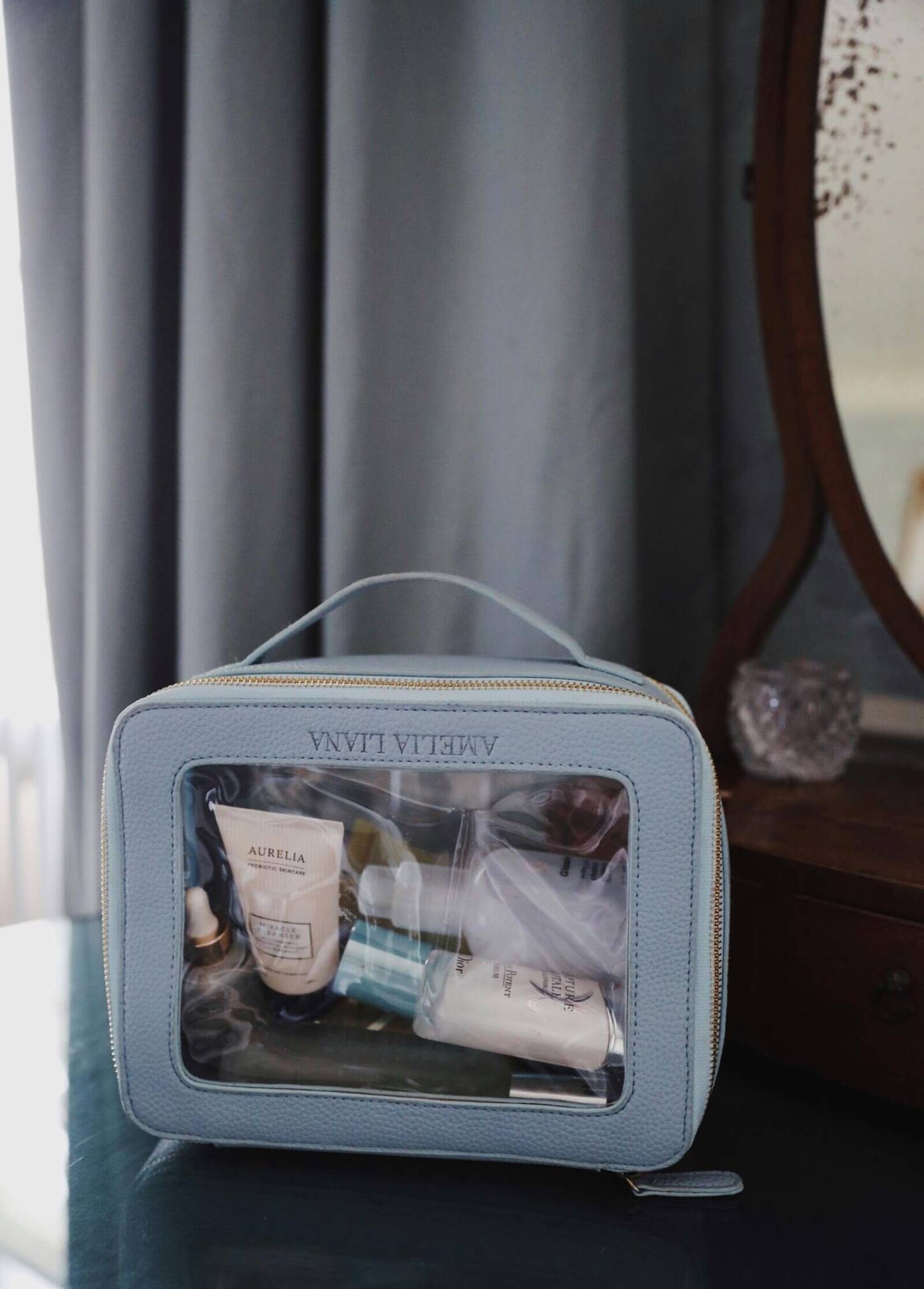 COVID-19 UPDATE
Whilst we understand that you want to use your makeup bag as soon as possible, we kindly ask for your patience as our couriers are currently experiencing delays due to the impacts of COVID-19. 
SHIPPING
Please allow for up to 1-2 business days for your order to be processed and dispatched.
UK: 2-3 business days from dispatch 
Europe: 5-10 business days from dispatch 
International: 5-12 business days from dispatch 
Terms & Conditions
Terms and conditions for the supply of goods through the Amelia Liana online store (www.amelialiana.com) Life & Beauty Ltd. Registered number 10074207.
RETURNS POLICY
We will be happy to offer a refund within 14 days of receipt. Goods purchased online must be returned to us in perfect condition and in their original Amelia Liana box in order for us to process a refund. No returns for a refund on sale items (including flash/limited time promotions). We are unable to offer a return on items without a proof of purchase. For hygiene reasons, we are unable to accept returns on any products which have been tested, used, tampered with or opened. Please notify us with your request to return by emailing shop@amelialiana.com. The item(s) must be packed securely in the packaging in which you have received it. The credit or debit card used for the original purchase will be credited with the original price within 30 days of your order provided that the goods in question are returned by you and received by us in the condition they were delivered to you. For all returns, except where the item is faulty, you will be required to arrange and pay for the return of the products. Any damage to packaging in transit is not included as a fault. We cannot accept responsibility for any parcels lost in transit.
PRICING
All prices on the Amelia Liana website are shown in GBP (UK Pounds) and are inclusive of VAT. For customers purchasing outside the UK the final price will be calculated by your card issuer in accordance with the applicable exchange rate at the time of processing your transaction. If you are having good delivered outside of the UK, you will be liable to pay any applicable local taxes. Please note that prices listed on the site or in any printed publications are correct at the time of publication and we reserve the right to amend these without prior notification.
DELIVERY
You will receive a confirmation notice once your order has been received. Our delivery charges are set out in our website. We will deliver the goods to the delivery address provided at the time you make your order. It is your responsibility to ensure that the delivery address you give us is correct and accurate and that there is someone to sign for and take delivery of the goods from the delivery service used. Amelia Liana insures each purchase during the time it is in transit until it is delivered to your specified delivery address. We require a signature for any goods delivered, at which point responsibility for your purchased goods passes to you. If you have specified a recipient who is not you for delivery purposes (for example as a gift) then you accept that evidence of a signature by them (or at that delivery address) is evidence of delivery and fulfilment by us. Estimated delivery times are to be used as a guide only. Any import duties or taxes charged in the country of destination are the responsibility of the customer. Amelia Liana is not responsible for any delays caused by destination customs clearance processes.
Shipping costs are as follows: UK – £5.00, Europe – £12.00, International – £15.00
INTELLECTUAL PROPERTY
Life and Beauty Ltd is the owner of www.amelialiana.com. All site content including the Amelia Liana logo, photographs, and designs (except for third party links) are the property of Life & Beauty Ltd. Copying and use of the above listed materials to any other server, location or support for publication, reproduction or distribution is expressly prohibited without permission. The content of this site is for personal non-commercial use only. You may not modify, copy, distribute, transmit, display, perform, reproduce, publish, license, commercially exploit, create derivative works from, transfer, or sell any content, software, products, or services contained within this Site. You may not use this Site, or any of its Content, to further any commercial purpose, including any advertising or advertising revenue generation activity on your own Site.