Whilst I was in Florence one of my last places on my list of 'to-see' was heading up to Piazzale Michelangelo to catch the last of the sun, take in the view from above and avoid the crowds. The view from the top is so breathtaking and it's just a 10-minute walk away from the Giardino delle Rose flower garden, which is so peaceful and certainly worth a visit. 
Whilst we were quickly documenting my outfit before the sun left us I realised I coincidentally was wearing all my favourite summer pieces in one look! It just goes to show how much I love wearing these pieces and in all honesty I haven't gone a week without incorporating each piece into my outfits this summer (and I will continue to do so until it's too cold!).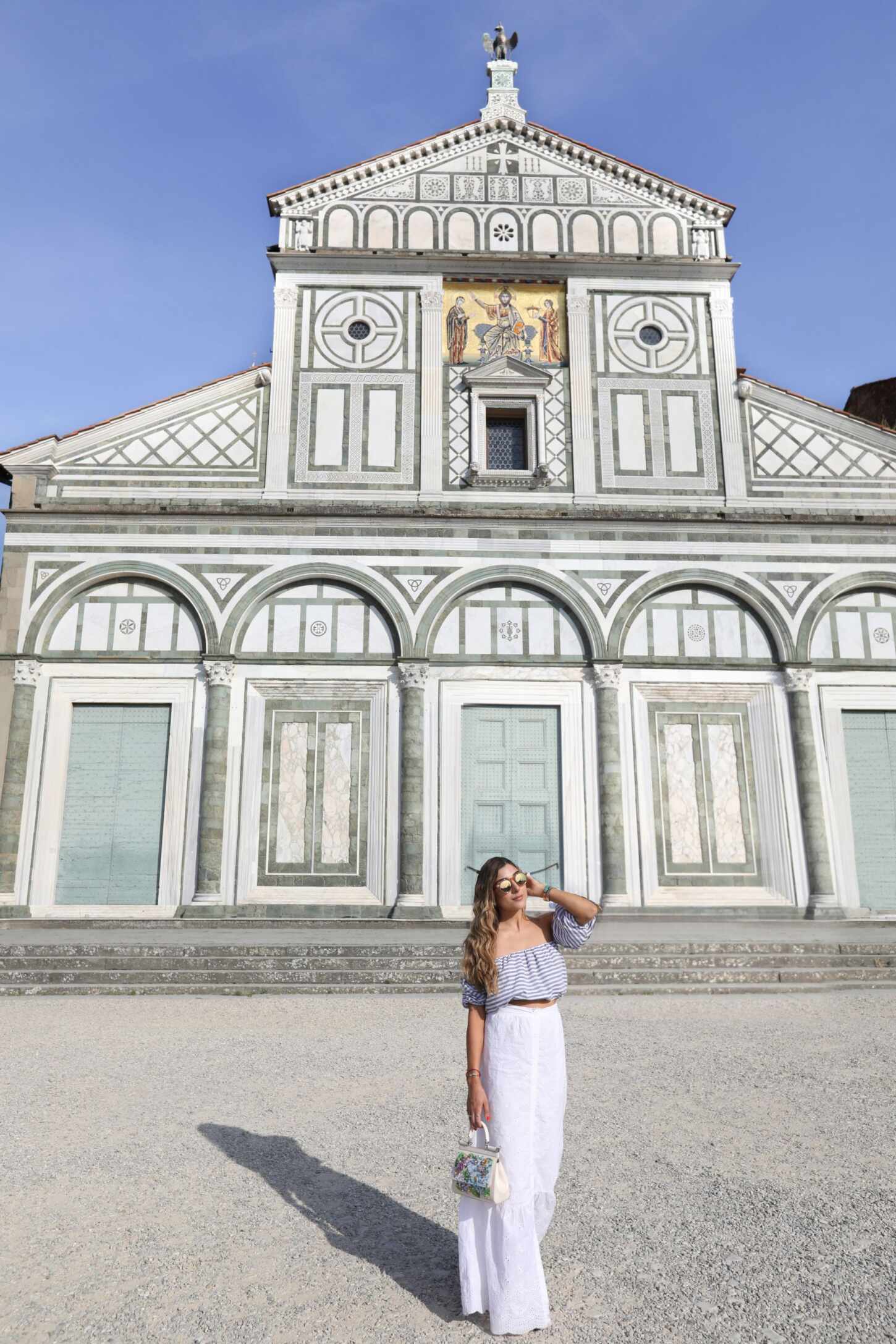 Shop the Look

THE WHITE MAXI SKIRT
I've been searching high and low for the best white summer skirt, long enough to wear as a proper maxi skirt but short enough for me to not trip at every single step I make (short girl problems). This baby is the best you can find! I love the cute buttons down the middle, the embroidery detailing, and the fact that it's not elasticated so you can wear it with a crop top and it still looks elegant.
FUN REFLECTIVE SUNNIES
CHIMI is a new brand for me, but I'm already head over heels with what they have to offer. Their sunglasses are so fun and colourful! I love the unique peach shade of these ones. I always find reflective sunglasses are my most reached for as they're perfect for people watchers like myself – you can eye everyone up and down and no one has any idea, haha! Use the code AMELIA at checkout over here, you get 15% off!
THE MOST BEAUTIFUL BAG
As you already know, I can't put down my Cult Gaia bag these days, but nothing beats this gorgeous floral print bag from Dolce. I still can't quite believe it's real! Every time I see it I squeal and get the fell-good flutters in my tummy. It's true love! It really is such a beautiful piece, and I guess I'm not the only one absolutely smitten with it – it keeps selling out really fast, so you better hurry if you wanna call it yours. There's a few left here.
MY STAPLE SUMMER SHOE
I bought these from Luisa Via Roma at the beginning of April last year and they have seen me through and through. I wear them whenever I possibly can, I even had them on for a hike at Cinque Terre last year! They are SO comfortable, easy to wear, go with everything and look gorgeous. David always makes jokes when I'm putting them on, saying that I'll be ready in 10 minutes, because there are 6 straps to do up in total, as opposed to just sliding your foot into a shoe. It's never bothered me, though. They're the perfect summer sandals for me! 
BLUE & WHITE STRIPES, ALWAYS 
I'm almost ashamed to admit how much blue and white I have in my wardrobe at the moment, but this top from ASOS is by far my favourite. Well, apart from this romper I also can't stop wearing. Back to the top, of course it's off-shoulder – what else did you expect – but I'm sad to report it has already sold out. Luckily, though, this style is everywhere at the moment, so there's so many other options, I really like this one.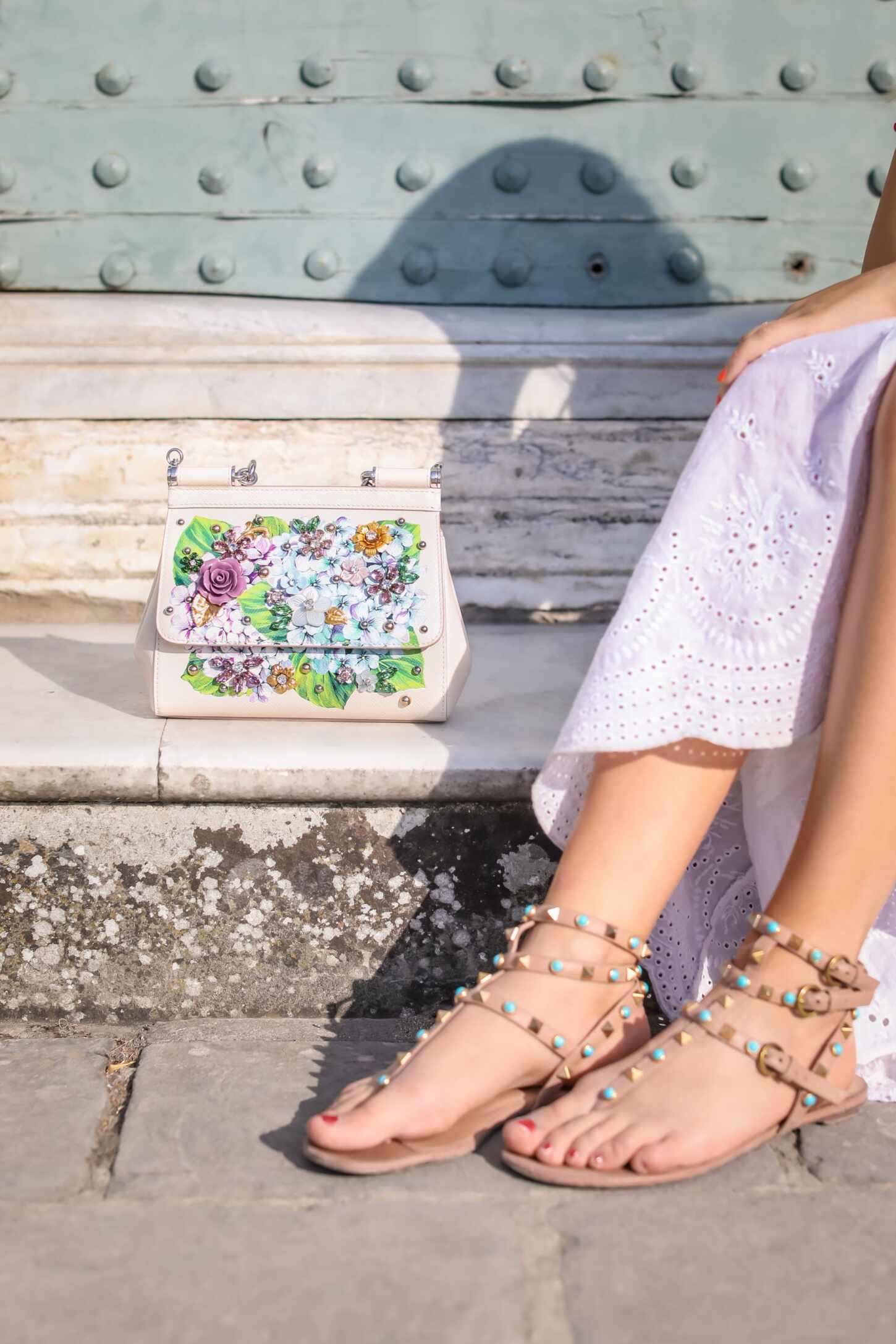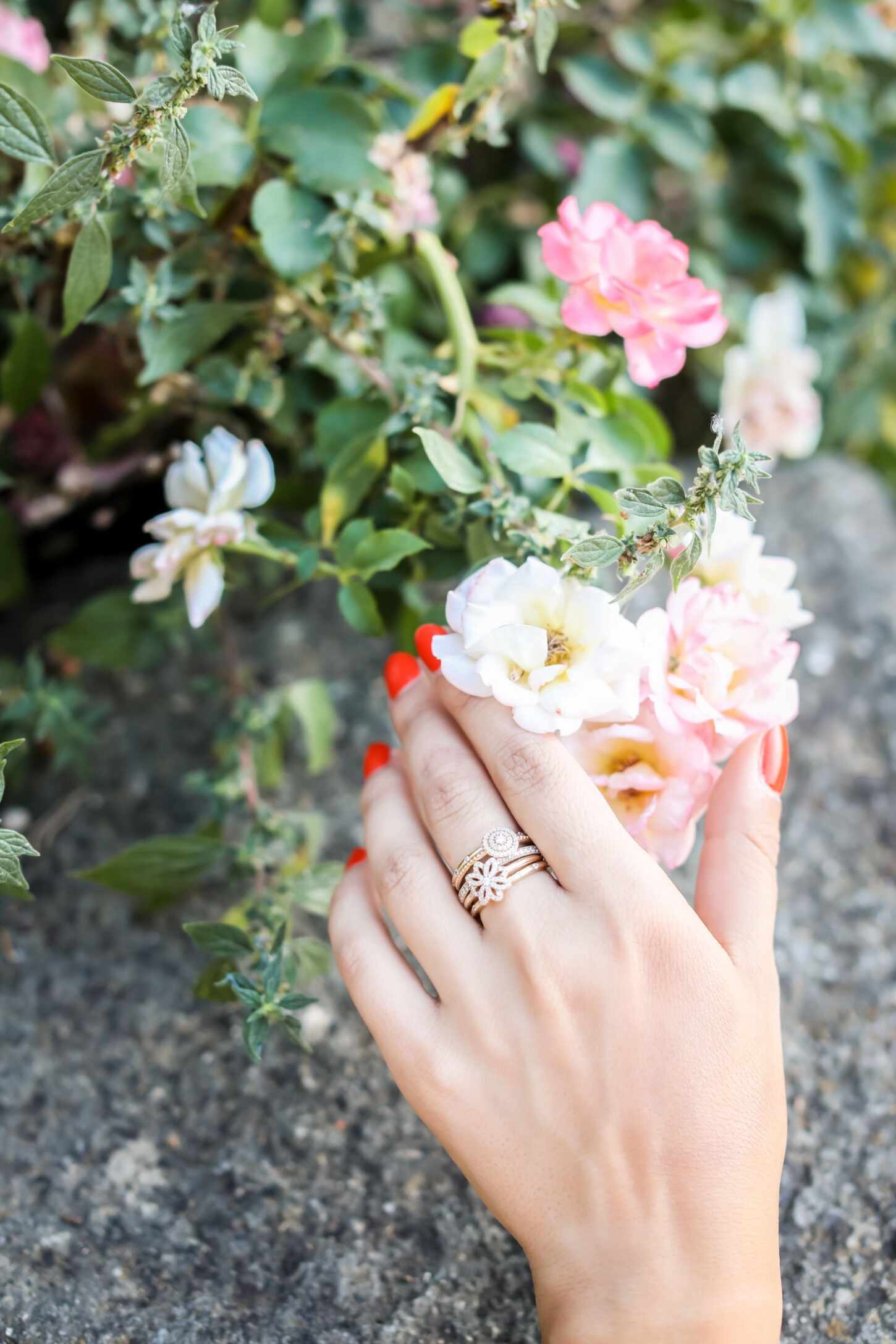 No outfit is ever complete without jewellery and if you know me, you'll know that I wear it at all times, even when I sleep! My latest additions are these rings from Pandora. They're stackable, so you can wear them all together on one finger or separately. I just love this concept! I have five in total: two simple bands with droplets; the Hearts of Pandora ring, which has little heart cut-outs and is the cutest when you look it from the side; the Dazzling Droplet statement ring; and this adorable flower one, my favourite!
This is not exactly fashion related, but I have to quickly mention my hair. I've been obsessed with mermaid waves recently and I've been getting so much love and so many questions about it on Instagram! The curling wand that I use is this one from Babyliss. It's so easy to work with I could style my hair with my eyes closed. You just clamp pieces of your hair and move down, away from your face, onto the next section. I'm a wriggly sleeper, so it doesn't last on me until the next day, but it holds up throughout the day and I simply adore it. It's like as if you were sleeping in plaits but better, because there's no frizz and everything is even.