Packing for a trip always involves me rummaging through my beauty stash and picking out my 'can't go a day without' products. Some are the old essentials I've mentioned about a hundred times in my vlogs, and some more of recent discoveries that deserved a spot in my suitcase. I've noticed a bit of a pattern with the same ones finding their way in lately, so what better time to update you all on my must-have selection.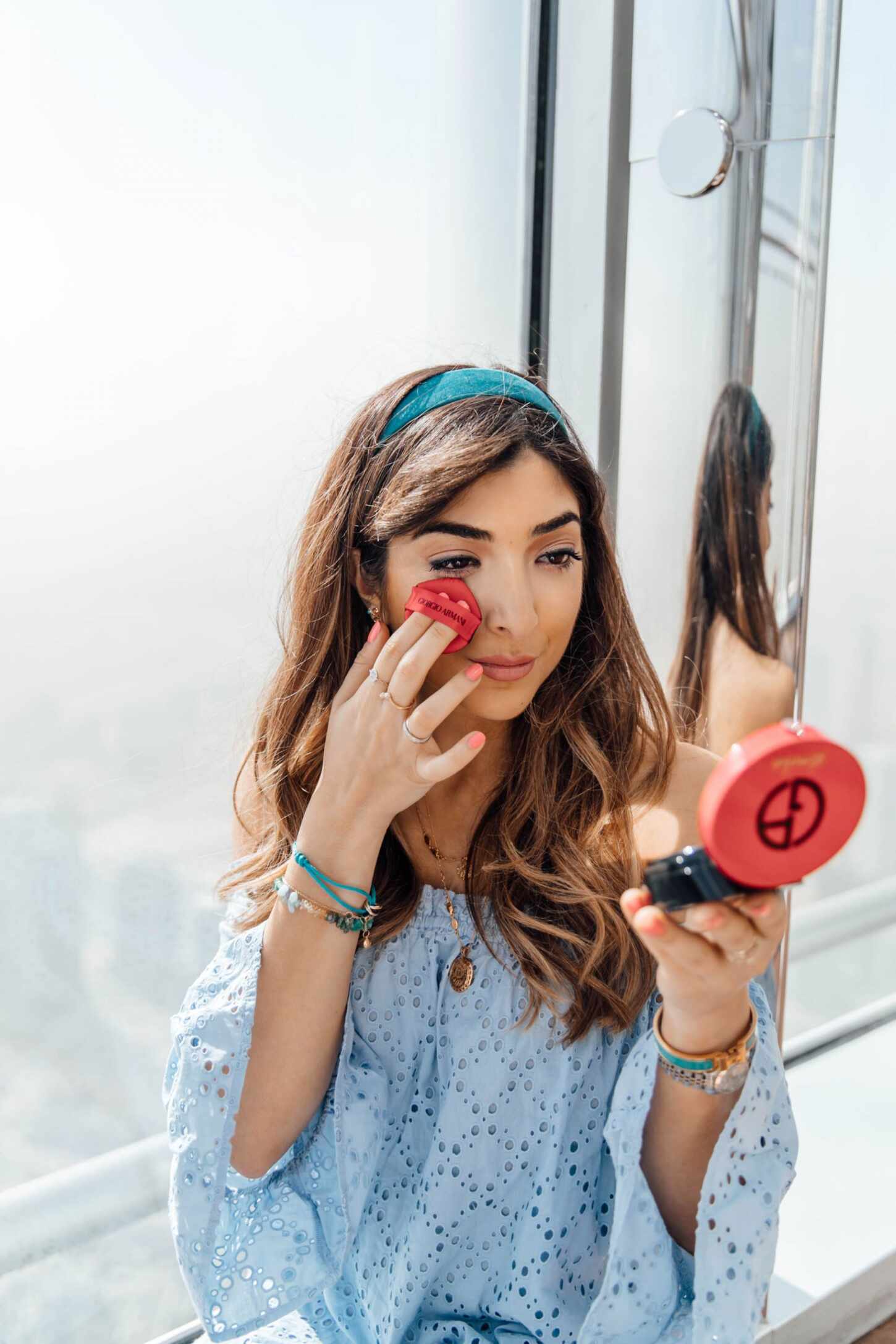 My Armani To Go Cushion Foundation
I've been a fan of cushion foundations for a while now and have quite a few I keep going back to, but just when I thought my collection was complete, I had to make room for one more. Giorgio Armani's My Armani To Go Cushion Foundation convinced with its weightless texture that seamlessly blends into your skin but is still possible to build up for higher coverage, and the naturally glowy finish that doesn't take a turn for the worst by the end of the day. It's very similar to their Luminous Silk Foundation (which you already know I adore), but in an easy-to-use, travel-friendly form perfect for touch-ups. What really makes it stand out from the rest to me, though, is the sponge applicator it comes with. Normally cushion foundations include a standard round sponge, however this one is pointed, making the base incredibly easy to apply around your nose and eyes – they've really taken an extra step and thought this through!
Elemis Rehydrating Rose Petal Cleanser
Since I discovered the Elemis Rehydrating Rose Petal Cleanser, the days it wasn't used were few and far between and it has taken a rather permanent spot in my evening skincare routine, right after a cleansing oil. The reason number one is that it smells absolutely beautiful! The scent has the most calming effect on me. Every time I start applying it onto my face, my mind transports to a spa and my body goes into full-on relaxation mode. Of course it's not just the scent that catapulted the product on my 2017 beauty favourites list. Most importantly, it's extremely effective, taking off skin as well as eye makeup with complete ease without any sort of irritation, and leaves your skin deeply nourished. The perfect cleanser for sensitive and dehydrated skin! I use it every night by massaging it onto my face and neck with circular movements, using cotton pads or fingertips, and removing it with a warm wet towel.
Guerlain Abeille Royale Black Bee Honey Balm
Guerlain Abeille Royale Black Bee Honey Balm is another product anyone who deals with dry skin, either on the face or body, would love. It's been my winter sidekick for the days the cold weather has gotten the better of me and I find it to be a great multi-purpose travel buddy too, as my skin always takes a turn for the worst on flights. Somehow this little miracle balm instantly turns cracked skin around, leaving it nourished and supple rather than itchy and tight. I'm away in St. Moritz at the moment and as my skin has been totally thrown going into such a cold climate I knew this would be the perfect (and only!) skin saviour I would need to pack with me. 
Charlotte Tilbury Instant Eye Palette
How many of you have guessed I'll be mentioning the Charlotte Tilbury Instant Eye Palette?! It wouldn't be a lie if I said I've used it every single time I do my makeup since the day I got it. It's the ultimate smokey eye palette with four different eye look combinations, each including three easy-to-blend shades, appropriate not just for dramatic evening looks but for day-to-day too. The Day Eye with its light neutrals is the perfect toned-down option; the Desk Look (my favourite) with slightly darker and warmer shades – one of them being the exact crease shade I've been looking for a decade – is a step-up from the Day Eye but still everyday appropriate; while the chocolatey shades of Date Look are a great choice for a dreamy, sultry look; and Disco Look's black-gold for the most intense look of all four.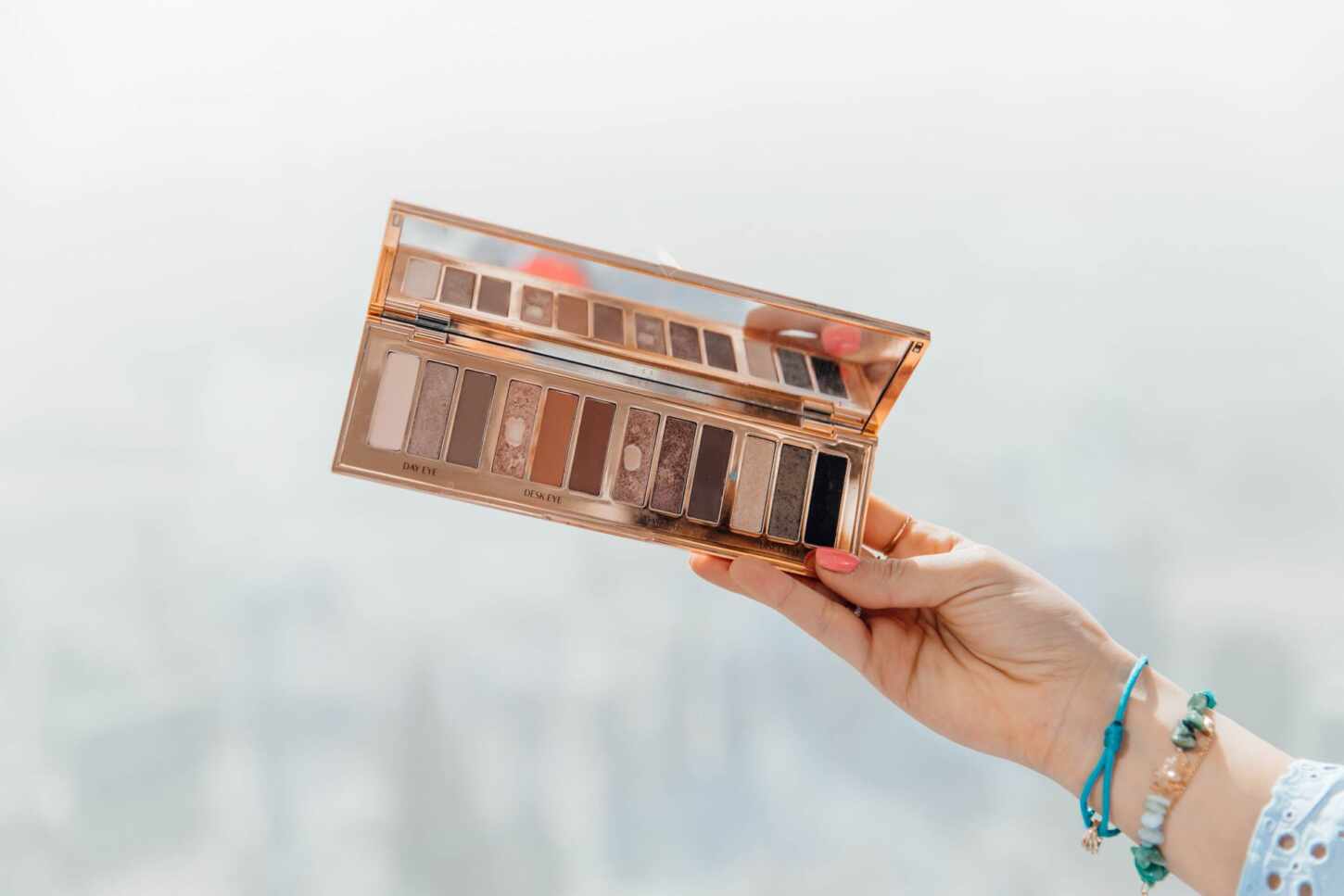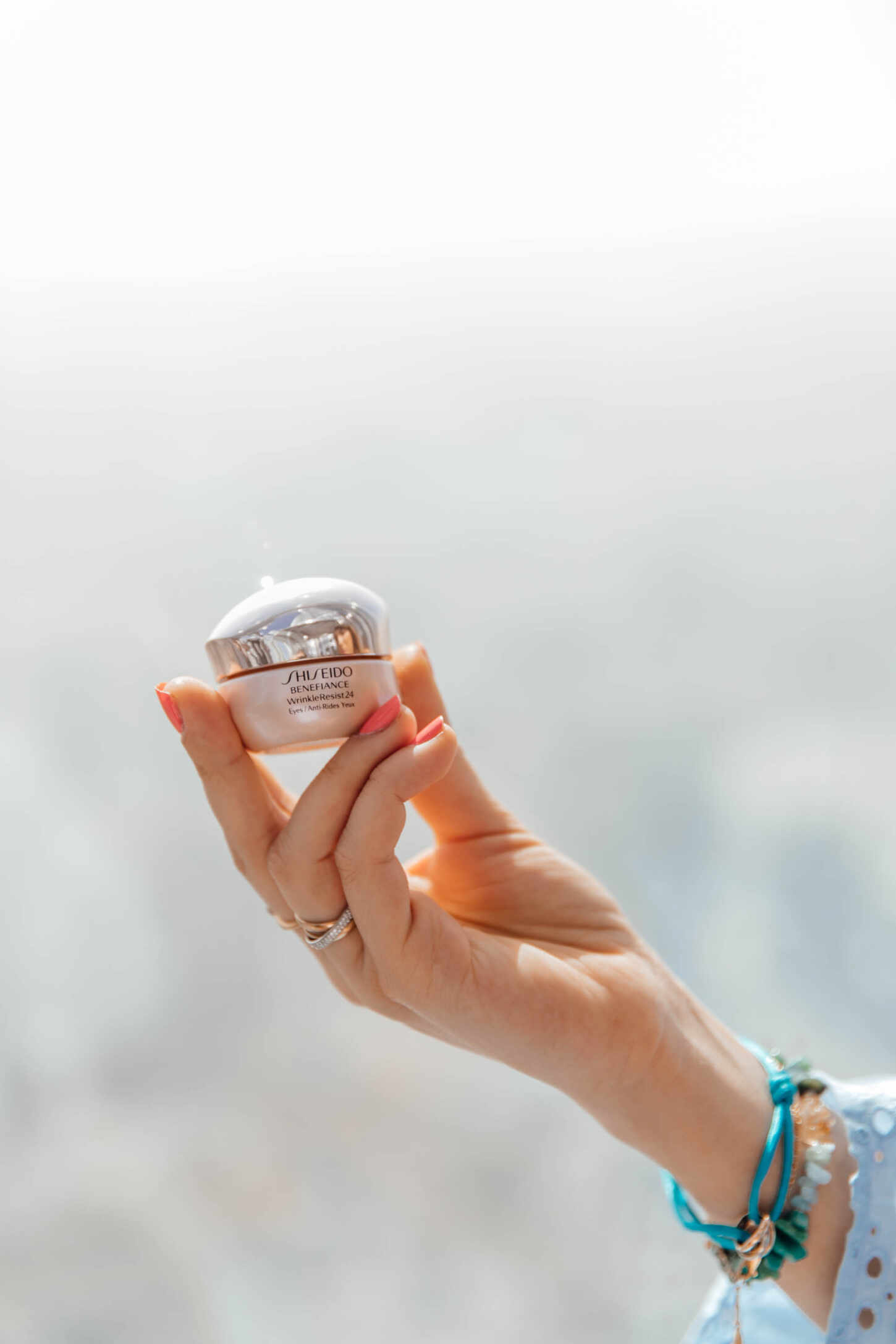 Shiseido Benefiance WrinkleResist24 Intensive Eye Contour Cream
Having a dry under eye area prone to fine lines and a serious case of dark circles, I've come to learn the importance of keeping the skin hydrated and now never skip daily eye cream application. My current choice is Shiseido's Benefiance WrinkleResist24, which has a rich old-school cream formula, and even though I normally prefer eye creams with a gel consistency, I have to say I really like its texture. It's light, not greasy and absorbs quickly, keeping my under eye area nourished and looking fresh around the clock. I really notice a difference when I use it as opposed to when I don't based on how my concealer sits on my skin, as it blends in much better and doesn't settle into fine lines throughout the day with the eye cream underneath.
Givenchy Live Irresistible Blossom Crush Perfume
After sticking mostly to my oldies but goldies like Armani Si and Tom Ford Soleil Blanc during the festive season, January has been all about Givenchy's Live Irresistible Blossom Crush fragrance, a new discovery for me that I've been obsessing over so much I even left my travel-friendly perfumes at home this time and taken the full-sized bottle to Dubai with me. It's quite a sweet fragrance – really girly and feminine – with prevailing rose notes and a punch of vanilla, which always works great for the colder months of the year, but the strong tropical fruit notes of pineapple and citrus balance things out and make it summer-appropriate too!