Summer is definately my favourite season right now. My wardrobe is completely colour crazy if you couldn't tell on Instagram! I'm sharing a few of my personal faves from recent trips that I think are such staples for a summer wardrobe.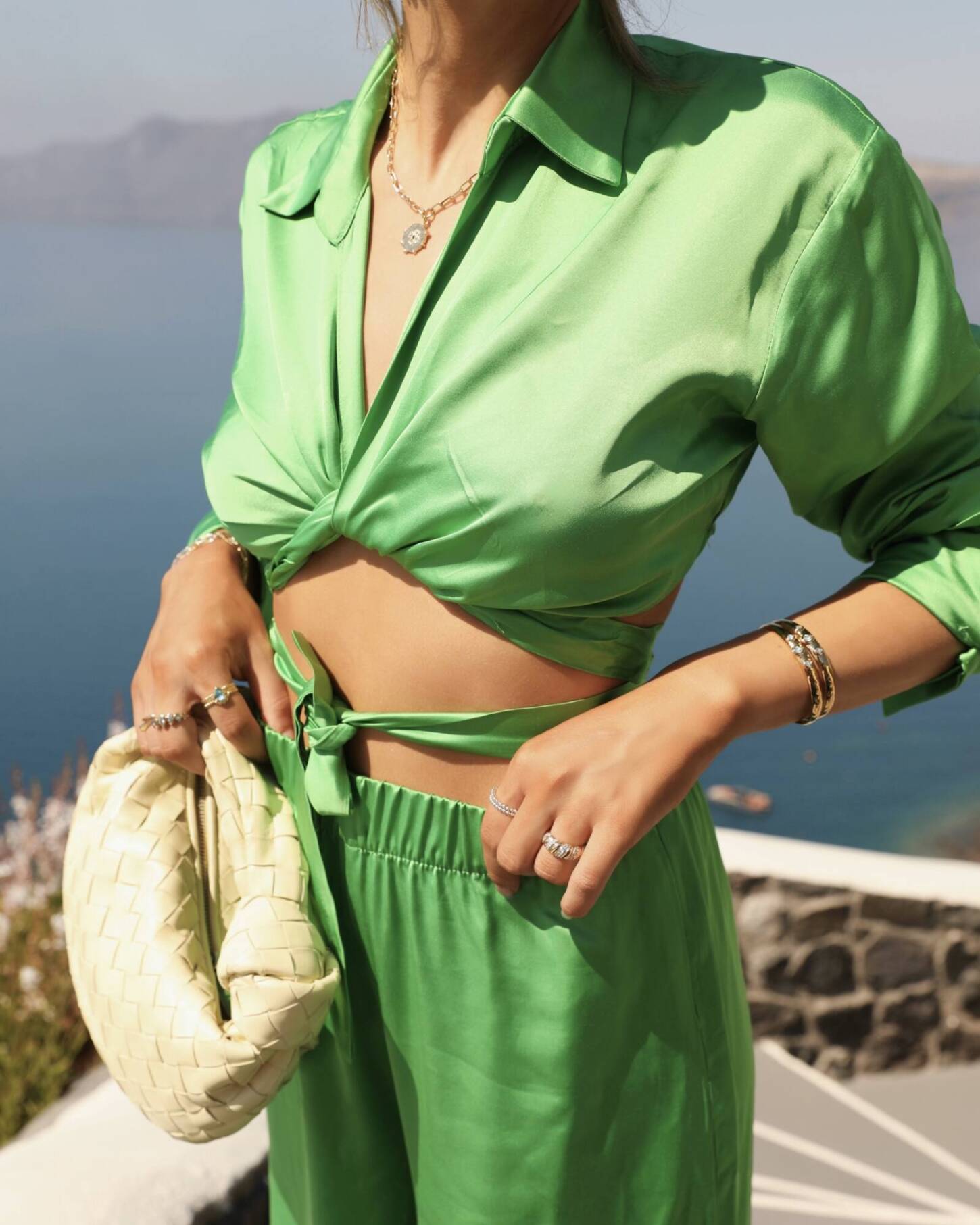 I wore this silk two-piece in Santorini, and let me tell you, it's a MUST this season! I love the vivid emerald green colour. I've been wearing the two pieces individually as well, I think this is one of my most versatile staples this summer. It's such a great outfit style for a casual poolside lunch or amp up for an evening look! Sadly they only ship to Europe so I've searched for a few similar options that I also love.
We all know how much I love an Alex Perry moment…
I've been searching high and low for wedding guest outfits (in desperate need!!). This pastel yellow number shot out of the page to me. Not too revealing, nice length, love the colour for summer and super flattering. I've been wearing lots of corseted styles at the moment and this dress has a mix of that structured look with a cute sweetheart-ish style neck – it adds a little softness and romance to the top.
I am OBSESSED with this bikini that I wore recently in Santorini. I spotted it on Revolve and added to basket straight away. The sky blue colour is so cute and makes me feel really tanned. The tie -around string details are what really make this unique, you can style them so many ways. It's come straight in my suitcase for the summer.  
You can tell I'm into my yellows at the moment… this two-piece is such a find! I can imagine wearing this at a summer garden party or even just wearing the top solo and pairing with some denim shorts. Whenever I buy co-ords, I love the value for money. I tend to always use each piece individually with other outfits. These trousers are also such a flattering fit!