Shop My Look

If there's something you need in your wardrobe all year round, it's a statement shoe. I rarely do proper in-depth shoe reviews, but these Manolo Blahnik's Hangisi Silk Satin Pumps are so amazing and so beautiful I wanted to give you the full low-down.
The first thing that caught my attention and still makes me squeal with excitement is the bubble gum pink colour. It's so bright and happy it instantly lifts my mood and I get so excited every time I put them on! I was actually deciding between getting these or the red ones, but ended up going with the pink because I thought I'd wear them more and thought they would go better with the blue shades I have been wearing on repeat this summer.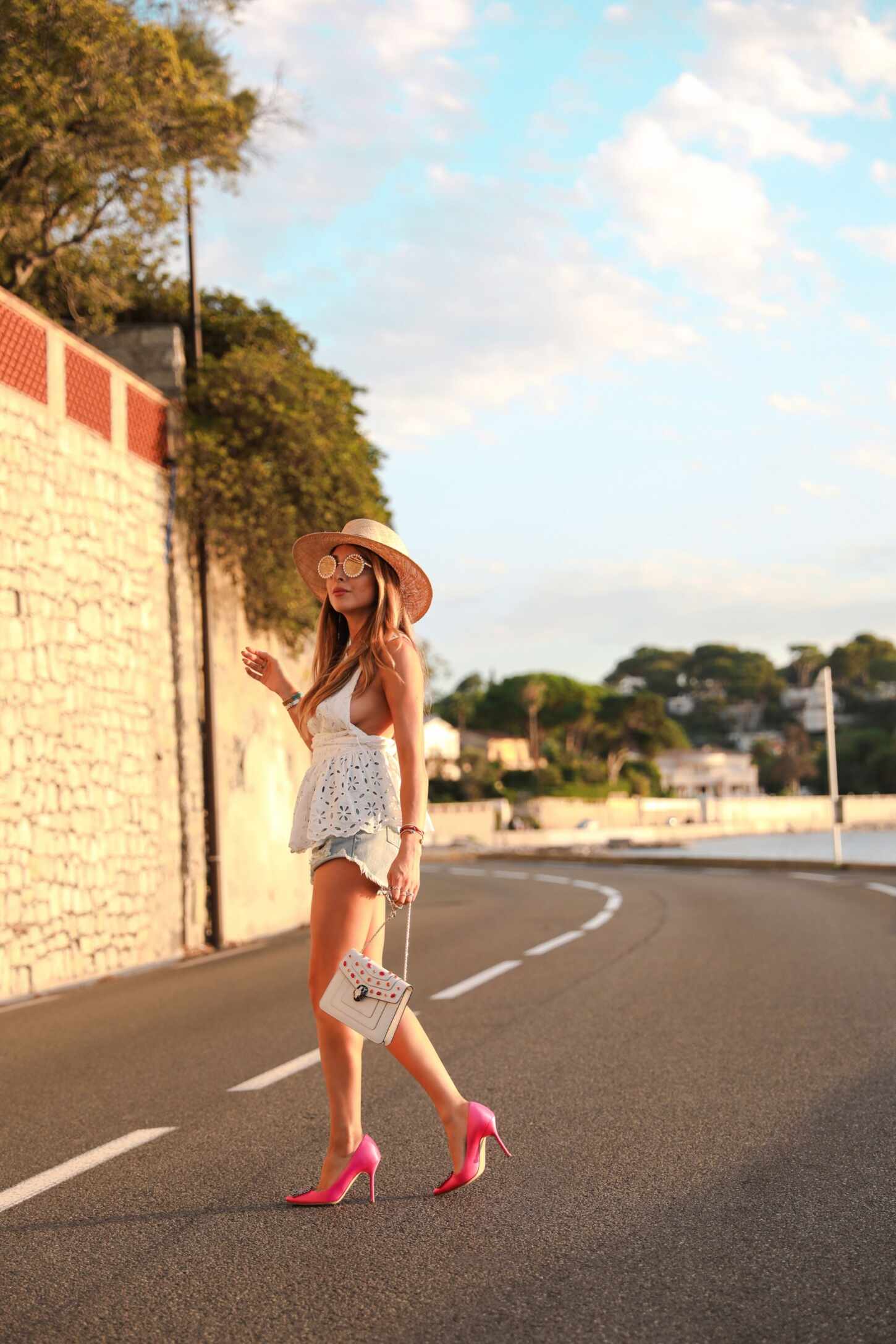 I have the version with the 105MM heel, which is a bit lower than what I normally go for, but it's nowhere near the kitten-hill territory that's a total no-go zone for me. The heel feels really sturdy and stable, and as far as pointed heels go, they're hands-down the most comfortable I own. I won't even bother comparing them to the Christian Louboutin's Pigalle, which are unbelievably painful as soon as you put them on, let alone a couple of hours later. The Manolo's have a lot more space around the toes and that's why I really love them.
I went with the size 37.5 (normally I'm either 37.5 or 38), because I found that the fit is a little more snug which makes walking easier. Unlike most heels, these remain comfortable on my feet even after a few hours of wear, and the more I wear them, the more they give in the front. However, if you have bunions, you might experience some discomfort. I have one forming on my left foot (ugh – any tips?), so after a few hours of wearing the shoes, it does start to be touch uncomfortable, while my bunion-free right foot is totally fine. Just something to keep in mind! They're also not easy to find online but LuisaViaRoma have the best variety and sizes. 
What I love most about them is how they instantly jazz up any outfit. Even if I'm just wearing a T-shirt and jeans, when I put these on, it takes the outfit from 10 to 100. I'm so glad I picked them up! I've had them for a couple of months now, and I still get as excited about seeing them in my cupboard as when I first got them. I feel like Carrie Bradshaw from Sex and the City every time I put them on, they'll always remind me of her.
Bold statement coming your way: every heel wearer should have a pair of these in their closet. And don't worry if you're not a bright colour or satin wearer. They have so many different options – dark shades, denim, tweed, lace, velvet… I can't believe I didn't get my hands on them sooner. They're such a staple shoe! Now that I have them I can't imagine my shoe collection without them. If you're following me on Instagram, you'll know I've been pairing them with so many different outfits. Here I wore them with a blue gingham dress, here with a white romper, and today I'm showing you one of my favourite looks from this past summer and how you can even wear them with some shorts and a cute white top. 
Another new staple for my wardrobe is this Bulgari Serpenti Forever bag. I've never owned a white bag before and can't even tell you how easy it is to wear and how versatile it is for every outfit. I love the detail that takes this bag up a level and makes it more of a statement without overpowering your look. Lastly, how gorgeous are my Dolce & Gabbana sunglasses?!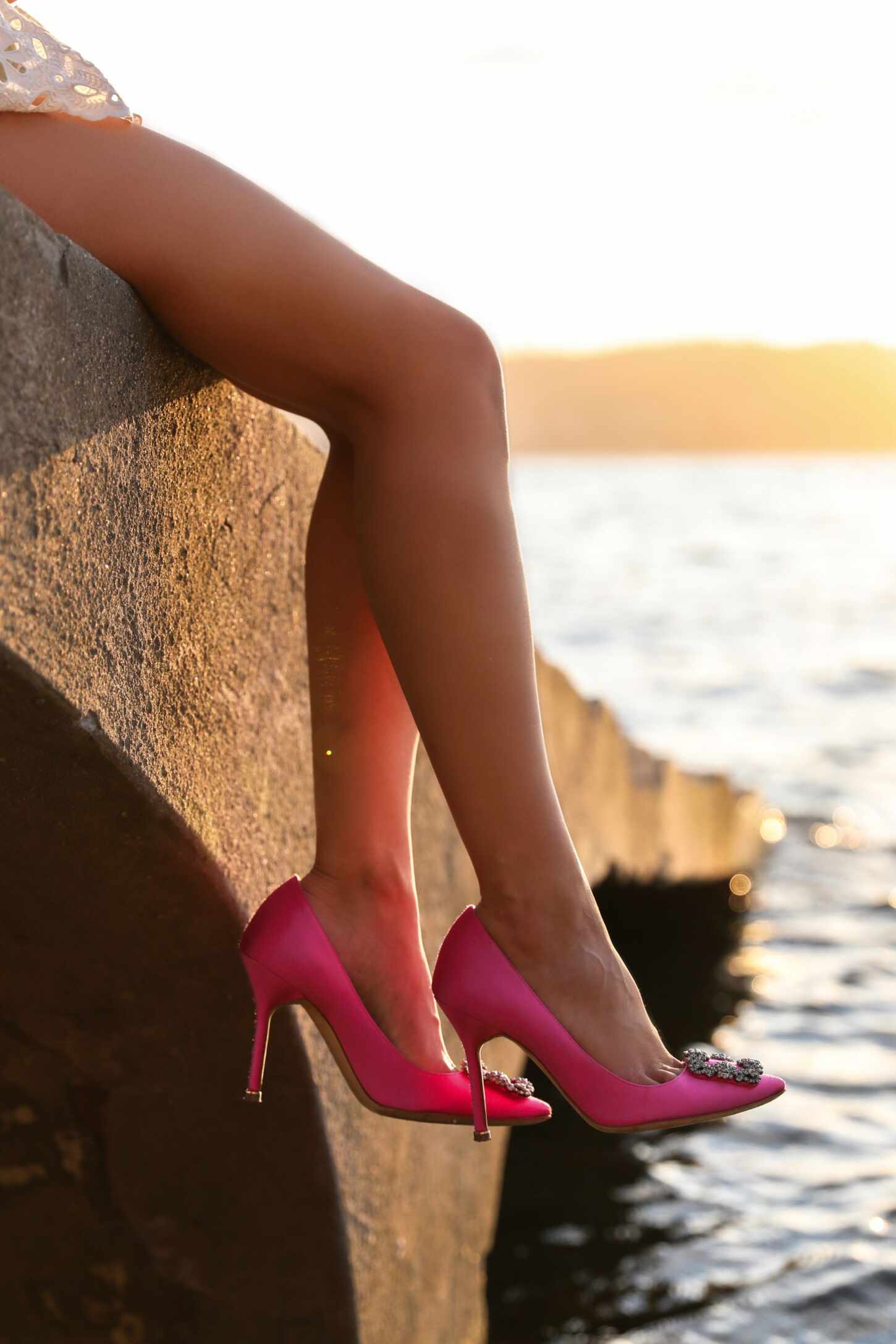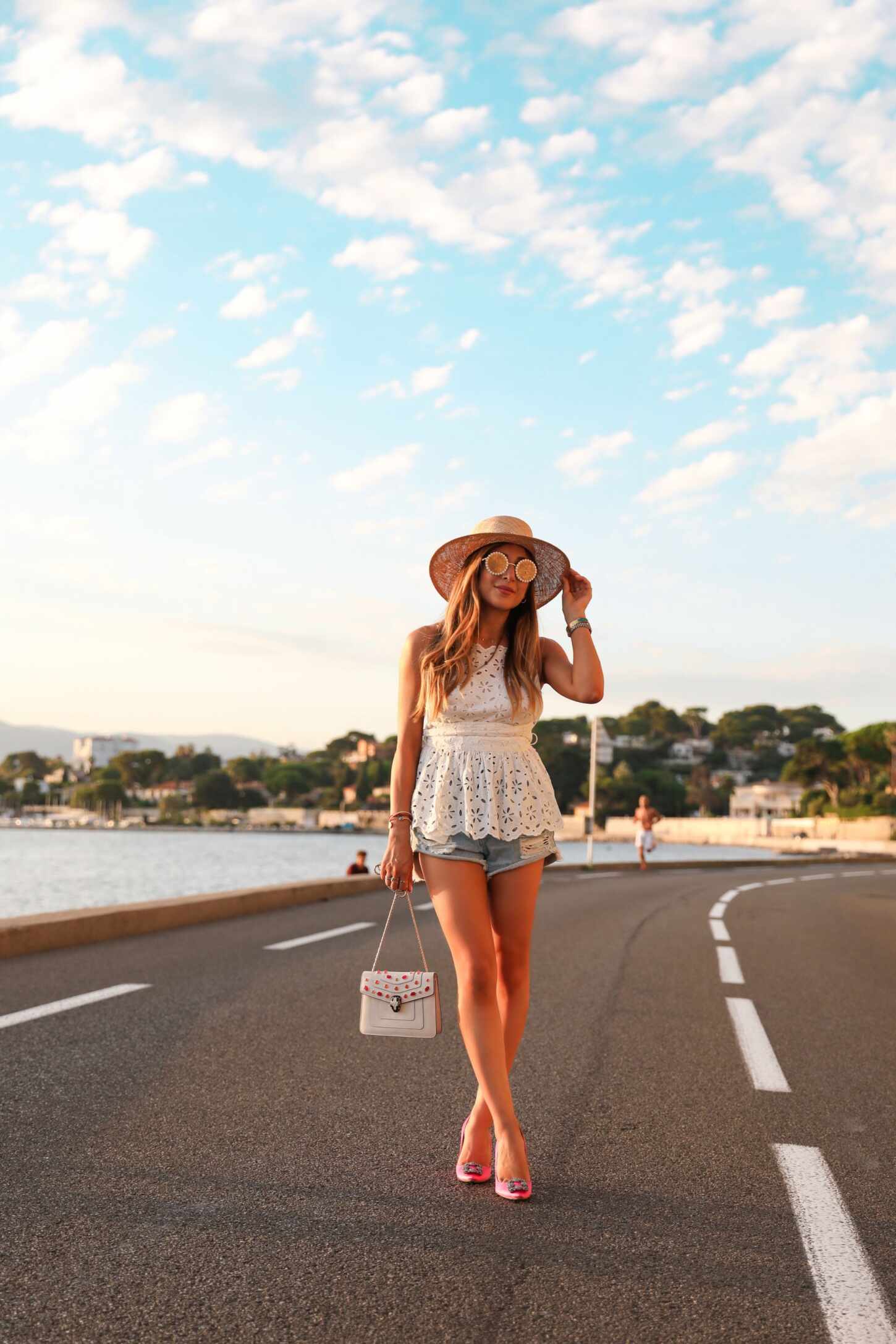 Shop My Manolo Blahnik Favourites