I think this has been one of my favourite gifts to plan and give to anyone ever… my excitement level was through the roof! I want to show you inside the bridesmaids and made of honour boxes in more detail because I spent hours researching, looking into gifts and planning the perfect surprises for my girls so in case any of you wanted to draw inspiration from it, here we are! 
The first thing I knew I needed was boxes which ideally I wanted personalised to tailor for each bridesmaid. I found an amazing company called Tea Rose London on Instagram and fell in love with all of their products! From that moment, I knew I needed more than just the boxes from them…so we went a little further and also got the beautiful leather passport holders and key rings, all with personalised initials added! I loved the idea of giving little hints about the wedding like the passport holders, as I've mentioned before, we will hopefully be going abroad for our wedding so this is the perfect starter pack! When the postman arrived with all of these gorgeous goodies from them, I was so excited to start putting the box together.
The next thing I added were these beautiful Slip silk masks which I'm sure you know I have been a fan of for years. It has always been my trusty companion on long haul flights and they're just so luxurious! Luckily they've come well prepared and already have a bridal collection online and so there was nothing to think about – a pink eye mask with embroidered 'Bridesmaid' on the front… Sold!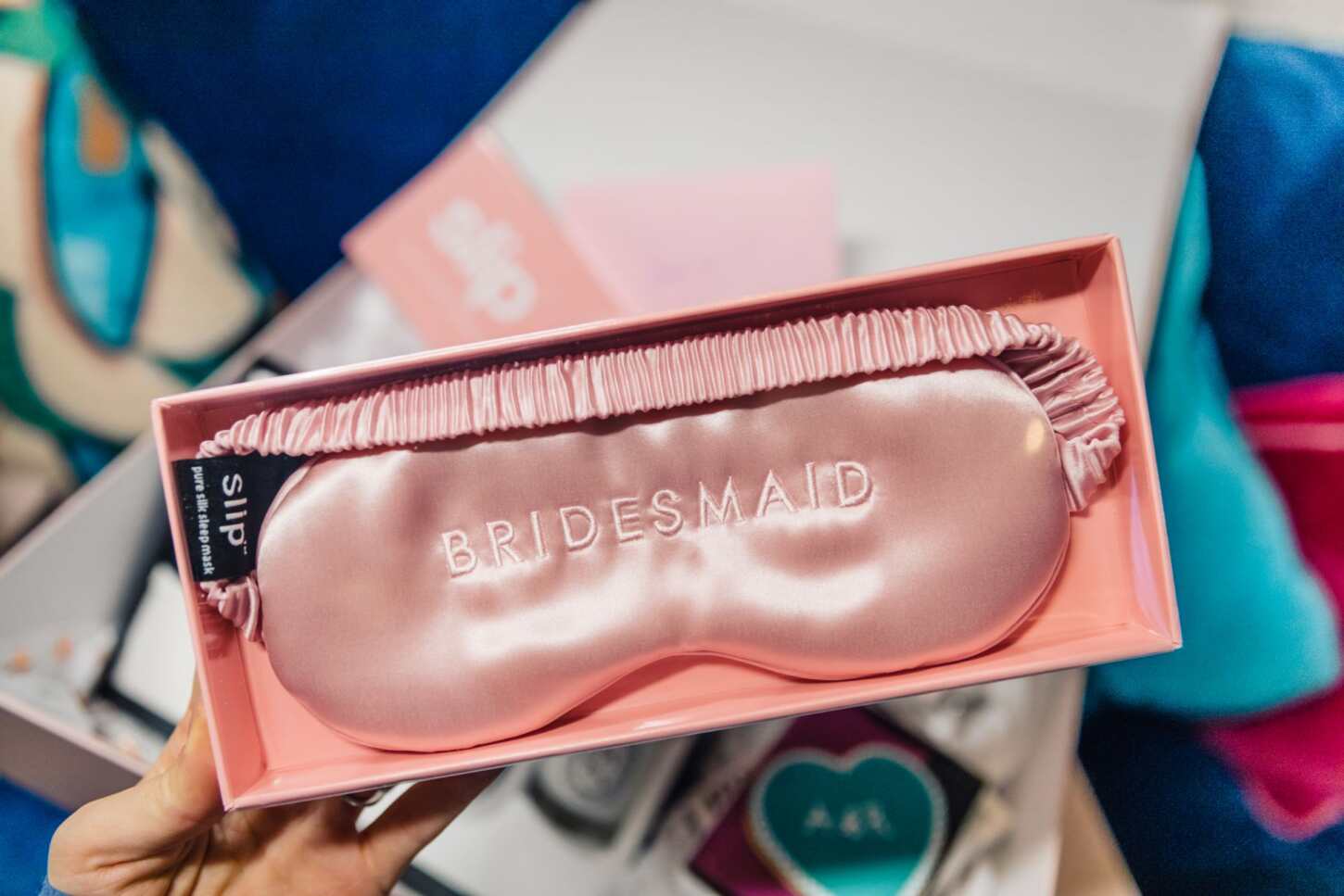 Biscuiteers is another brand I've loved for years and I thought the idea of having a little sugary treat was too hard to pass up.. and we all know I love my snacks! Of course, they had to be personalised too because why not! Their personalised heart letterbox biscuit was the perfect addition, each one had the girls' name on it and I was so excited for all the girls to try out my favourite biscuits. 
Another amazing goodie to put in the boxes were these gorgeous Diptyque gift sets. Included in the set was a Baies candle which is a really light, fresh scent that smells like roses. The perfume was called L'Ombre Dans L'Eau which compliments the Baies candle beautifully – definitely two of my favourite scents from Diptyque! It also created a stunning smell when the boxes were opened which was an added bonus!
The cherry on top to the boxes was being able to include a special piece of jewellery from one of my absolute favourite jewellery brands! I chose two slightly different necklaces, one for the made of honours and one for the bridesmaids. To add an extra personal layer to the jewellery each girl had their initials on one side and either 'bridesmaid' or 'MOH' on the other side. I got to experience visiting the beautiful Missoma offices where they showed me the step by step process of getting them engraved and packaged up. I couldn't have been happier with the outcome, especially when I saw all of their reactions and how each girl immediately put on the necklace in excitement!
One of the best things about visiting the Missoma offices is getting to try on more of their beautiful jewellery and especially their latest collection.. I literally spent hours there! If you are wanting any of their stunning pieces, Missoma have given me a discount code for you to shop with on their site.. yaaay!
Use code AMELIA15 for 15% off the Missoma website!
I hope you've enjoyed having a nosey around the bridesmaid gift boxes and if you'd like to see all their reactions, click below! But get the tissues ready first…