Sun, sea and spaghetti… what more do you need on holiday! I had the most amazing trip to Lake Como in Italy which I was quite surprised I even managed to go on – I booked this trip at the beginning of the year not knowing about the whirlwind months ahead. One of the main reasons for booking was for the mono skiing which I love to do every summer. Lake Como did not disappoint here, the water was the calmest I'd ever seen it – my instructor said this was because it was a lot quieter than usual at this time of year so I promised to keep him busy while I was there. With an overweight suitcase and too few days to wear it all, I thought I'd create a little lookbook of Lake Como outfits.
Keep scrolling for my IGTV video!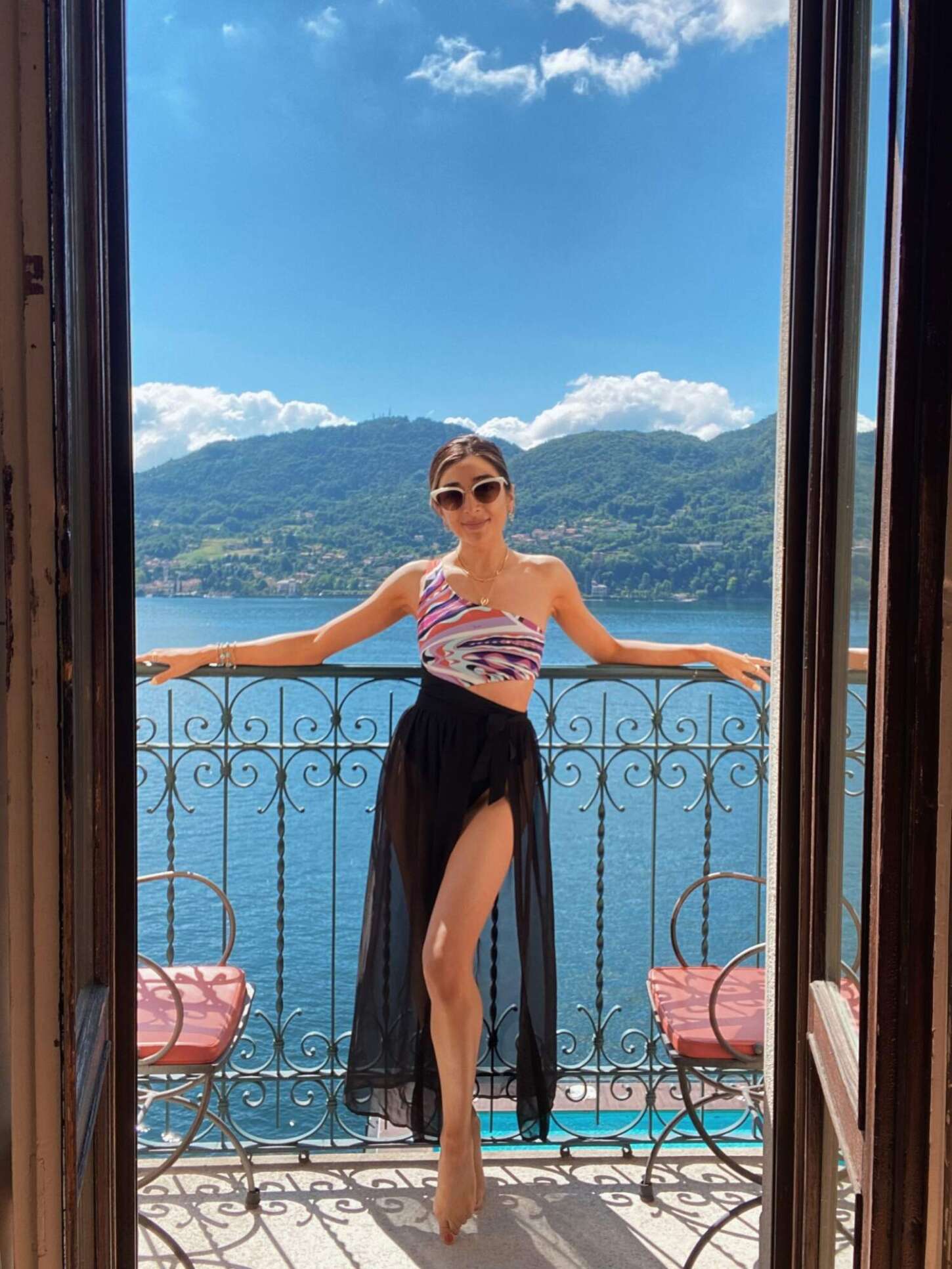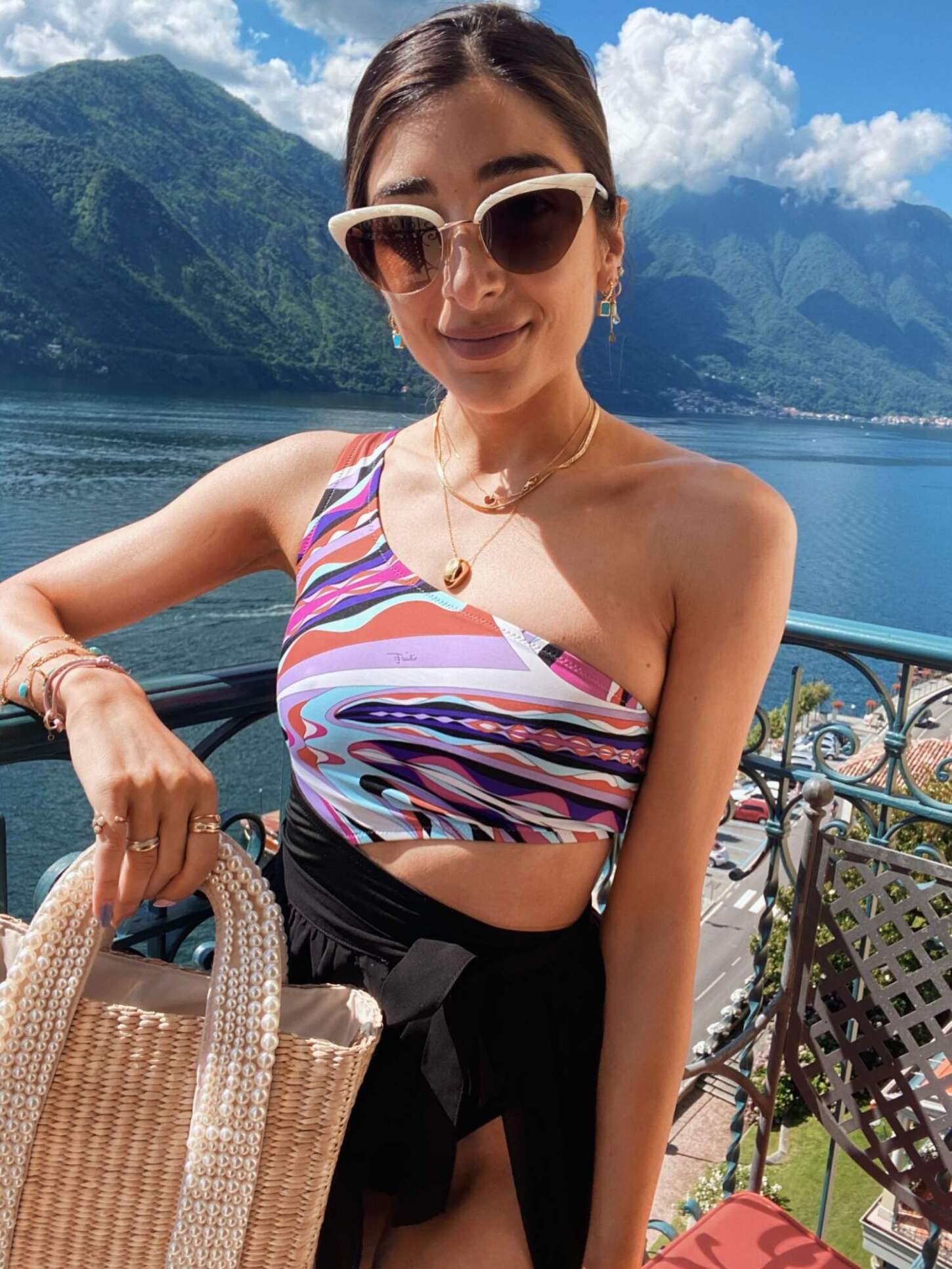 Do you ever get this feeling? The moment I step off the plane into that gorgeous heat, I'm desperate to put a swimsuit on straight away and jump in the water. I decided to wear this one shoulder Pucci cutout swimsuit – I love Pucci swimwear, the colours and patterns not to mention the fit are amazing. I seem to have a bit of collection building from the brand now (spot them in my next outfits!) I paired the swimsuit with one of my favourite high street buys from last summer, this tie around black maxi skirt. It's such an easy piece to bring on holiday – convenient to pack and takes seconds to turn your beachwear into a lunch outfit!
I think we all know how much I adore a pearl moment. Self-Same have some really lovely designs and this basket caught my eye immediately. It's become one of my most used summer bags this year. I'm surprised at how much you can fit inside and the embellished pearl handles are stunning, like a piece of jewellery.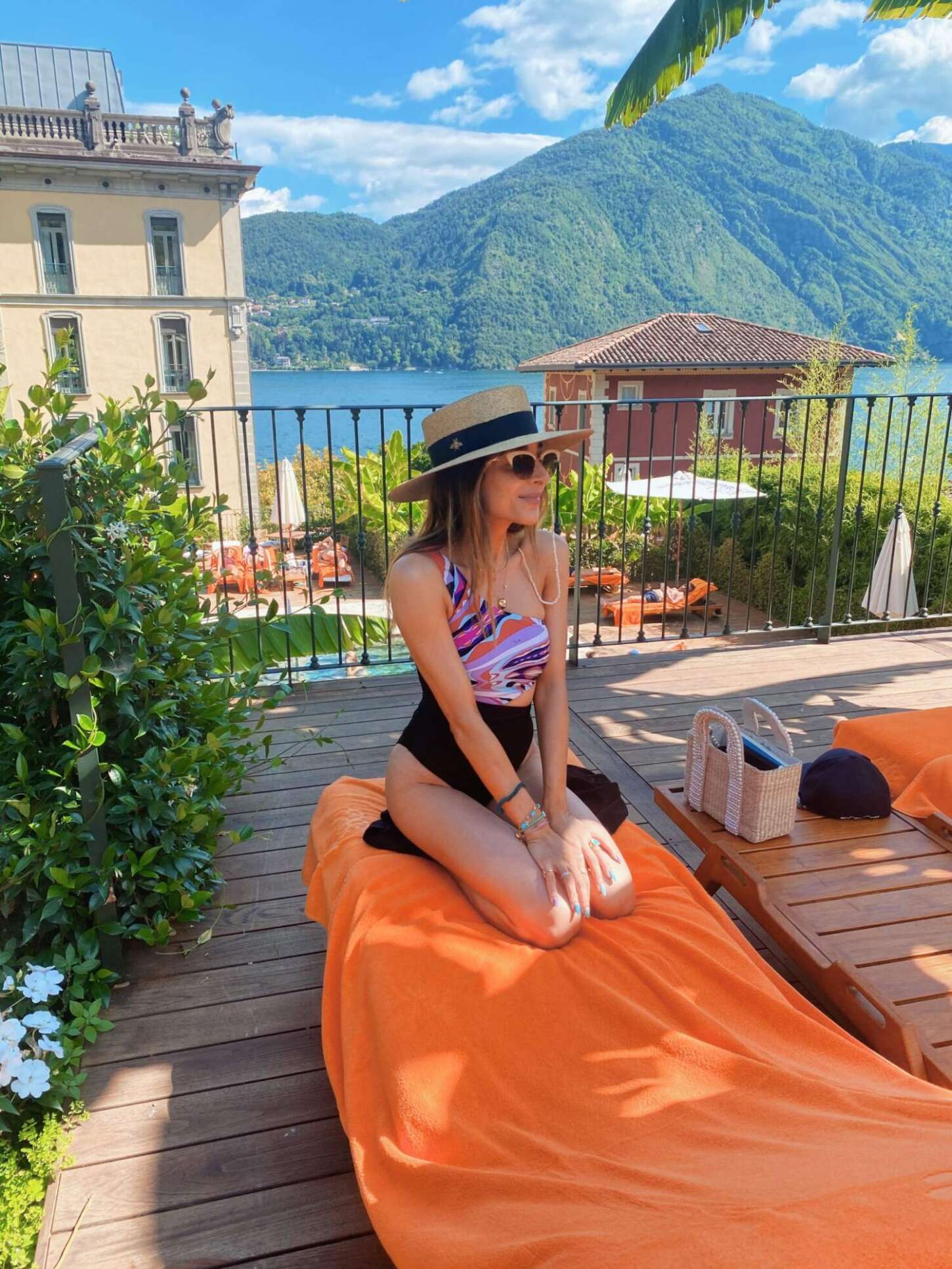 My first evening in Lake Como and I was desperate to take my new Paloma Blue dress out for a spin. One shoulder pieces seemed to be a bit of a pattern for me on this trip, I find them really flattering and slightly more freeing in hotter temperatures. I love the aztec style print on the dress and a huge bonus was that it masked my after supper food baby perfectly!
I wore my newest Rene Caovilla addition for a touch of sparkle on my feet and my very special silk Chanel bag which is so elegant and the perfect size for an evening affair.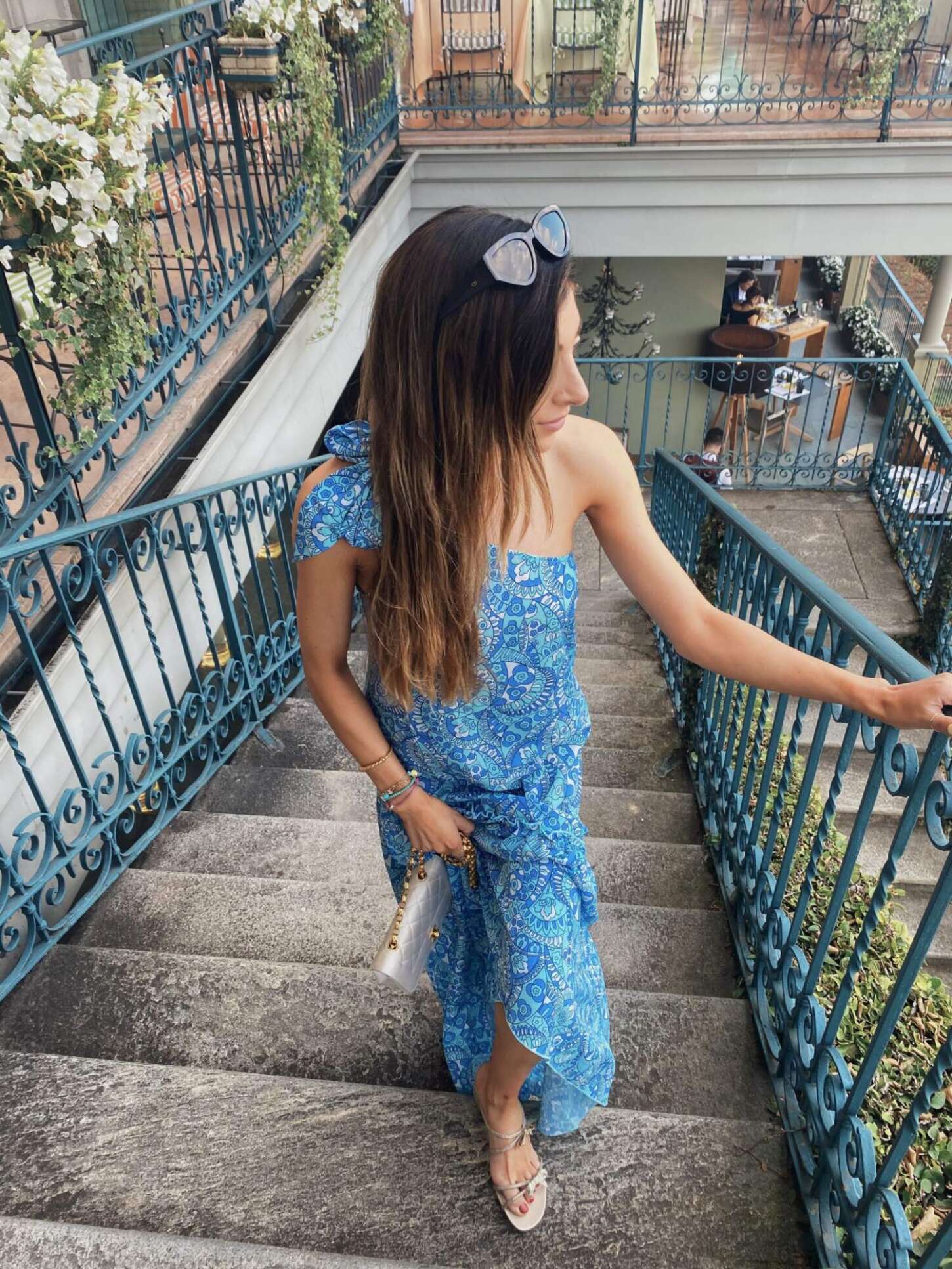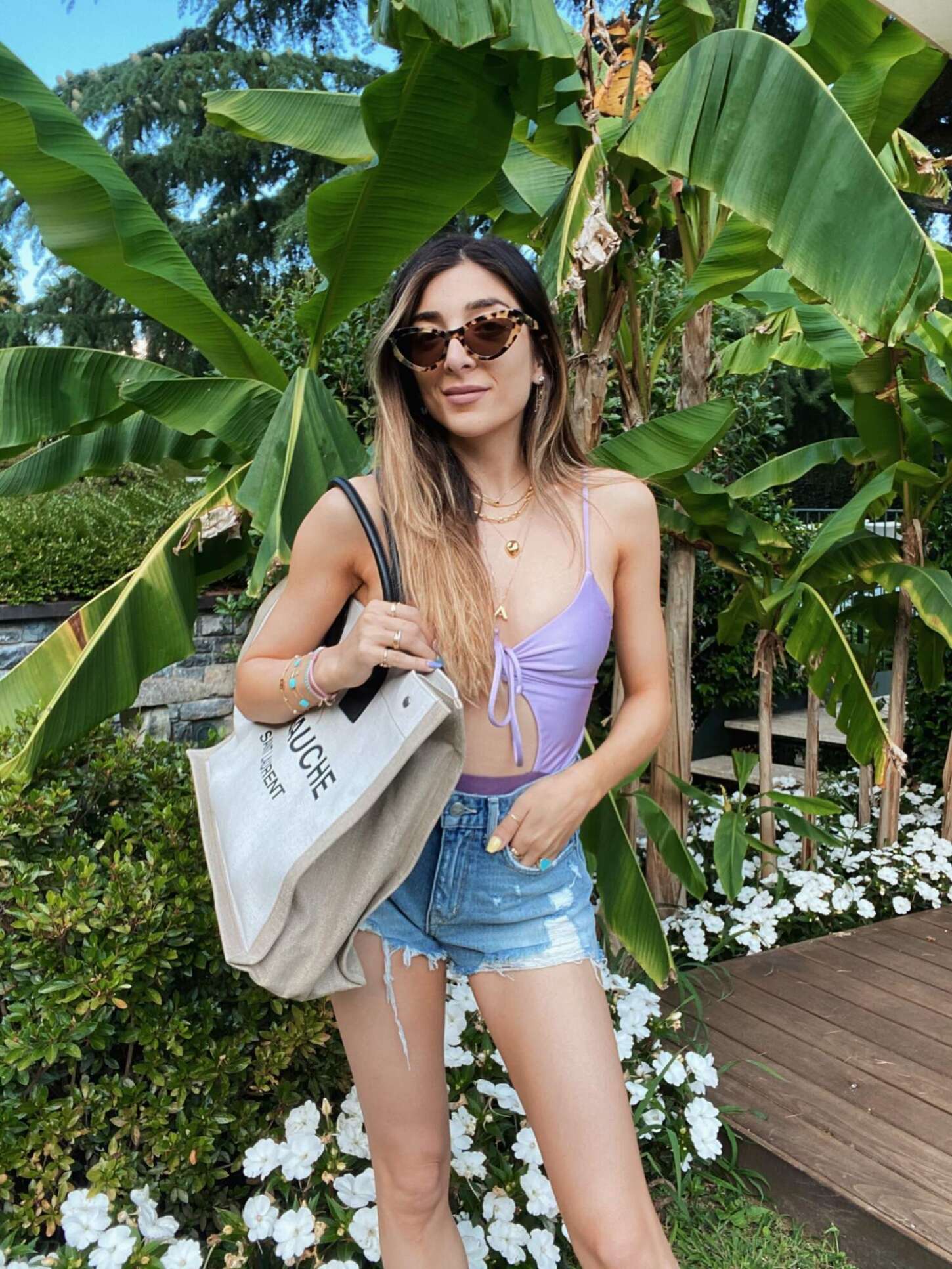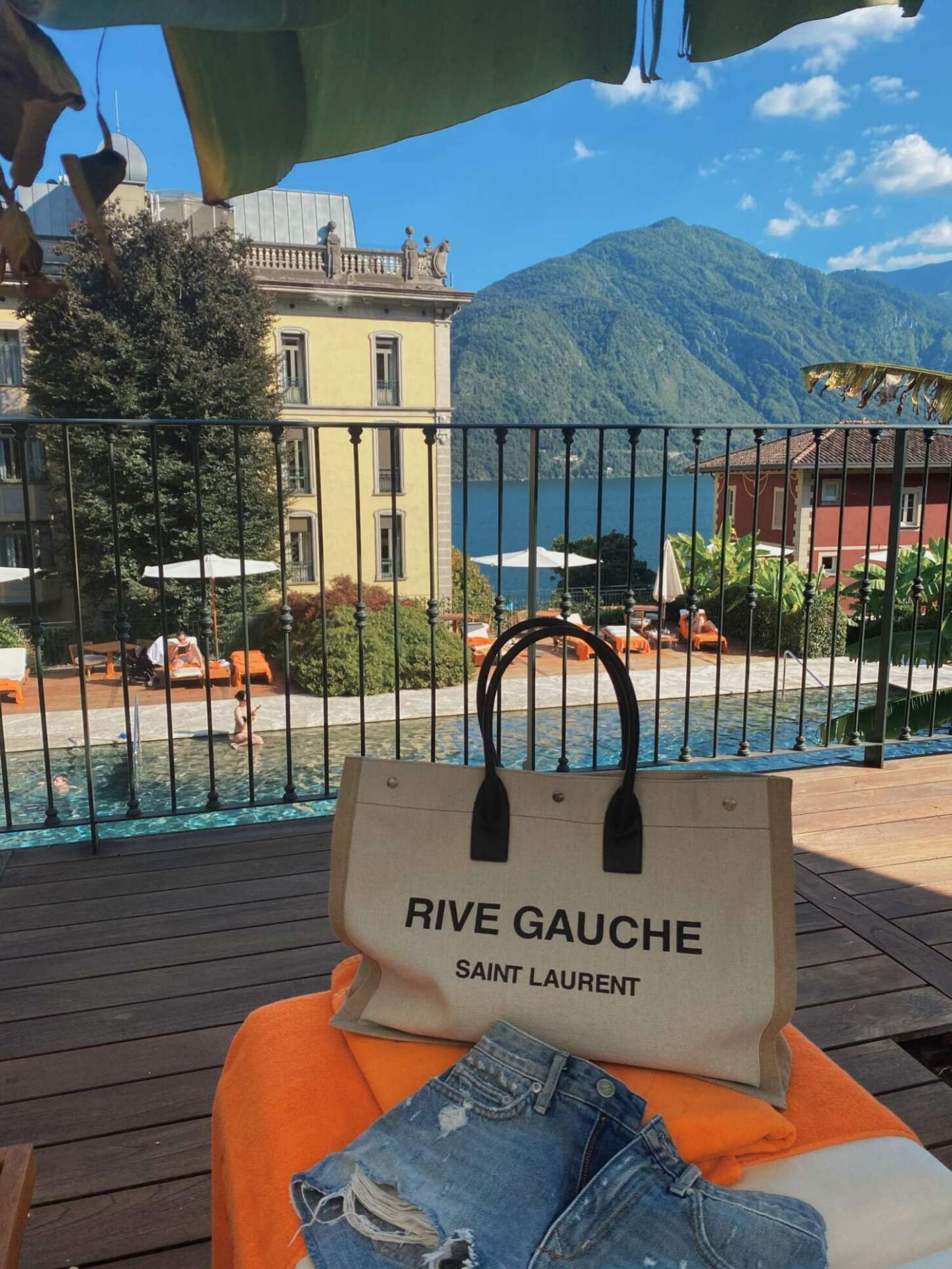 Post mono-skiing, I always migrated towards the sun beds for a relaxing day by the pool… cue the Mary Poppins bag. This Saint Laurent Rive Gauche tote is the perfect 'fits all' beach bag  – I love it! I think it would also be a great travel bag if you're someone like me that can't just bring a couple of things in their hand luggage.
I wore my new purple swimsuit and jean shorts for a more casual look. I love being able to just slip on a pair of shorts which transforms this into a totally different outfit than just the swimsuit. I accessorised with my favourite Miu Miu cat eye sunglasses and layered some necklaces.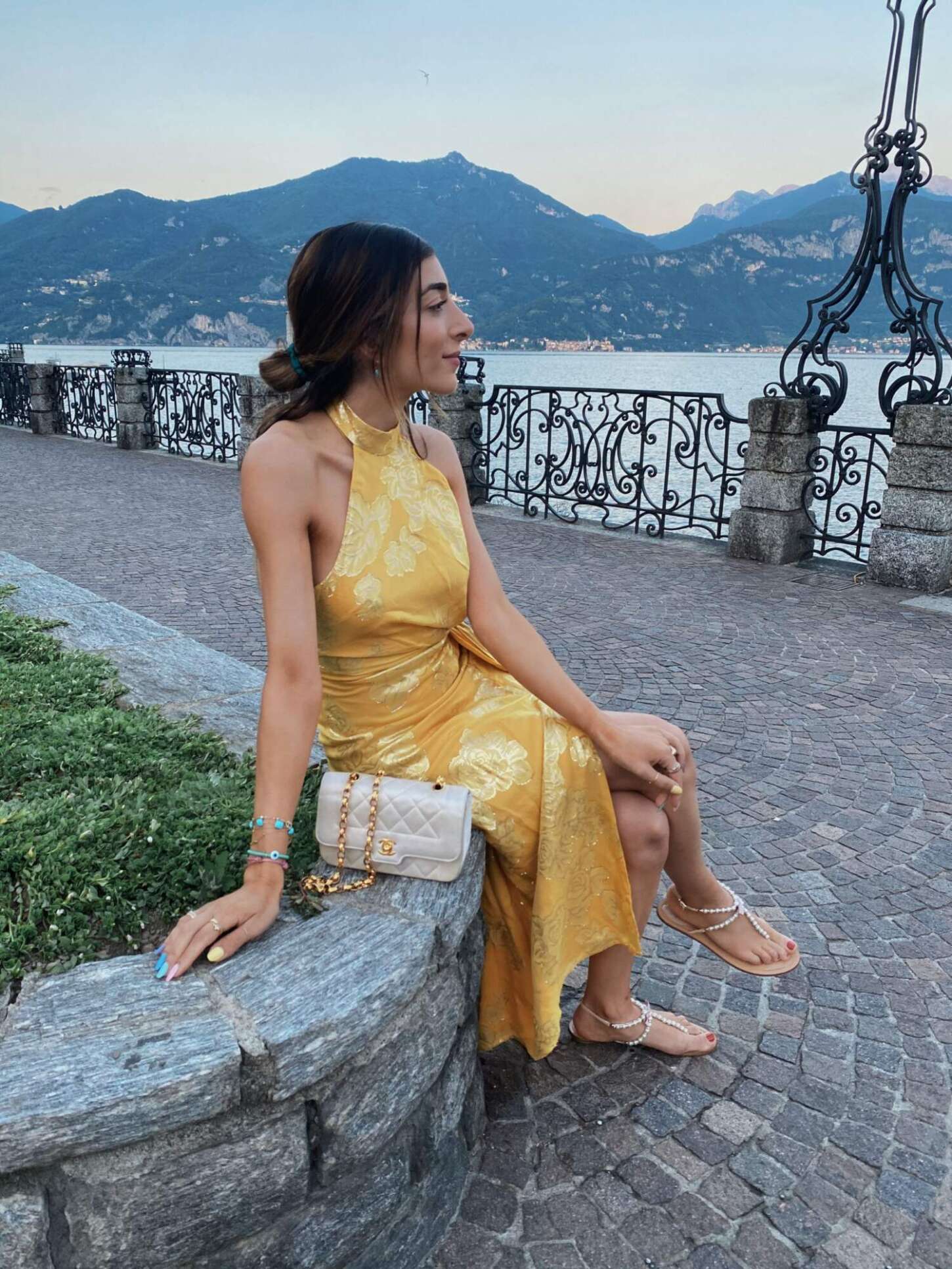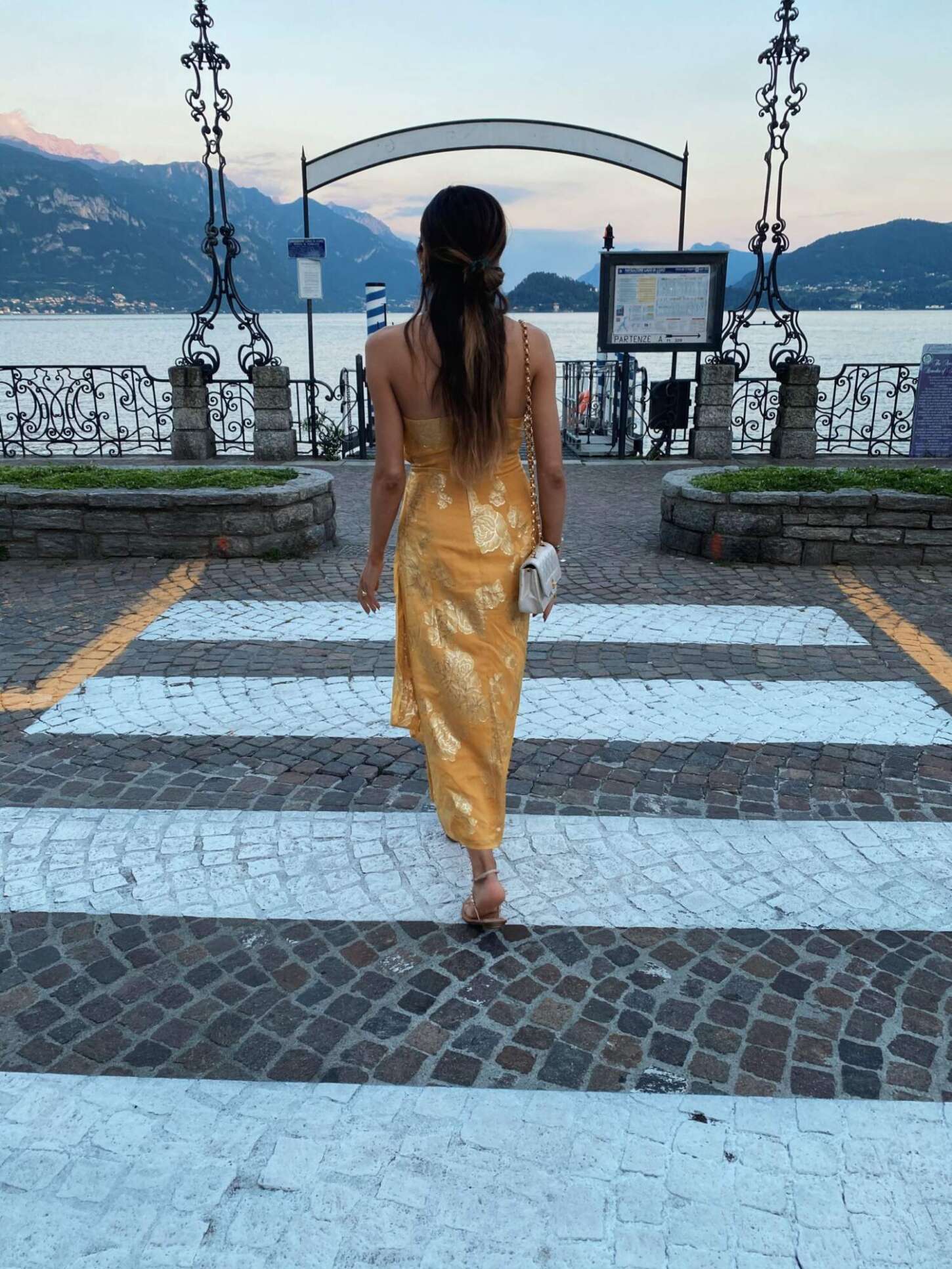 This dress was a bit of a first for me, I never used to wear halter neck dresses because I felt quite self conscious of my shoulders. I've slowly come to not overthink this as much and now I really love this style on me! The golden metallic floral details catch the light beautifully and it's a really versatile piece that you can wear for a relaxed evening supper or glam up for a wedding.
After another evening of homemade Italian food, a walk along the Menaggio was the perfect end to the day. My Rene Caovilla pearl sandals were ideal for this and matched with my little baby Chanel bag.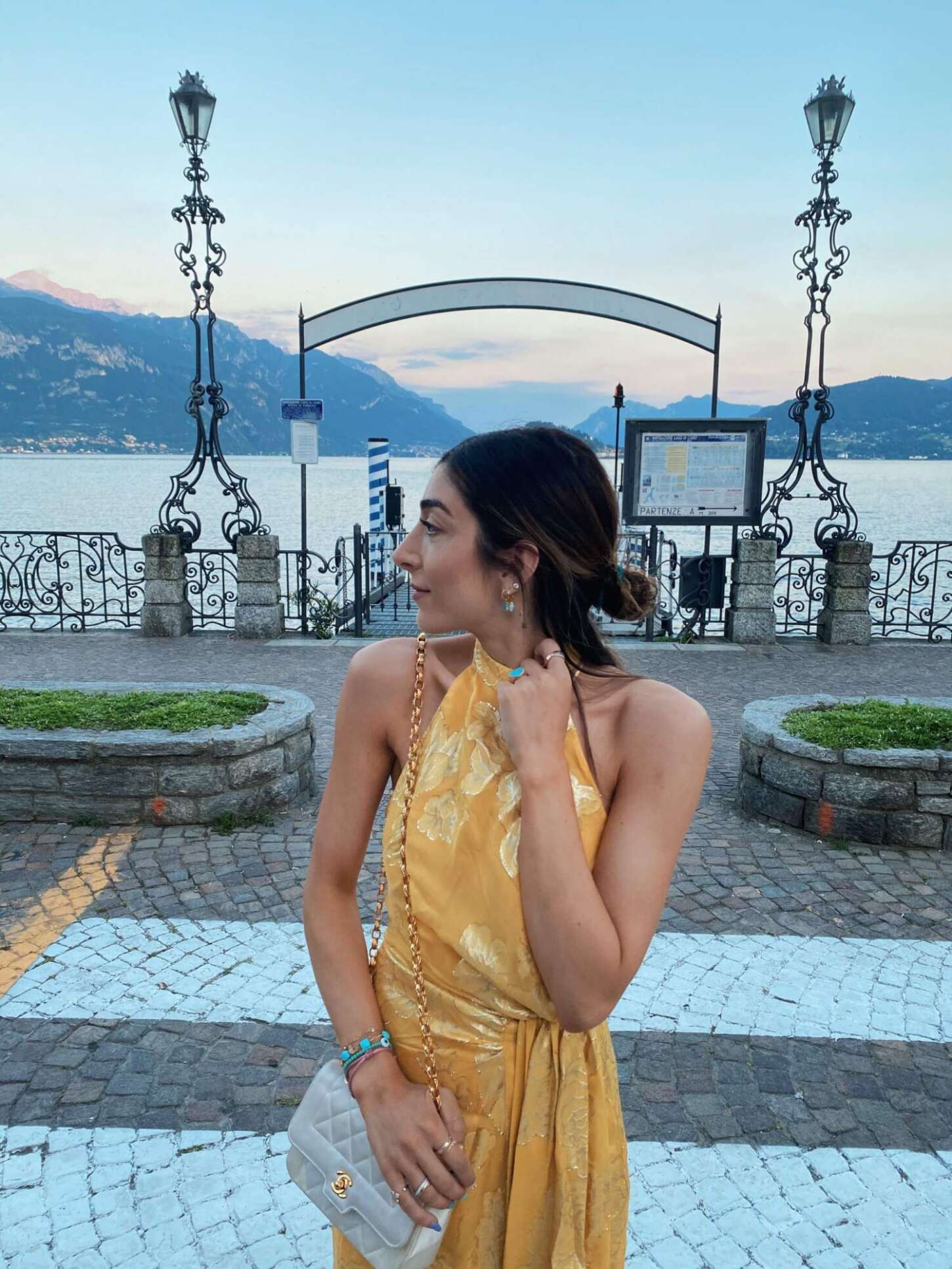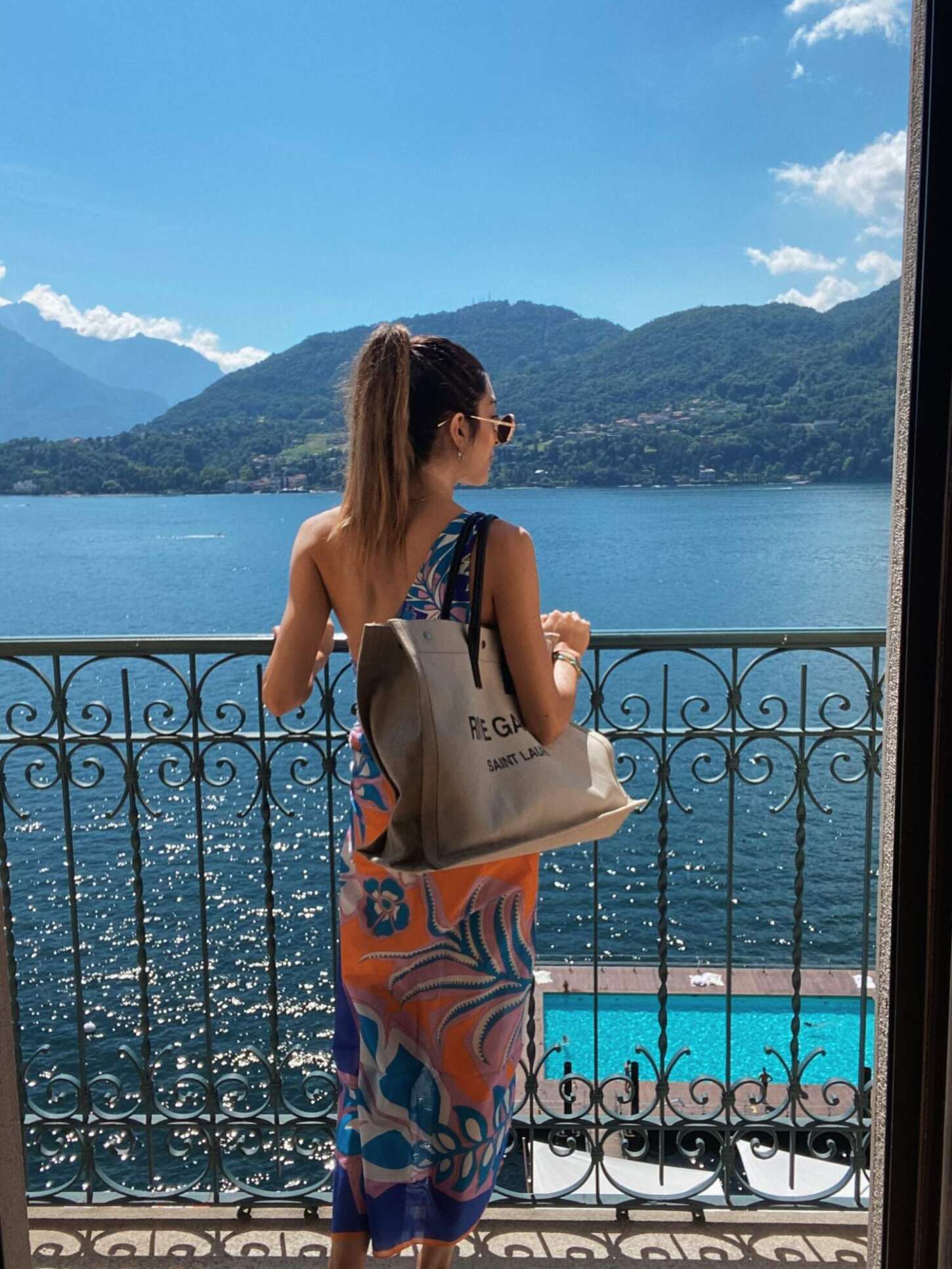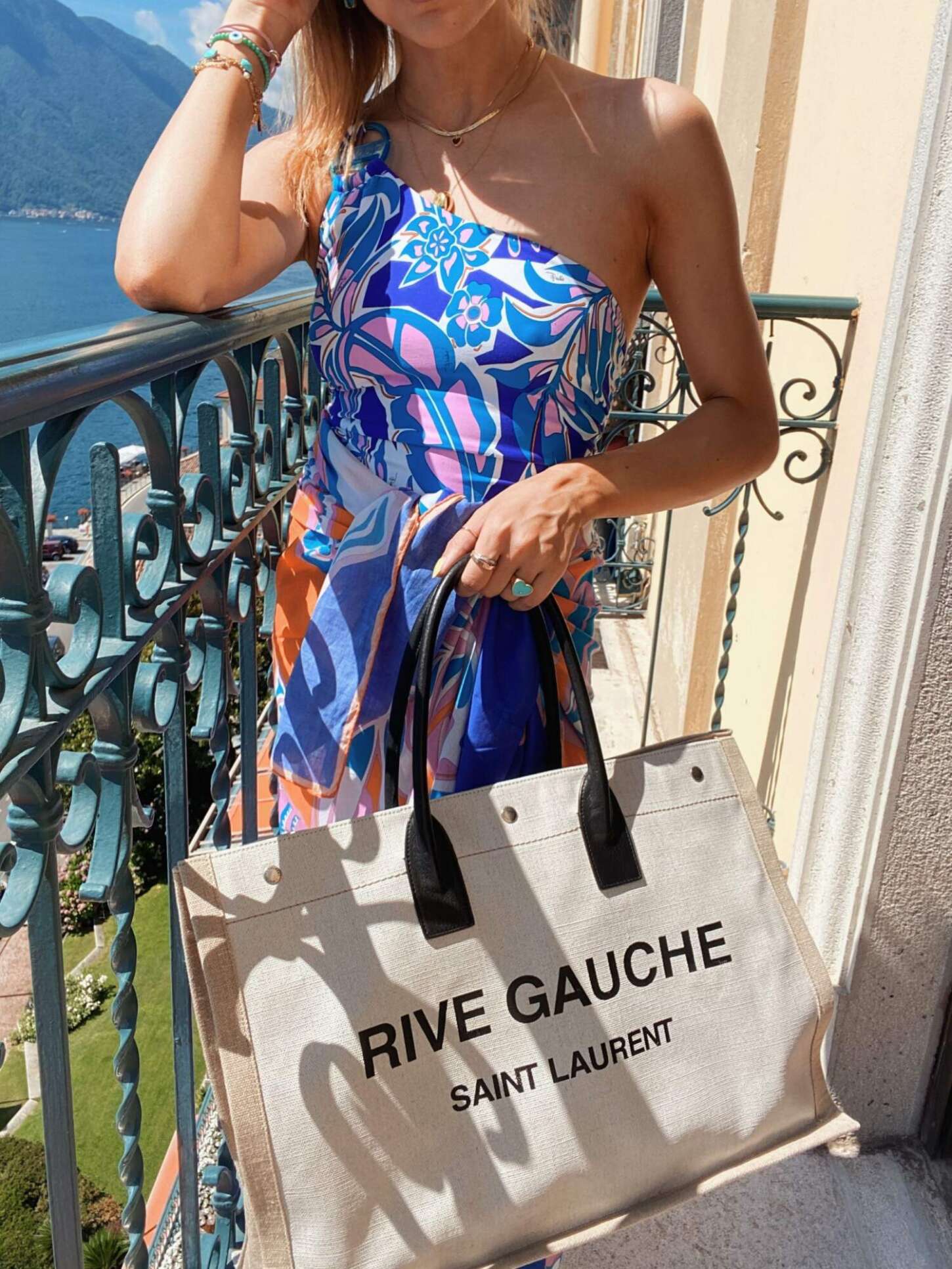 I think you might have noticed by now, I'm going through a bit of a blue obsession. This was one of my favourite outfits from the trip, I just got this stunning one shoulder Pucci swimsuit which I've paired with a sarong that I wore non stop last year. I love wearing sarongs because you're able to change the style in seconds depending on what you're feeling – mini skirt, maxi skirt, dress… literally anything!
My sister bought me a pair of my favourite Hermes Oran sandals in blue for my birthday and I thought I may as well go all out with the blue theme. The Saint Laurent tote added some nice neutral tones (and fit all my snacks for the day!)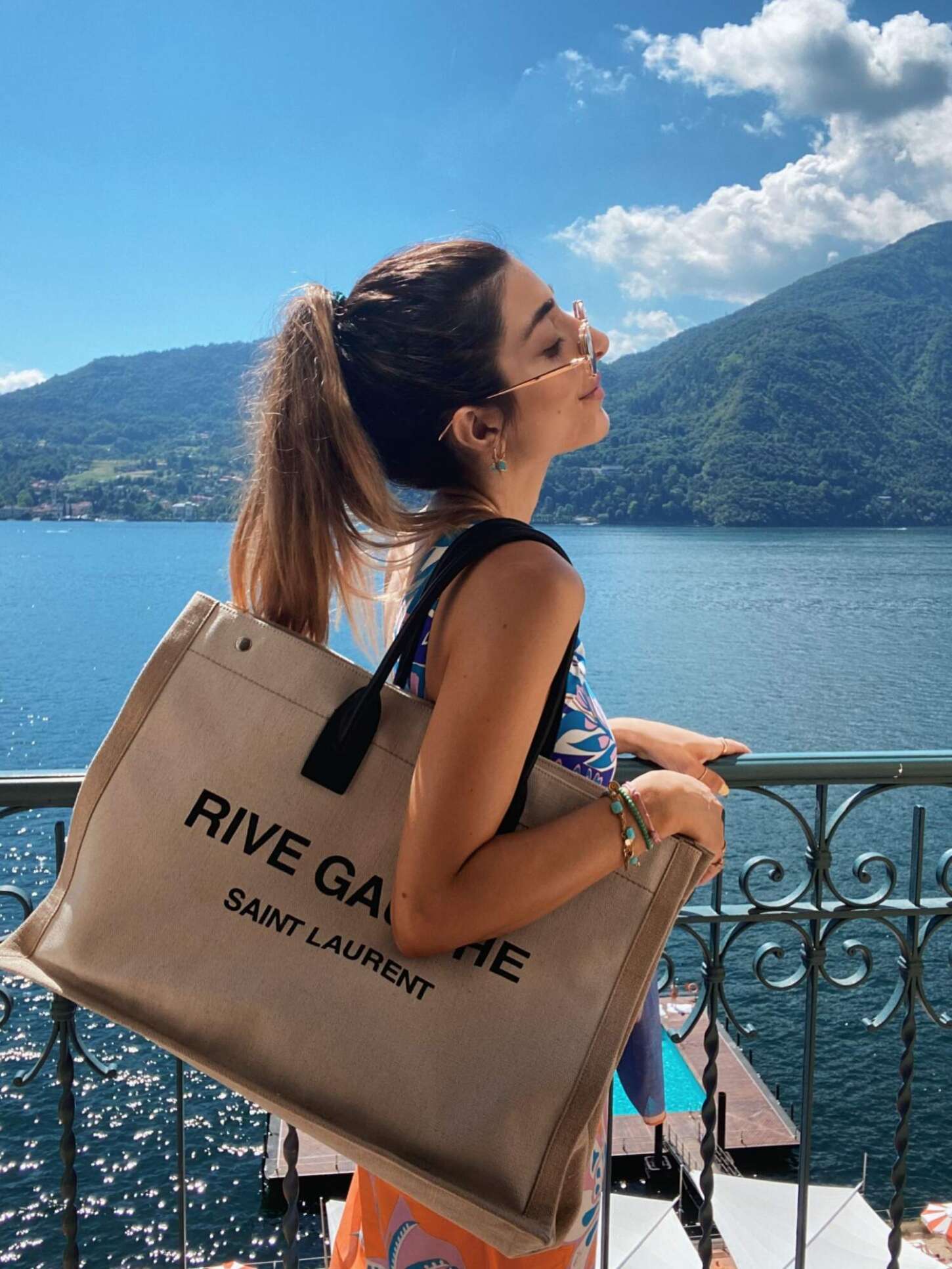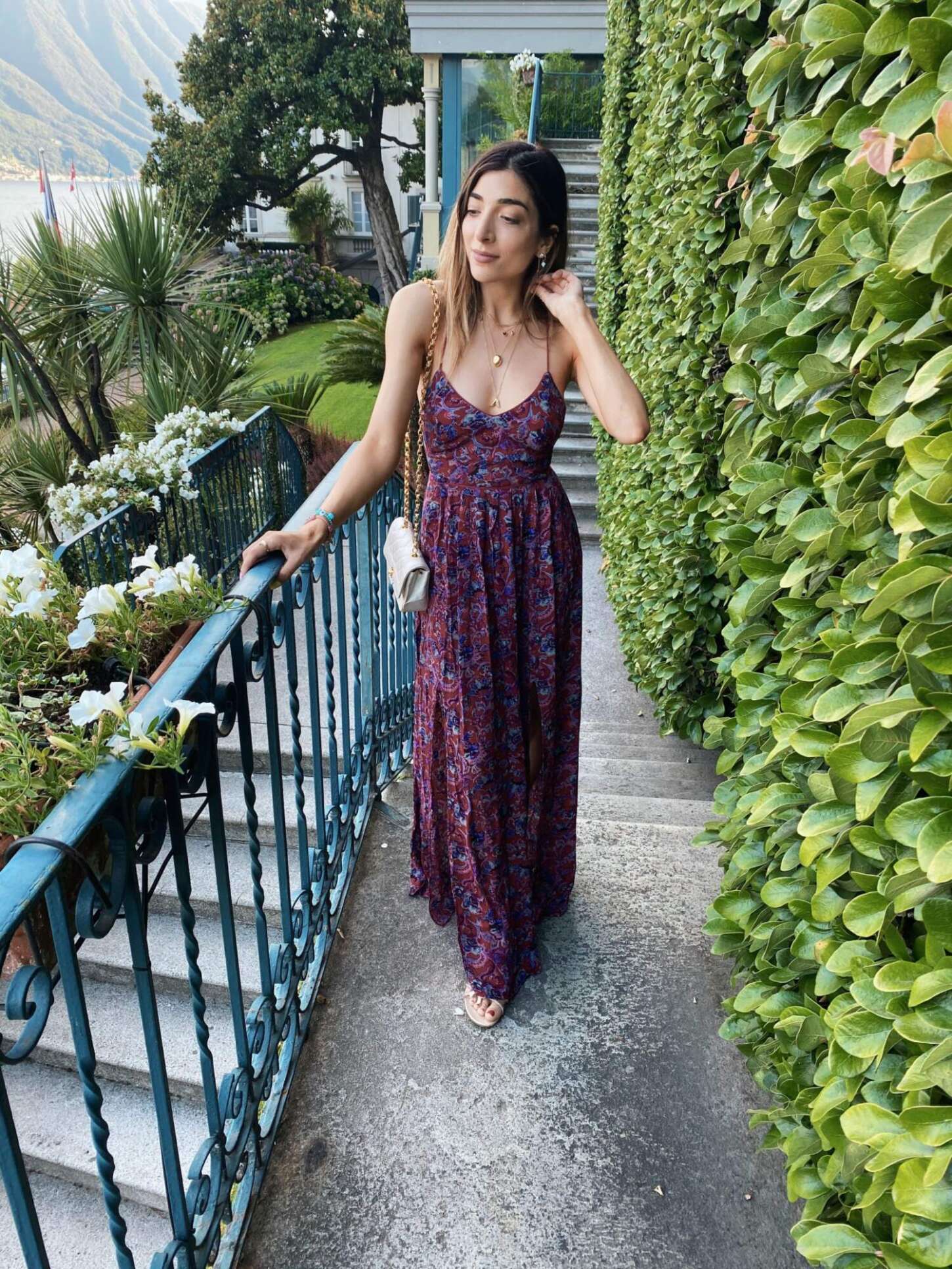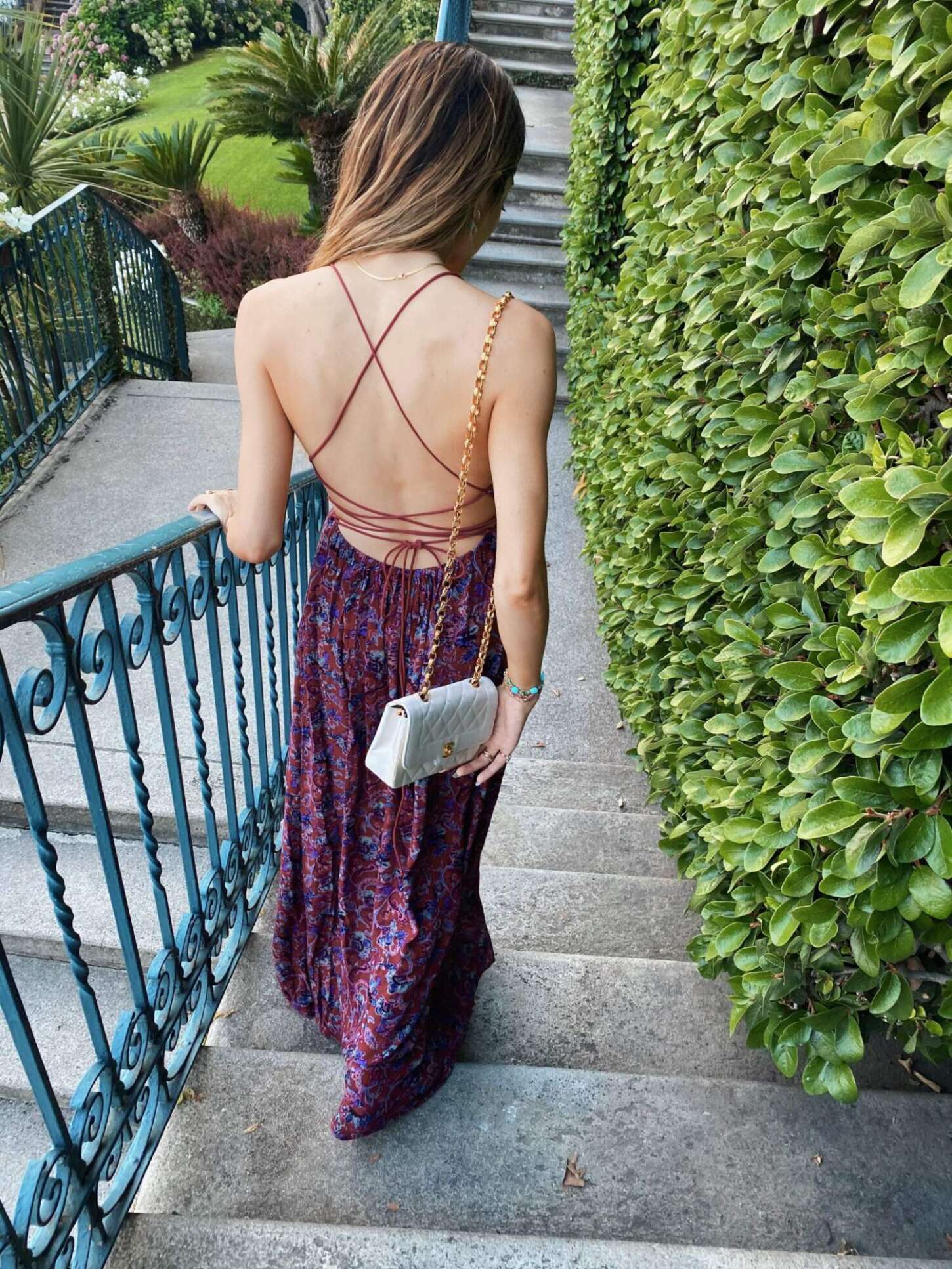 Does anyone remember this dress from about 5 years ago?? I love finding a timeless piece that I know you'll be able to see me wearing for years to come. This backless maxi dress is definitely one of them. The lace up detail was what really sold me the dress, but it's also one of my favourite fits – I love how it really elongates my figure. It's one of those pieces in your wardrobe that makes you feel sexy and elegant at the same time.
I wore my Rene Caovilla block heel sandals for a little added height and my Chanel for a pop of light.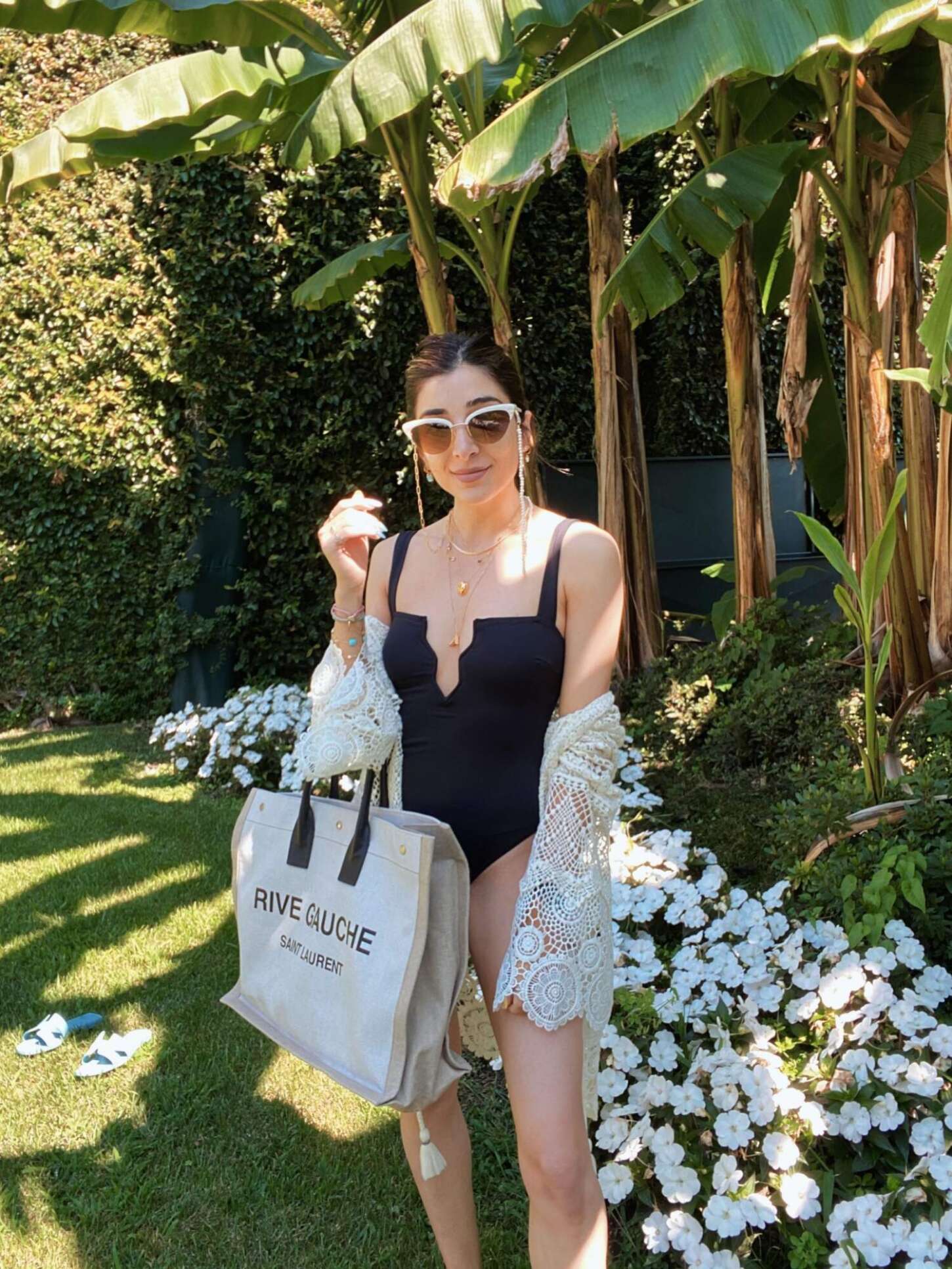 A last soak up in the sun before heading back to London, I always get that bitter sweet feeling knowing that you'll be travelling back in a few hours.
I went for quite a monotoned look wearing my black Fisch swimsuit and cream Ramy Brook crochet cover up. I love the neckline and shape of this swimsuit, it makes me feel really confident and comfortable. The cover up stood out so well against the black swimsuit, I love that bohemian style for a summer twist.
 Something I received just before I went away was this gorgeous pearl sunglasses chain from Talis Chains. She has such a beautiful collection, I felt like I didn't even need to wear the rest of my jewellery while I had this on – it's a great summer equivalent if you don't want to spoil your necklaces in water.